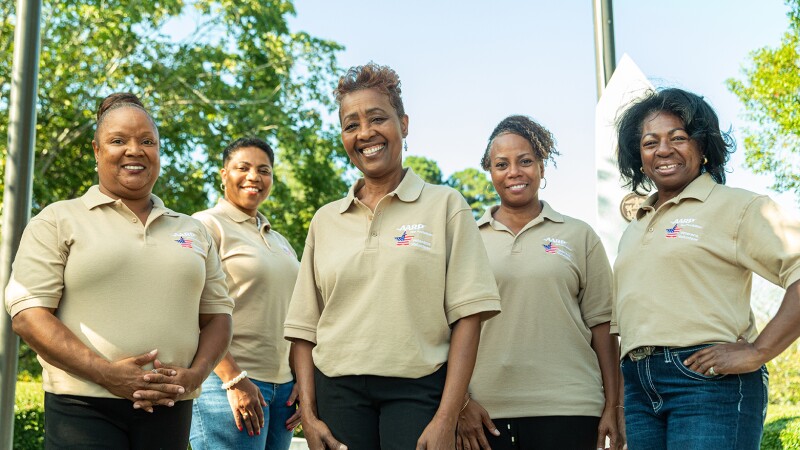 By Ann Hardie

Retired Col. Brenda Andrews has long advocated for female veterans and the issues that concern them, including homelessness, mental health and suicide.

This year, by joining AARP Georgia's Veteran Advisory Team, she has another way to ensure that those concerns stay front and center.

"The issues of women vets sometimes get lost in the shuffle because people think that we can always take care of ourselves," said Andrews, 62, of Peachtree City. She spent 30 years in the U.S. Army, including as a battalion commander in Iraq, before retiring, in 2017.

"Women vets are twice as likely to be homeless as nonveteran women," Andrews said. "And people aren't as comfortable thinking about women veterans as having mental health issues."

More than 697,000 veterans live in Georgia, including about 88,700 women. Serving them means recognizing that they have different needs depending on age, gender and military experience, said Jil Hinds, associate state director of outreach for AARP Georgia. That is why she is expanding the team that does outreach to veterans and offers advice on how to best engage with them.

Her strategies include trying to recruit members of different generations, from the Korean War to Afghanistan and Iraq. Hinds is also enlisting more women, Andrews among them.

"AARP serves all veterans, but veterans are not cookie cutter," said Hinds, who served as a combat medic in the Army National Guard. "We need our team to be as diverse as the state's population of veterans."

Focus on Fraud, Caregiving

The advisory team, which also includes several spouses of veterans, is being trained in caregiving, fighting fraud, financial literacy and suicide prevention.

Participants will conduct workshops for American Legion and VFW members, Disabled American Veterans chapters and other groups in the Atlanta area.

While certain issues cut across all veterans groups—from health care to financial security to life after the military—they can affect specific groups very differently.

Many Vietnam vets, for instance, are dealing with serious health problems and social isolation. "It's a combination of aging and some of the things they went through in the military," said Gary Cecil, 78, of Conyers, an Air Force veteran on the team.

"Sometimes, some of these vets just need to talk to someone," he said.

While serving older veterans, AARP also needs to do more to remain relevant to a younger generation, said retired Army Maj. Gen. Ronald Johnson, 65, of Atlanta, who teaches in the engineering school at Georgia Tech.

"The transition from military to civilian life can be extremely difficult," Johnson said. "Our communities are not as connected as they used to be."

Andrews spent her military career in human resources and brings those skills to AARP's veterans team. She is also married to a veteran and understands what it's like to be a military spouse.

"This provides an avenue for me to give back and share my knowledge," she said, "and to advocate for people who cannot advocate for themselves."

Contact the Veteran Advisory Team at jhinds@aarp.org or 404-870-3781.

Ann Hardie is a writer living in Atlanta.