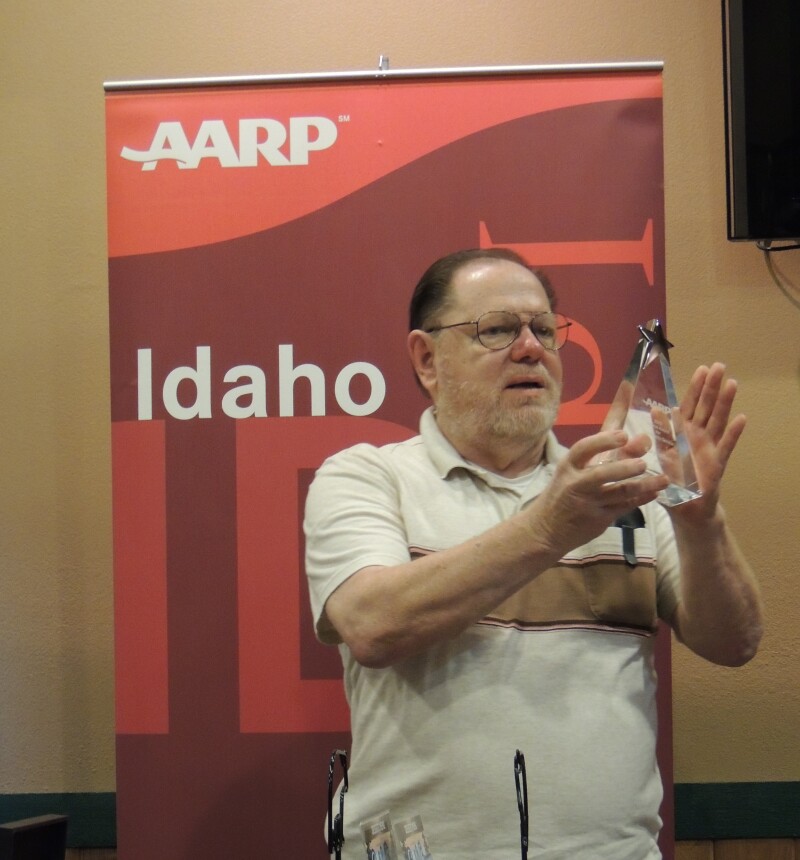 Each year AARP Idaho honors a volunteer with the Andrus Award for Outstanding Community Service. This year, Gary Willett was recognized for his outstanding work in the community, including his leadership in AARP Idaho's Tax Aide program.

The Andrus Award is an annual awards program developed to honor an individual whose service to community significantly enhances the lives of Idahoans age 50 and over.

AARP has long valued the spirit of volunteerism and the important contributions AARP volunteers make to their communities, neighbors, and the programs they serve. This award was named after AARP's founder, Dr. Ethel Percy Andrus whose service ethic was, "What we do, we do for all".

Gary started his career in the U.S. Navy working in the area of radar and electronics. These experiences lead him to a 22-year career working at the Lawrence Livermore National Laboratory (LLNL) in the Electronics Engineering Department. After leaving LLNL, Gary ran his own consulting company before moving to Oregon with his wife Linda and managing networks and computers for the Oregon Executive Department.

Gary has a long history of volunteering. Earlier in his life he worked with a telephone crisis hotline team and helped with volunteer training. His interest in amateur radio lead him to work for a number of years with the Amateur Radio Emergency Service providing communications during times of crisis and working with the Red Cross.

Upon moving to Idaho, he trained as an AARP Tax Aid volunteer and a star was born! Gary eventually moved into leadership as both a District Coordinator and the District Technical Coordinator. When time permits, Gary helps the Idaho AARP office with other volunteer efforts, as well as occasional involvement with local charities and events.

In his "spare" time, Gary likes to read mystery novels, ride and rebuild motorcycles, work on computers, research genealogy, pursue photography, fish, visit with friends, and spend time with his children and grandchildren. He does admit that "spare" time is quite scarce these days.

Congratulations Gary! Your leadership and involvement in Tax Aide is greatly appreciated and helps many Idahoans.