AARP Iowa has released the results of a statewide caregiving survey showing that 96 percent of current family caregivers in Iowa believe it is 'extremely' or 'very' important that they receive instruction on medical tasks they need to provide for their loved one at home upon being discharged from the hospital. The survey of 800 registered voters age 40+ across the state also showed that Iowans are overwhelmingly in support of three measures in the Iowa CARE (Caregiver Advise, Record and Enable) Act, which outlines commonsense steps to help Iowa's more than 317,000 family caregivers when their loved one goes into the hospital and as they transition home.

In response to questions about their support or opposition to the three CARE Act provisions, the survey shows that 92 percent of respondents support requiring hospitals to explain and demonstrate medical tasks to caregivers; 91 percent support requiring hospitals to keep caregivers informed of major decisions, like transferring or discharging the patient; and 83 percent support requiring hospitals to give the patient the option to record the name of a caregiver in the medical records upon admission.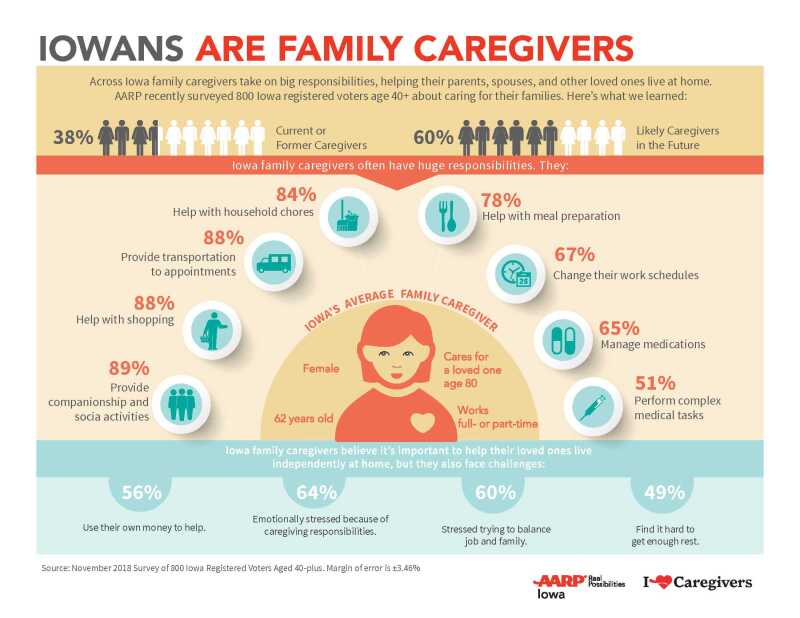 Iowa is one of only 13 states that do not have a law similar to the CARE Act in place for caregiving families. No federal laws, rules or regulations—including those for Medicare—define the steps hospitals must take so family caregivers are engaged in their loved ones' care.

"One of the first priorities of the 2019 Iowa General Assembly should be to pass the CARE Act," said AARP Iowa State Director Brad Anderson. "As the survey results show, there is a great desire to have these common-sense solutions in place for family caregivers and to bring the same protections to Iowans that so many other states across the country already have in place."

This past September, Iowa Gov. Kim Reynolds expressed support for a CARE Act in Iowa in a video voter guide interview with AARP Iowa ahead of the mid-term election.

"Our family caregivers are the unsung heroes who give their time every day to make sure that they can adequately take care of their loved ones and keep them home," said Gov. Reynolds, in response to the question 'What would you do to provide more support for Iowa's family caregivers?' "And that's why I support the CARE Act, so that we make sure that those that are providing those critical services for their loved ones have the tools that they need to adequately do that."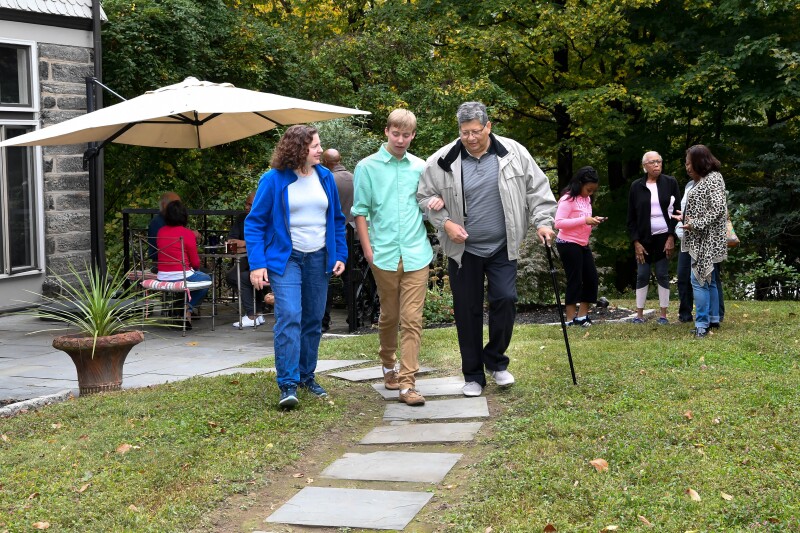 The Iowa CARE Act currently has no registered opposition, and is supported by many healthcare organizations across the state, including AARP Iowa, Alzheimer's Association: Greater Iowa Chapter, American Cancer Society Cancer Action Network Iowa, American Heart Association of Iowa, Association of Area Agencies on Aging, National Multiple Sclerosis Society, and the Older Iowans Legislature.

Survey results indicated that about one in four Iowa family caregivers did not receive instruction or a live demonstration when their loved one was discharged from the hospital.

"One caregiver not receiving the necessary instruction and demonstration to ensure their loved one is safe at home following a hospital stay is too many," added Anderson. "The fact that a quarter of Iowa caregivers are not receiving this critical information is simply unacceptable. The CARE Act can fix this."

A copy of the survey is posted online here or is available by contacting the AARP Iowa State Office at 515.697.1003 or ia@aarp.org. AARP staff is traveling to eight cities across the state the weeks of Dec. 10 and Dec. 17 to discuss caregiving issues and the results of the survey with local community members. Stops include Carroll and Fort Dodge on Dec. 11; Spencer and Mason City on Dec. 12; Ottumwa and Osceola on Dec. 13; and Marion and Peosta on Dec. 18. Click here for full details.

Across Iowa, family caregivers spend 295 million hours each year caring for loved ones—a contribution totaling about $3.8 billion in unpaid care. They carry out tasks like managing finances, providing transportation, helping with bathing and dressing, cooking meals and more.

In states where the CARE Act is law, nurses and other health and social service professionals say it has helped them engage with family caregivers and reduce unnecessary re-hospitalizations. For older adults in Pennsylvania, the systemic inclusion of caregivers during discharge planning has helped lead to an up to 20 percent reduction in hospital readmissions, according to A. Everette James, J.D., M.B.A., director of University of Pittsburgh's Health Policy Institute and its Stern Center for Evidence-Based Policy.

"While integrating informal caregivers into the patient discharge process may require additional efforts to identify and educate a patient's family member, it is likely to pay dividends through improved patient outcomes and helping providers avoid economic penalties for patient readmissions," said Dr. James.

In New Jersey between 2010 and 2015, statewide hospital readmission rates were reduced by 13.3 percent. The New Jersey Hospital Association cited the CARE Act as a significant contributor.

"New Jersey's CARE Act defined processes for hospitals to work with patients, families and caregivers to ensure they have the information and support they need before being discharged from the hospital," said the Hospital Association in a Sept. 2016 press release. "The New Jersey Hospital Association (NJHA) worked collaboratively with policymakers to craft the bill and with AARP to promote implementation."

The survey was conducted by telephone from November 1 to 27, 2018, and has a margin of error of 3.46 percent. The data collection and weighting were performed by American Directions. Survey respondents broken down by age included 27 percent in the 40-54 age range; 21 percent from 55-64; and 52 percent were 65 or older. Fifty-three percent of respondents were female and 47 percent male. Participants were split fairly evenly across education, income level, and political affiliation with 31 percent considering themselves Conservative, 35 percent Moderate, and 24 percent Liberal.