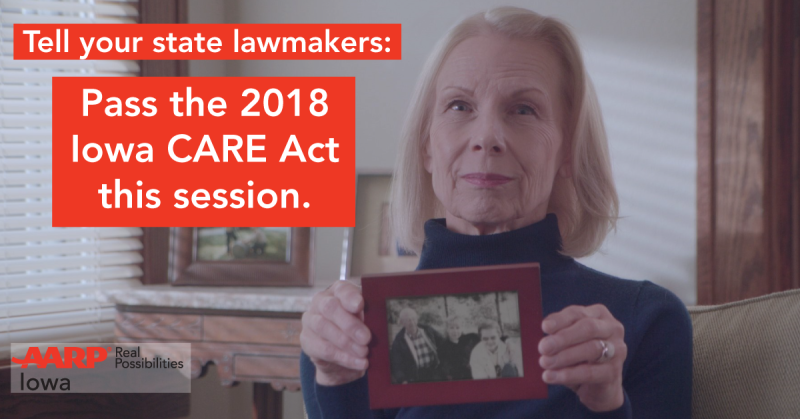 When Irene Olson was unexpectedly discharged from the hospital on a wintery Saturday afternoon after a short stay following aortic aneurism surgery, she phoned her daughter Sue, 175 miles away in Ames, telling her to come and pick her up. With minimal information from hospital staff regarding the discharge, Sue drove five hours through blizzard conditions. Arriving at the hospital, Sue's mother was waiting in a wheelchair to be taken home. No instruction was provided to Sue on how to administer her mother's medications or how to tend to a wound that remained from the recent surgery.

"I was scared to death that I would do something to harm her and make her situation worse," said Sue Olson. "It didn't have to be this way."

Olson's story is being told as part of a statewide grassroots and multi-media campaign, to urge state lawmakers to pass the 2018 Iowa Caregiver Advise, Record, Enable (CARE) Act, a no-cost commonsense bill to help family caregivers across Iowa when their loved ones go into the hospital and as they transition home. The bill, SSB3123, was introduced in the Iowa Senate last week, with a House counterpart bill expected to be unveiled soon.

As the bill is approaches a key deadline, the 2018 legislative session's first funnel of February 16, Iowans are already speaking out through several hundreds of calls and emails to their state lawmakers over the past two weeks urging support for the CARE Act.

Stories of family caregivers receiving limited to no instruction on how to care for their loved one following their discharge from the hospital are all too familiar. A 2015 AARP survey of 1,000 Iowa voters age 45+ found that two-thirds (65 percent) of Iowa family caregivers assist their loved ones with complex medical tasks such as wound care and IVs and injections, yet half of current or past caregivers (50 percent) say they did not receive instruction for the medical tasks they would be performing at home.

Dorothy Pisarski of West Des Moines didn't know what to do or where to turn when her husband Ed had a stroke at the age of 50.

"I was totally unprepared for how to help, what to ask, or where to get services," said Pisarski." "When he was released from the hospital, the physician gave me a list of Ed's appointments for the next two weeks. I asked the doctor 'how do I physically get him into the car and to his appointments?' He just looked down and shrugged."

The 2018 Iowa CARE Act includes three commonsense steps that will help family caregivers when their loved ones go into the hospital and as they transition home. It requires that: a family caregiver's name be recorded when their loved one is admitted to a hospital; the caregiver be informed when their loved one is to be moved or discharged; and, the caregiver is provided instruction of the medical tasks they will need to perform at home.

Iowa is one of only 14 states that do not have a law similar to the 2018 Iowa CARE Act in place for caregiving families. No federal laws, rules or regulations—including those for Medicare—define a standard of steps hospitals must take so family caregivers are engaged in their loved ones' care.

"Now is the time for our elected leaders to pass the 2018 Iowa CARE Act in recognition of the important role Iowa's more than 317,000 unpaid family caregivers play in saving the state money and making it possible for their family members and loved ones to live safely and independently at home, where they need and want to be," said Kent Sovern, state director of AARP Iowa, which represents more than 370,000 Iowans age 50 and older. "Without the help of family caregivers, many older Iowans would end up in costly institutions or back in the hospital for avoidable follow-up care."

The same 2015 AARP survey found that the vast majority of Iowa's registered voters 45 and older support the CARE Act. This overwhelming support encompassed voters across political party lines and ideological leanings. Across Iowa, family caregivers spend 295 million hours each year caring for loved ones—a contribution totaling about $3.8 billion in unpaid care. They carry out tasks like managing finances, providing transportation, helping with bathing and dressing, cooking meals and more.

The 2018 Iowa CARE Act is supported by many healthcare organizations across the state, including AARP Iowa, the Older Iowans Legislature, Association of Area Agencies on Aging, National Multiple Sclerosis Society, American Cancer Association CAN, and American Heart Association of Iowa.

Sue Olson's story is featured in television spots airing on the four major Des Moines area television networks (WHO, KCCI, WOI, KDSM), as well as online in the Des Moines Register and Cedar Rapids Gazette.

Nearly 100 AARP activists are expected to visit the State Capitol for the Association's annual Iowa Lobby Day on Wednesday, February 14, to discuss the CARE Act and other legislative issues with their elected officials. A press conference will take place at 8:45 a.m., in the Capitol's rotunda area.

More information on the 2018 Iowa CARE Act can be found at www.aarp.org/IAcareact2018 or www.aarp.org/ia.