En español | There are several ways to register to vote in Iowa, including at your polling place on Election Day. The state also allows any registered voter to cast an absentee ballot without a reason.

The 2022 midterms decided races for the U.S. House and Senate, state House and Senate, governor and several other state offices. The next statewide election is in 2024, with elections in some cities, including Des Moines, in 2023.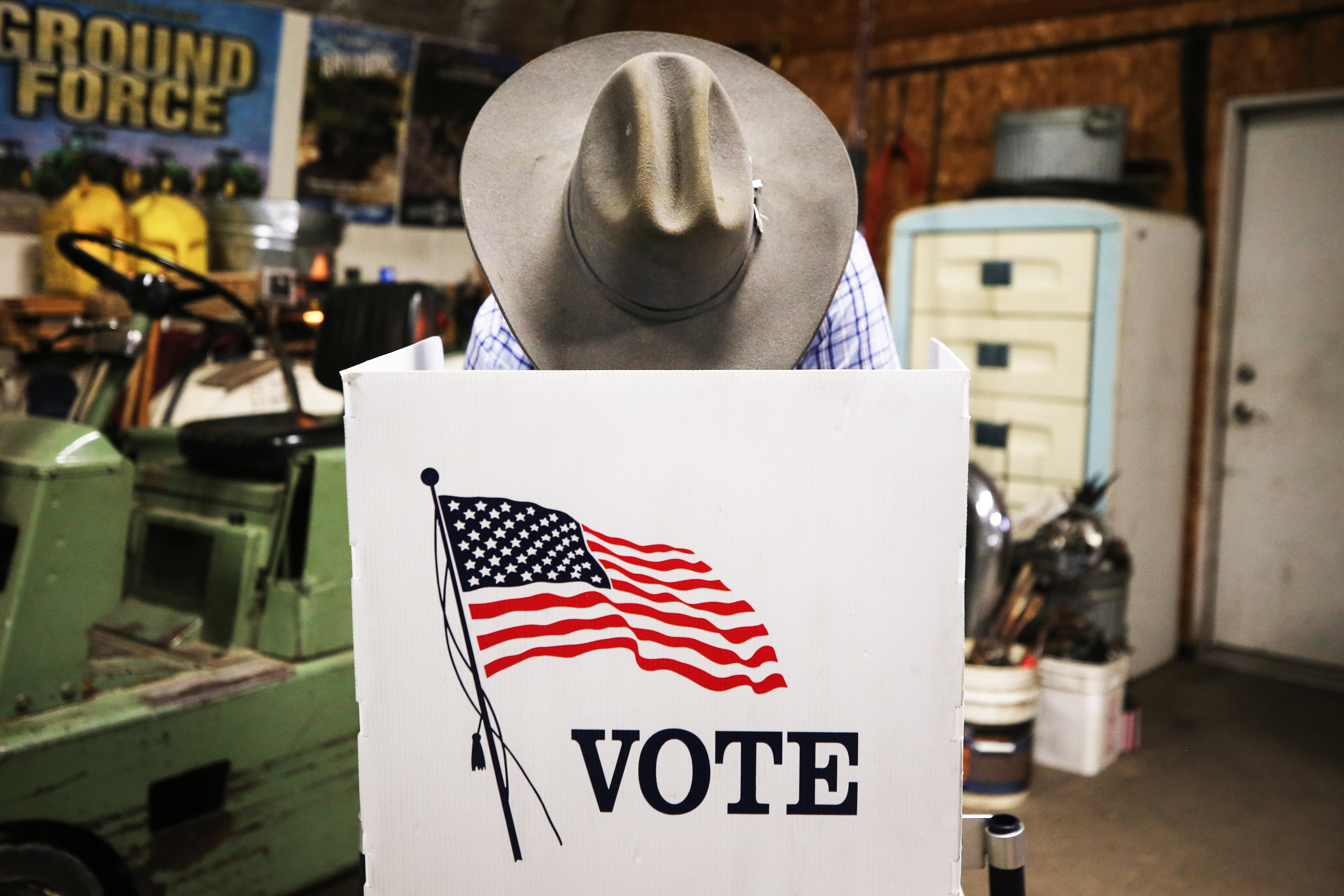 Essential info:
Absentee voting: All registered voters can request an absentee ballot and vote from home.
Have there been any recent changes to voting in Iowa?
A state law introduced in 2021 has changed some voting rules in Iowa. Among them:

The absentee voting period starts 20 days, instead of 29 days, before Election Day. Polls close at 8 p.m., instead of 9 p.m. County auditors must receive absentee ballot request forms 15 days before Election Day.
County auditors can no longer mail absentee ballot application forms unless a voter requests one.
All absentee ballots must arrive at the issuing county auditor's office by 8 p.m. on Election Day, instead of by noon the following Monday.
Only the voter, an immediate family member, household member or "delivery agent" may return absentee ballots.
Counties are allowed one drop box for returning absentee ballots.
Some of the changes are being challenged in the courts. Also, redistricting in 2021 changed the boundaries of some state legislative and U.S. congressional districts.


How do I register to vote?
Iowans can preregister to vote:

The deadline to preregister is 15 days before an election. If you miss the deadline, you can register in person on Election Day at your county polling place or when casting an in-person absentee ballot at your county auditor's office or a satellite location, if offered. You must present an acceptable form of ID and proof of residence. If you don't have sufficient documentation, another registered voter who lives in the same precinct may attest to your identity and residence.


Does my party affiliation matter when I vote?
It does in a partisan primary election. The primaries are for the Republican and Democratic parties to choose their nominees for the general election. Only registered members of a specific party may vote in that party's primary. Independent voters cannot participate. However, Iowans can change their party registration at any time, including at the polls on Election Day.


How can I get an absentee ballot?
Any registered voter can request a mail-in absentee ballot from their county auditor. You can get a request form:

Your county auditor must receive your request form no later than 15 days before an election.


How do I return an absentee ballot?
Once your absentee ballot request form is received, your absentee ballot will be mailed with instructions. Return your completed absentee ballot to your county auditor's office:

In person: Absentee ballots must be received by 8 p.m. on Election Day. Note that the availability of drop boxes for absentee ballots varies by county, but each county is allowed one that must be at or near the county auditor's office.
Via an immediate family member or household member: Those who turn in another's ballot must complete a form verifying their identity and present that form when they turn in the ballot.
There are exceptions for those with blindness or other disabilities, who may ask a "delivery agent" to deliver their ballot. Delivery agents must be registered voters, provide ID to the county auditor, swear to follow the law, and return the ballot in person to the county auditor, not via mail or a drop box.

If you got an absentee ballot but instead want to vote at the polls on Election Day, you must "surrender," or give back, your absentee ballot at the polls. If you are unable to surrender it, you will be offered a provisional ballot at the polls instead.


What is a provisional ballot?
A provisional ballot is for voters who:

Can't prove they're eligible to vote
Requested absentee ballots but did not surrender them at the polls
Have their eligibility to vote challenged
For example, if your name doesn't appear on the list of registered voters at the polls, or if you don't have the correct ID, you will be offered a provisional ballot.

You must "cure" your provisional ballot for it to be counted. This means providing evidence of your voting eligibility by the time of the county canvass of votes. Before you leave the polls on Election Day, you should be given a written notice explaining these requirements.


Can I vote in person before Election Day?
You may cast an in-person absentee ballot at your county auditor's office or satellite location. Note that you are required to fill out an absentee ballot request form and provide ID, just like you would on Election Day.


What if I need assistance casting my vote?
For absentee voting, voters with disabilities can ask any registered Iowa voter to deliver their ballot. Those who turn in another's ballot must complete a form verifying their identity and present that form when they turn in the ballot.

For voting on Election Day, Iowa law requires all polling places to be accessible to all voters. Each polling place has a special voting device with elements, such as a touch screen or audio component, that helps voters with disabilities complete their ballots. You can also have someone assist you, as long as they are not your employer, your employer's agent or an officer/agent of your union. Precinct election officials (PEOs) will be on site to assist. You will be asked to sign a form showing you asked for help. If you are not physically able to sign the forms, you can use a rubber stamp or mark to sign.

If you are unable to enter the building of your polling place because of a disability, you can vote curbside. Precinct election officials will bring voting materials to you in your car. Note that when a voter requests assistance from precinct election officials, two — one from each political party — always assist in the primary, general or any other partisan special election.


Where can I find information about voting at the polls on Election Day?
Polls are open from 7 a.m. to 8 p.m. Visit the state's online Find Your Precinct/Polling Place portal to find where you need to cast your vote.


Do I need identification to vote?
Yes. Iowa voters are required to show an Iowa driver's license or nonoperator ID, U.S. passport or another acceptable ID at the polls before they vote.

A voter without ID may have the voter's identity attested to by another registered voter in the precinct. Both you and the attester will be required to sign an oath swearing the statements being made are true.

Voters without ID or an attester will be offered a provisional ballot.


Editor's note: This guide was updated on Dec. 6, 2022,​​ with more information about voting.


Also of Interest: