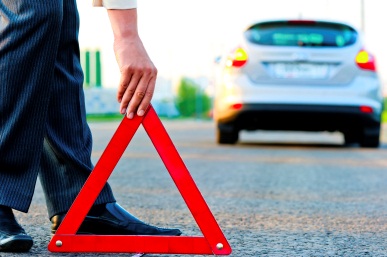 By Julie E. Lee
It's the peak time of year when the elements can wreak havoc on our roadways and vehicles, giving us the least ideal driving conditions. However, your vehicle can also break down in the most pristine conditions or shortest of drives.

Whether your vehicle is having a mechanical failure, an overheated engine, or a flat tire, it's important to know what to do in case it does break down. Hopefully it never happens, but if it does, know what to do with these five tips from AARP Driver Safety:

1. Have a reaction plan. Vehicle breakdowns can be scary; thankfully, precautionary measures can be taken to reduce the chances of experiencing one. The easiest way is to keep your vehicle well-maintained. In the cold winter months it's especially important to check the air pressure in all tires, tire tread wear, and your vehicle's fluids regularly. You should also stay one step ahead by carrying an emergency roadside kit in your vehicle. AARP recommends your emergency roadside kit contain signaling devices, a pocket knife, a flashlight, a first aid kit, water, and nonperishable food items. During the cold-weather months, your kit should also include a warm blanket. If you are a frequent traveler, consider investing in a roadside assistance service.

2. Use your hazard lights. When you sense a problem with your vehicle and decide to pull over, turn on your hazard lights or "emergency flashers." Hazard lights will visibly notify other drivers you may be driving slowly or erratically. When other drivers see your hazard lights flashing it makes it easier for them to respond and allow you to pull over to reach the shoulder.

3. Pull over the right way. If you do feel the need to pull over and are on the highway or interstate, the ideal course of action is to pull off at a rest stop or get off at the nearest exit. However, if you suspect your vehicle will not make it that far and you must use the emergency shoulder, make sure your vehicle is as far to the right as possible. Be sure to park with your wheels turned to the right so that if your vehicle is struck from behind, your vehicle will not cross the lane into moving traffic. Once parked, stay inside your vehicle with your seat belt on, whenever possible. If you must exit the vehicle, always do so from the right side to avoid traffic.

4. Set up traffic warning signals. If you have enough distance between your vehicle and the nearest lane, and traffic is not too heavy, carefully exit your vehicle on the right hand side to set up a traffic warning signal. Cones, reflective triangles, or flares can all be used, but you will need at least three signals to effectively warn oncoming traffic of your vehicle breakdown. The first traffic warning signal should be placed at least 50 feet directly behind your vehicle. The second should be placed midway between the first traffic warning signal and your vehicle, but closer to the open lane on your left. The last signal should be placed toward the back of your vehicle and a few feet into the roadway so you can divert traffic away from you. Once you complete this set up, quickly return inside your vehicle. Safety should always be your first priority, so remember to only exit your vehicle if it is necessary and safe to do so.

5. Get help. If you know you're going to need assistance, use your cell phone to call a roadside assistance service or the highway patrol. In the case that you do not have a cell phone, hang a white cloth or a piece of paper out your window and wait for the highway patrol. Also make sure your car doors remain locked at all times.

For more tips on how to stay safe on the road, consider taking a driver improvement course, such as the AARP Smart Driver™ course, available online or in a classroom setting near you, in both English and Spanish. In some states, you may even be eligible for a multi-year insurance discount upon completion of the course.* AARP membership is not required to take the course. For more information, please visit www.aarp.org/drive or call 1-877-846-3299.

# # #
Julie E. Lee is Vice President and National Director of AARP Driver Safety in the Education and Outreach group at AARP. She directs the largest driver improvement course in America designed for drivers age 50 and older. She can be reached at jelee@aarp.org.