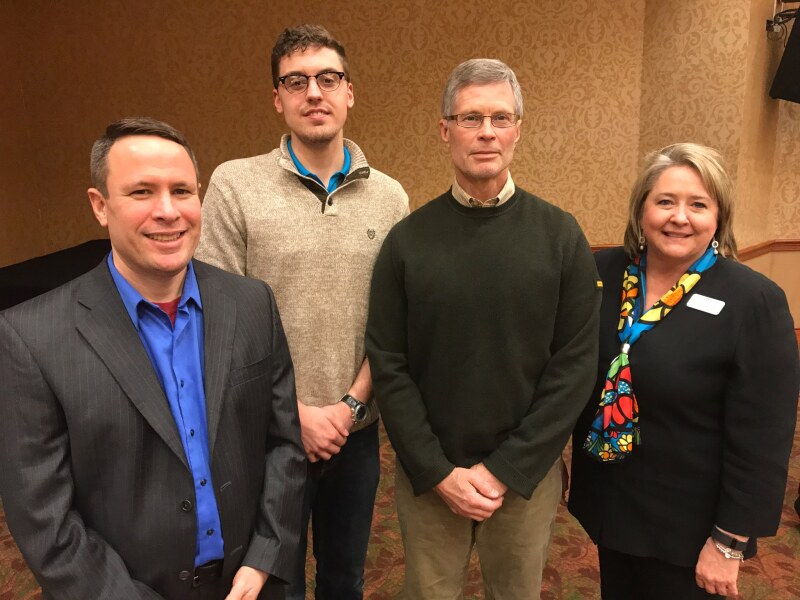 March 17, 2017 – Des Moines ¬– Iowa's first Disrupt Aging Innovation Challenge drew to a close this week as five finalists presented their business concepts to a panel of judges and audience evaluators. The finalists, who were chosen during the Celebrate Innovation! Week8 at Des Moines Area Community College (DMACC), competed in a "Shark Tank" style event on Thursday, March 16th at Edgewater, a WesleyLife senior living community in West Des Moines.

Aaron Kolesik, 20, of West Des Moines received top honors for "Enliven," a service to connect older Iowans with the creative arts to combat depression. He receives $1,000 cash and a DMACC course scholarship.

"We congratulate Aaron and each of the finalists on their excellent presentations and innovative concept development," said Iowa AARP State Director Kent Sovern. "We were pleased to see the diverse ideas and the opportunities these proposals offer to disrupt aging and make a difference in the lives of the 50 plus."

Tony Guerra, 44, of Ankeny placed second for his audiobook, "How to Pronounce Drug Names" and will receive a $500 award, while Bruce Kempkes, 61, of rural Earlham, grabbed third place and $250 for his idea to create an emergency energy-back up solar power kit for farms.

Joel Olah, Executive Director of Aging Resources said, "We're are excited to see that these ideas indeed challenged outdated beliefs and attitudes about aging and addressed Iowans' desires to continue to grow, develop and contribute to society as they age in place in their homes and communities."

Fourth and fifth place winners were James Heires, 45, of Cedar Rapids for his "CookSafe" fire prevention device and Ryland Swearinger, 21, of Glasgow, Scotland, formerly of Urbandale, for his internal lug-locked adjustable walking stick.

Dawn Ethofer, Executive Director at Edgewater, said, "As one of our goals as a WesleyLife community is to transform aging, specifically to dispel stereotypes around what it means to be an older adult, we were proud to support this challenge. We're pleased that society is beginning to realize that older adults want what younger people want – to live their lives the way they choose. It's our job to offer options that allow individuals to maximize their potential and live life on their terms."

AARP Iowa, DMACC, Edgewater, Aging Resources of Central Iowa created the Innovation Challenge to encourage innovation and inspire Iowans to think of ways to #Disrupt Aging and improve the quality of life for those aged 50 and older. Mentors from SCORE, the volunteer network of business mentors, assisted finalists in preparing for the final competition.
First and second place prizes were donated by Edgewater and DMACC, with third prize donated by Aging Resources.

About AARP
AARP is a nonprofit, nonpartisan organization, with a membership of nearly 38 million that helps people turn their goals and dreams into 'Real Possibilities' by changing the way America defines aging. With staffed offices in all 50 states, the District of Columbia, Puerto Rico, and the U.S. Virgin Islands, AARP works to strengthen communities and promote the issues that matter most to families such as healthcare security, financial security and personal fulfillment. AARP also advocates for individuals in the marketplace by selecting products and services of high quality and value to carry the AARP name. As a trusted source for news and information, AARP produces the world's largest circulation magazine, AARP The Magazine and AARP Bulletin. AARP does not endorse candidates for public office or make contributions to political campaigns or candidates. To learn more, visit www.aarp.org or follow @aarp and our CEO @JoAnn_Jenkins on Twitter.
About DMACC
Des Moines Area Community College, a public institution serving the educational and career training needs of Iowans, is committed to the lifelong success of its students. As Iowa's largest two-year college, DMACC offers 222 programs, certificates and transfer degrees, annually serving more than 70,000 credit and noncredit students on six campuses and six learning centers. Thanks to college-wide innovation, new programs and affordable tuition, DMACC continues to experience solid growth. For more information, please visit www.dmacc.edu.
About Edgewater
Edgewater is a WesleyLife Community For Healthy Living that offers independent living, assisted living, memory support, in-home services and care, short-term skilled rehabilitation, long-term care and hospice. Services are innovative and personalized to help individuals remain active, independent and well wherever they call home. Edgewater has won numerous awards because of its caring team members, unsurpassed amenities and beautiful campus.
About Aging Resources
Aging Resources is a private, non-profit service agency that coordinates programs and services for over 125,000 elders in the heart of Iowa. Aging Resources partners with public and private service providers, community organizations, and volunteers to improve the quality of life for older and disabled Iowans. Its mission is to lead, advocate, and serve as well as plan and coordinate resources enabling elders to lead independent, meaningful, and dignified lives in the least restrictive environment.