On Monday evening, the Des Moines City Council unanimously approved MoveDSM, the first citywide comprehensive transportation planning effort, establishing a multi-modal vision for transportation in Des Moines over the next 25 years. AARP Iowa, the American Heart Association (AHA), and Des Moines Public Schools—who have worked together in recent months to urge passage of Move DSM—applaud the City Council for passing the plan, which identifies how transportation supports the City's goals for safety, quality of life, and economic development.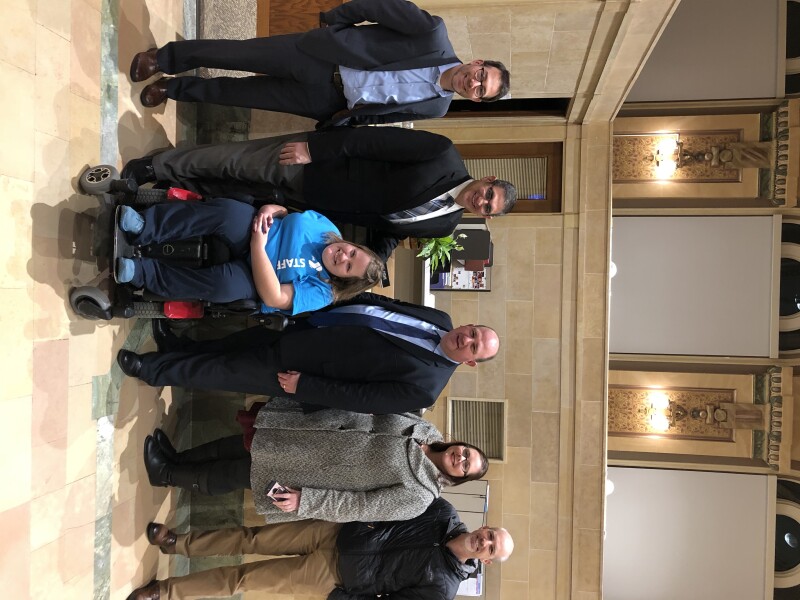 "Des Moines is one of the top cities in America to work, live and play, and MoveDSM will help to ensure that the city is best positioned to provide transportation options for all citizens in every stage of life for years to come," said AARP Iowa State Director Brad Anderson. "We are excited to work closely with the City Council and our partners throughout the community to implement this plan to make our streets and sidewalks more accessible and safe for all."

"MoveDSM will make communities and neighborhoods more livable by ensuring all people can get safely to where they need to go—work, school, the library, grocery stores, or parks," said Stacy Frelund, Iowa government relations director for the American Heart Association. "This is a positive step forward in helping people to feel more connected to their neighbors, which can improve quality of life."

"One key component of MoveDSM is making our community more walkable," said Phil Roeder, director of communications and public affairs for Des Moines Public Schools. "The improvements outlined in the plan are not only important for our health and well-being but also for the safety of our kids. Des Moines Public Schools is pleased to join our partners in this effort, and to work with our City in bringing improvements that will benefit us all."

How safe are Des Moines streets? On average, 156 people are killed or seriously injured in traffic crashes each year in the city, with walkers and bikers being disproportionally affected. Since 2008, there have been more deaths from traffic accidents in the city of Des Moines than from violent crime.

MoveDSM is the City of Des Moines' first citywide transportation plan to set transportation priorities and investments for the next 25 years. Priorities include safety, accessibility, and health for all residents whether you choose to drive, walk, bike, or take transit.

About the American Heart Association
The American Heart Association is a leading force for a world of longer, healthier lives. With nearly a century of lifesaving work, the Dallas-based association is dedicated to ensuring equitable health for all. We are a trustworthy source empowering people to improve their heart health, brain health and well-being. We collaborate with numerous organizations and millions of volunteers to fund innovative research, advocate for stronger public health policies, and share lifesaving resources and information. Connect with us on heart.org, Facebook, Twitter or by calling 1-800-AHA-USA1.

About AARP
AARP is a nonprofit, nonpartisan membership organization that helps people 50+ have independence, choice and control in ways that are beneficial and affordable to them and society as a whole. AARP does not endorse candidates for public office or make contributions to either political campaigns or candidates. We produce AARP The Magazine, the definitive voice for 50+ Americans and the world's largest-circulation magazine with over 35.5 million readers. AARP Foundation is an affiliated charity that provides security, protection, and empowerment to older persons in need with support from thousands of volunteers, donors, and sponsors. We have staffed offices in all 50 states, the District of Columbia, Puerto Rico, and the U.S. Virgin Islands. For more information, visit www.aarp.org.