Ruth Mwangangi knows how it feels to be different and rely on the kindness of strangers. Since moving to Iowa from Kenya 25 years ago, she's paid it forward by helping other newcomers, or those different in some way, forge their own successful lives.

A passionate helper, she especially loves working with students and other "kiddos," as she likes to call them, often immigrants, refugees or underserved special needs students. Over the years, she's helped introduce kids to the world of computer coding, eased the way for Des Moines' newest refugee students and devoted hundreds of hours to sharing stories about Kenya and its culture in Iowa classrooms.

"I would encourage everyone to try volunteering. My biggest question to you would be, 'Where would you be if nobody helped you?'" says Ruth, 52, who lives in Ankeny with her husband Tony Mwangangi-Kioko.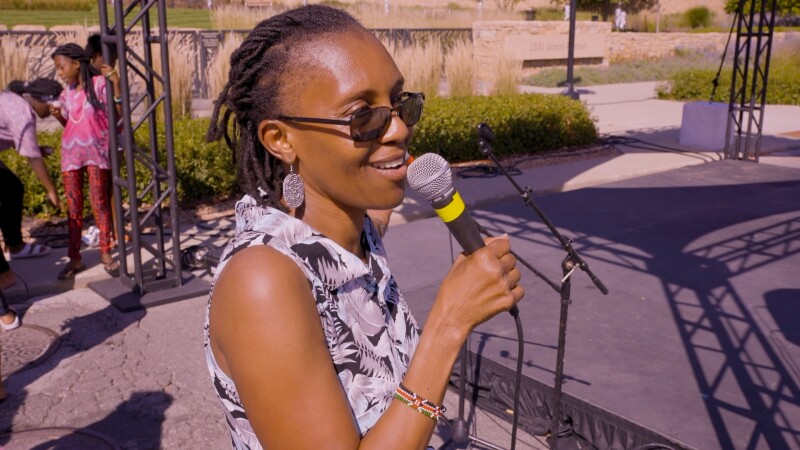 Ruth Mwangangi
Ruth's own Iowa story of being different began on a frigid January night at the Sioux City airport. She'd flown more than 8,000 miles from home and family in Nairobi, Kenya, where nights rarely dip below 60 degrees. "That was the worst winter ever," says Ruth, and Iowa weather records back her up, reporting wind chills as low as minus 70. If it hadn't been for then-fiancé Tony already attending Northwestern College in Orange City, "I would have taken the next flight back!" she says.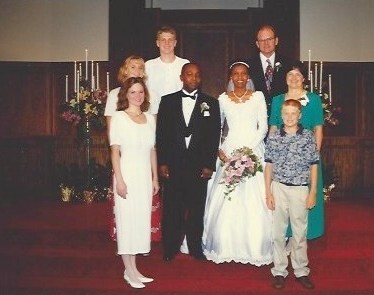 But she's never forgotten how Iowans opened their arms to welcome her. With the help of Tony and their Orange City host-family the Lubbers, Ruth slowly adjusted to her new world. She and Tony married that summer and then enrolled together at the University of Northern Iowa. Even in that first fall, Ruth was reaching out to students who, like her, had arrived from other countries. Word spread about the kind, generous woman helping the campus' small band of international students. While juggling her master's classes, she took time to help these newest Iowans with things like driving lessons or navigating American grocery stores. Fortunately she was already fluent in English as that and Swahili are both official Kenyan languages, an outgrowth of being a British colony for years.

Ruth's decision to travel here for her advanced degree stemmed in part from Tony's Iowa college plans but also from meeting students at her Kenyan undergraduate college who attended from as far away as the United States. She also knew American colleges could help her plan to enhance her bachelor's degree in communications with a tech-focused master's degree (two master's, it turned out, in technology and organizational communications).

After graduation, the couple both landed promising jobs here and started their family, a son and daughter. Along the way, Ruth the volunteer learned about CultureAll, a program showcasing the state's diversity, and as one of its "ambassadors" she eventually visited more than 100 central Iowa classrooms. She welcomed the chance to dispel myths students might have heard about African life. For example, no, people don't live with elephants or lions as backyard pets. Ruth, in fact, had never seen animals like those until she visited an American zoo.

A common theme connecting her volunteer efforts is sharing a message of hope and reassurance to the underserved that, as she puts it, "It's okay to be different. I may look different from you, but that's okay. I may sound different from you, but that doesn't make it wrong."

Ruth favors directing her energies to fledgling programs or start-ups, including a few she's helped launch. "If you're established, you will get the help already," she figures. So in 2013, she helped Tony and his colleague Dave Kessler launch Tech Journey, a summer computer coding camp to connect with underserved youth. In just two whirlwind weeks, the camp went from concept to reality in partnership with the Des Moines schools. In the years since it's expanded to also offer year-round programming.
I want them to know the sky's the limit. Limitations are just challenges to motivate them to find other ways of doing things.
Ruth Mwangangi
Another new venture grew out of conversations she overheard among her work colleagues. Special needs students required more help transitioning from school to the work world, they said. So together with a colleague and fellow parent, the two women founded Mosaic Haven and expanded it into both annual summer camp and year-round services to get the students "future ready."

At the moment, Genesis Youth Foundation stands near the top of Ruth's favorite volunteer causes. In 2018 she was drawn to Genesis' work helping Des Moines' refugee and immigrant students adapt to public schools. Now serving as board vice chair, Ruth praises Genesis' authenticity, noting its founders and co-directors are Liberian refugees. The program delivers an effective blend of mentoring, tutoring, dance and athletics. For example, soccer – sort of a universal language for many refugees – can be a reward when students finish schoolwork.

The pandemic posed special challenges for Ruth and others Genesis volunteers. Des Moines classes went remote practically overnight. And with its clients from over 50 countries already facing language barriers plus parents often working extra jobs and unable to help students at home, the transition was doubly hard. "It was very convoluted, and so grades started dropping," Ruth recalls.
Thinking of volunteering? Try AARP: Join AARP's community of 60,000-plus volunteers and donate your time and talent — in person or from home — to improve the lives of older Americans and their families. Whatever causes speak to you, whatever skills or interests you have, you can find an AARP volunteer opportunity that's fulfilling and makes an impact. Start your journey here by exploring your options.


Besides regular tutoring, Ruth and other volunteers added home visits and check-in calls. "All these needs just came out of the woodwork," she says. "It was like, "Okay, this is a little overwhelming.' " But the full-court press paid off, and tangible results like reports of recovering grades keep Ruth coming back. "You know you're making big, big-time impacts in young people's lives," she explains.

As a Principal Financial Group technology project leader or "scrum master", Ruth might seem to be short on volunteer time. But the company has a history of supporting employee volunteerism with paid time off and matching grants. Also, says long-time friend Talence Kasiyamhuru, Ruth seems to magically generate extra time to help anyone in need. "Ruth makes the time because she believes this has to happen, and she will create about 26 hours in a day. You may want to ask her how she gets those other two hours," says Talence, an Overland Park, Kan., dentist who emigrated from Liberia.

The warm Iowa welcome Ruth loves to recall has grown more complex for recent arrivals, she says. "People being different has been elevated to another level. That's not good. I wish it was good, but it's not," Ruth explains. Among these fragile communities she helps she senses feelings of mistrust and even concerns for their own safety. "It's a harder story to tell today," she says.

Ruth can see a day when she and Tony might spend more time in Kenya, either working remotely or doing consulting work. The two enjoy dual citizenship, and Ruth's two brothers still live there while her mother just moved back from the States.

But that's a thought for another day. For now, kiddos here still need help and encouragement. As she told the special needs students at Mosaic Haven's summer camp, "I want them to know the sky's the limit. Limitations are just challenges to motivate them to find other ways of doing things."

Next Month:
Our next Hidden Gem has deep roots in agriculture and constantly worked to highlight ag women during her trailblazing career as a farm management journalist. Read how in retirement this Pilot Mound writer now leads Iowa Women in Agriculture, a volunteer group she helped found to support the expanding world of women in farming and agribusiness.