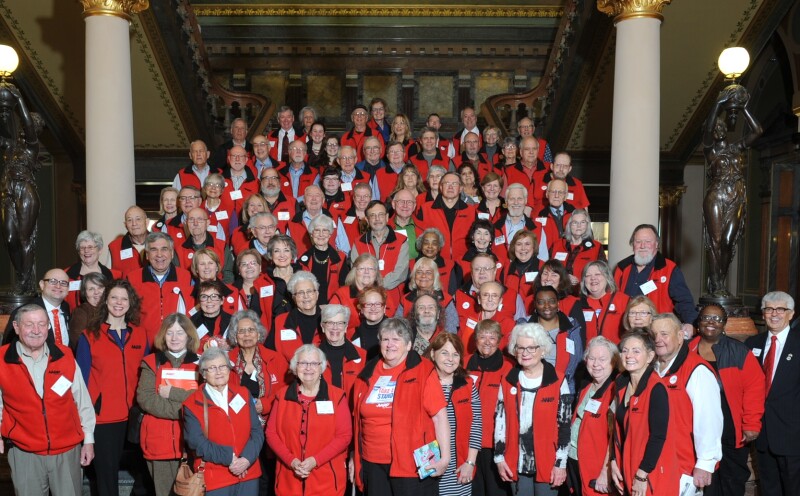 April is National Volunteer Month, a time to recognize the contributions that Iowans 50+ provide to their communities through volunteer work and a chance for us all to think about how we can help make a positive difference in the lives of our neighbors.

There are limitless opportunities to get involved with AARP in Iowa, and every special skill and talent can be utilized in some way or another. Volunteering is a great way to get out of the house, to make new friends, and to do something great for your community. Volunteering also has been shown to be good for your health, both your physical and mental well-being.

Below are several ways you can get involved with AARP right in your community. Previous experience is not necessary.

AARP Foundation Tax-Aide: Perhaps you are gifted with numbers. In that case, volunteering with the AARP Foundation Tax Aide program which provides tax help to taxpayers 50+ free of charge could be the perfect fit. Don't have a background in accounting or tax law? Don't worry; volunteers get excellent training developed in cooperation with the Internal Revenue Service. You can also volunteer to be a greeter or a translator at one of the many tax-aide locations.

AARP GREAT Advocate: If you enjoy learning about legislation and policy issues at the state and national level, AARP Iowa's Grassroots, Elections and Advocacy Team (GREAT) program is the one for you. GREAT advocates call legislators and their staffs, visit their offices, organize or recruit other volunteers to participate in local events and rallies. GREAT volunteers are the backbone of AARP's state and national advocacy efforts.

AARP E-Activist: Similar to being a Grassroots advocate, this method of volunteering allows you to stay informed about the issues coming before state or national legislators – but e-activists do everything via e-mail or phone. This is a great way to join the fight for elder rights without having to leave the comfort of your home.

Speakers Bureau: If you're comfortable speaking before the public, you should consider the Speakers Bureau. Speakers get training to give presentations on specific topics such as Fraud Prevention, Brain Health, and Planning for Retirement - topics that blend education and advocacy. AARP fights on real issues that matter to you and your family, and our Speakers Bureau volunteers are a big part of that.

If you're ready to volunteer or would like an AARP Iowa staff member to contact you with more information, please let us know by filling out this short Volunteer Interest Form.