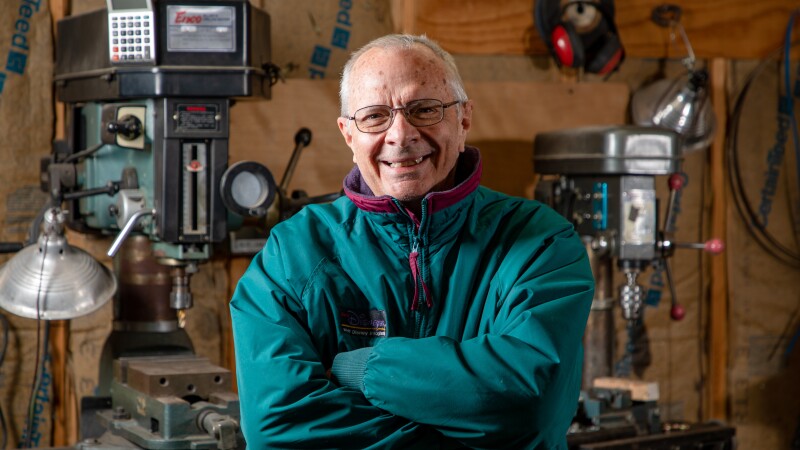 Tim Kelley sensed enchantment the first time he walked up Mount Vernon's main street for its annual Magical Night. "It was like Main Street Disneyland, only in real life," says Tim, who should know what he's talking about. As a Disney "Imagineer," he devoted most of his career to helping engineer magical moments for Walt Disney theme parks in California, Florida and France.
The 71-year-old and wife Sara were drawn to Mount Vernon in 2004 after becoming grandparents. Tim can't say enough about the friendly town and great neighbors, and the couple savored the luxury of time spent with their two grandchildren. But once Tim experienced the charm of Magical Night with its carolers, luminaries, a visit from Santa and beautiful holiday window decorations, Tim wanted to make a contribution.

When his work demands lightened and he had time for serious brainstorming, his collection of animated animals began to take shape. The "animenagerie," as he calls his inventions, drew inspiration in part from department store holiday windows of years past.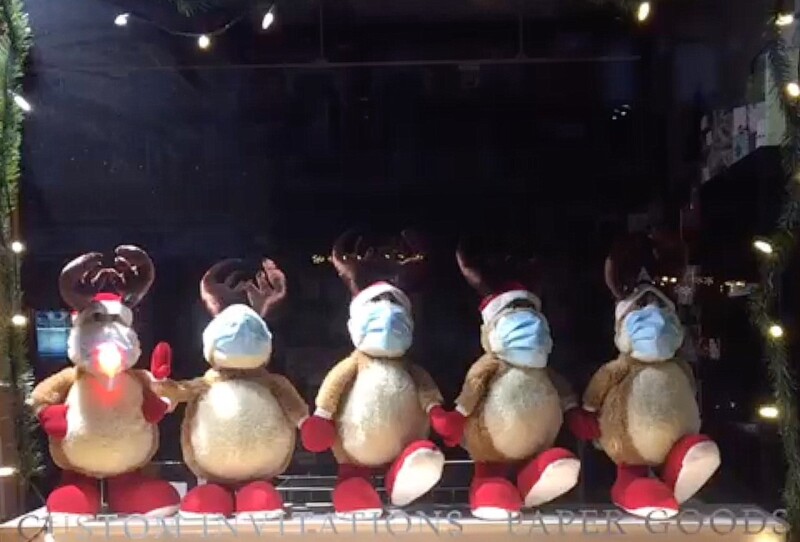 The first creation went on display in 2010, the outgrowth of coffee shop brainstorming with a good friend. When the two stopped in the local drug store, the friend offered to buy six stuffed reindeer on clearance sale if Tim would animate them. By the next Magical Night, Santa's reindeer were performing a cheery line dance as stubborn Rudolph shakes his head "no."

The whimsical collection simply grew from there eventually reaching ten creations, eight of which will be in the windows for this year's Magical Night.

"Building them is absolutely great fun. Watching people look at them is like heaven," says Tim. "I just love the reaction from the kids. I try to be a little comedic, you know, so the kids like the characters and the movement, and the parents laugh at whatever they're doing."

Just like the attractions at a Disney theme park, no two animations are alike. Tim's personal favorite is a bear riding a bike atop a tightrope. There's also a cat gripping a swirling Christmas tree while trying to swipe a bird from a cage on each turn. With that one, he had design help from a group of local middle school students. In another, a hen lays tiny wrapped Christmas boxes, instead of eggs, onto a conveyor belt.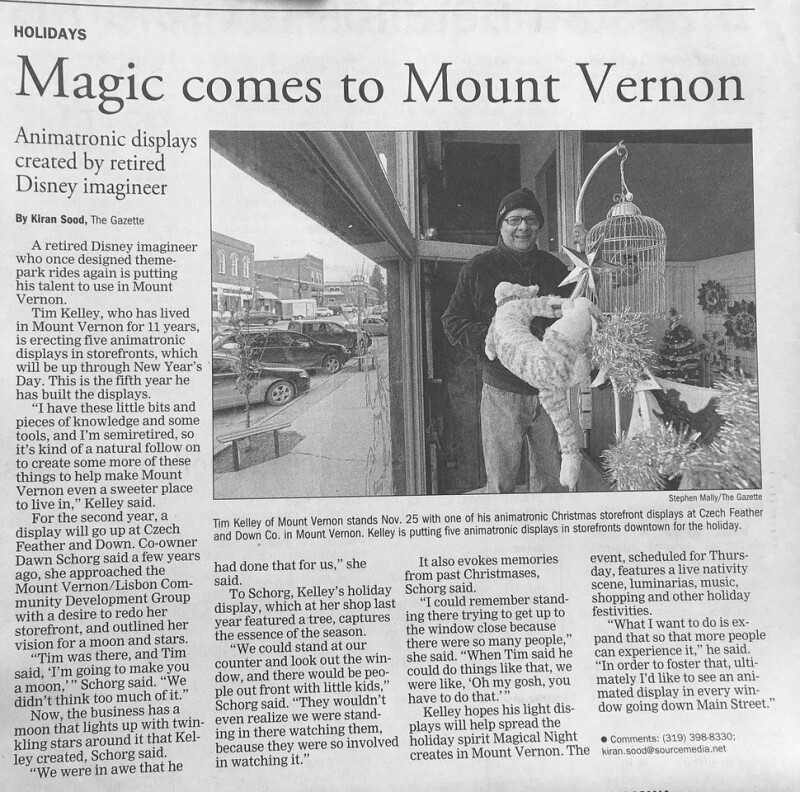 Both this year and last, COVID-19 turned Magical Night into a drive-through event. But Tim has tried to make the best of the pandemic months, too. Working in his garage, where he's created a 21st Century version of Gepetto's workshop, Tim gave all his creations tune-ups and ensured they'd have "new tricks up their sleeves" for onlookers.

Magical Night 2021 Mount Vernon's drive-through holiday event runs from 5-7 p.m. Wednesday, Dec. 1. To learn more, visit the Magical Night Facebook page



He's been a tinkerer and inventor since his California childhood days, growing up in the early Sixties mostly in southern California in the heart of booming defense and aerospace companies. He recalls his first kid creation was a cardboard airplane. Later he and his school buddies started building their own cars (because he couldn't afford to buy one, he said, as if that's what every young person would do).

After high school graduation and during the peak years of the U.S. aerospace program, Tim landed a draftsman's position with a major company nearby. He was one of the many inventive minds answering the call to design components for the U.S. space program.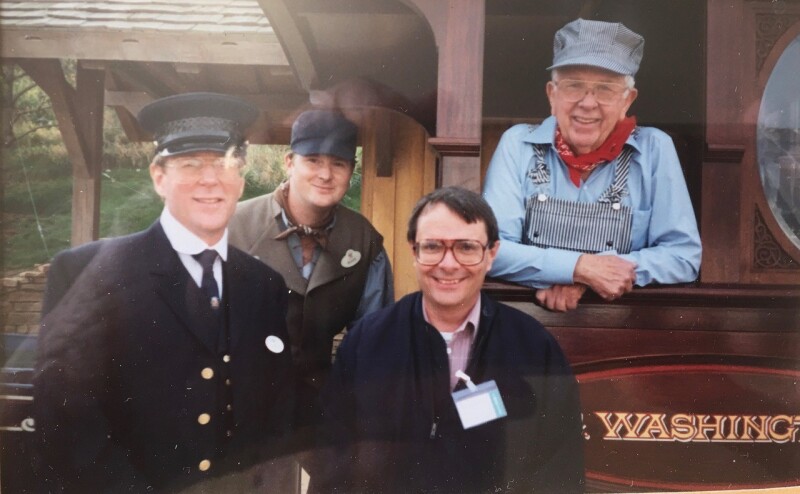 But when that program began to slow around 1967, a former colleague urged Tim to join him at WED Engineering, the nearby Walt Disney parent company. Soon, Tim was hired and attending brainstorming meetings to help refine and shape Disneyland attractions including park classics like Tomorrowland's Autopia ride.

Walt Disney himself died shortly before Tim arrived, but the late visionary had hired all Tim's new co-workers. "It was absolutely awe-inspiring the talent in that group. I mean, talk about being lucky!" he recalls. His challenge was to listen to the art directors' dreams and then make them practical yet still Disney-magical, or as Disney once put it, "There's no magic in magic. It's all in the details." Tim was constantly testing engineering designs to be sure the end results were the best, safest and most reliable attractions possible. "It was my job to look it over and try to anticipate what kinds of things might go wrong and kind of catch it in the process," he says.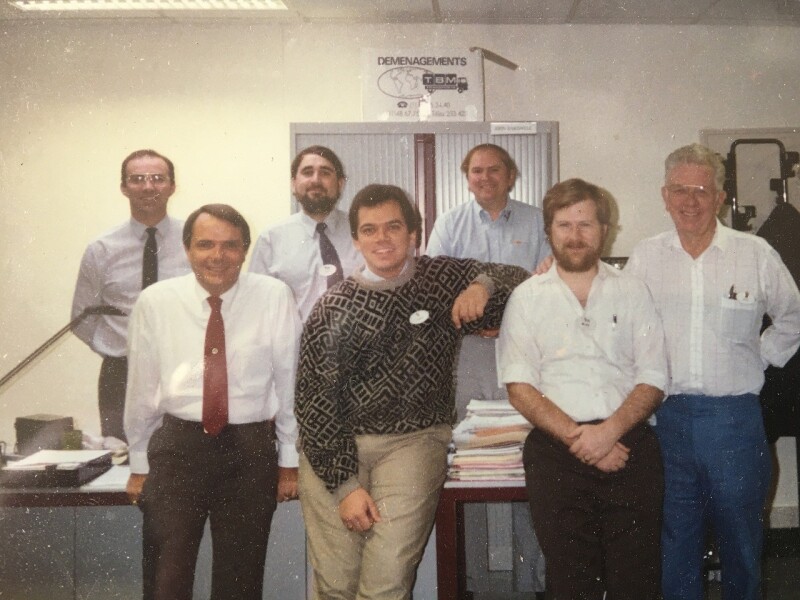 The arc of his career saw him moving and traveling often, both in the States and abroad. He played significant roles in building and upgrading attractions at both Disneyland and Disney World, and then put all the lessons learned into helping bring Disneyland Paris from mere concept to reality. "It was just a potato patch!" he says of the location when he first landed in France. But he proudly recalls the park's opening day as one of the smoothest ever for a theme park. There also were stints with a Swiss ride-construction firm and Universal Studios, plus plenty of time for Sara and Tim to polish their French and explore Europe. But eventually he refocused on the Disney orbit, based in Florida and this time working as an in-demand consultant and trouble-shooter.

The two grandchildren who brought Sara and Tim north to Mount Vernon now attend college nearby. So these high school sweethearts, married for 58 years, are mulling their next life transition. Whatever it is, you can bet it will keep Tim challenged. When his brilliant Disney mentors retired a decade ahead of him, Tim noticed that most of them died within a couple of years. He's convinced it was because they turned off those creative switches as they headed to retirement and the golf course.

"I decided that's not going to be me," he said. Tim still travels regularly as a consultant, allowing him to focus on ideas and not the bureaucracy. And he likes knowing he still has something to contribute, something he believes should motivate everyone. "It's essential to test yourself and stay involved," he advises.

At this stage in life, he also recommends taking a lifetime of learning and sharing it with others. That's how he sees his Magical Night creations. "It reaches a point where you want to give back," he says. "In my case, it's being able to do the things that entertain people, that make them feel better for a minute."

Walt Disney probably would have admired Tim's philosophy for living. Disney often said he never lost his own zest for life, and as another Disney quote says, "Laughter is timeless, imagination has no age, and dreams are forever." That sounds like something Tim Kelley might say, too.