By Brad Anderson, AARP Iowa State Director

"Whoa!"
"I'm impressed."
"It's growing on me."
"Hey, @bradandersonIA, Miami Vice called. They want their paint back."

These were verbatim reactions to our Des Moines East Village Better Block project from a person driving by in a convertible, a skeptical business owner, a local columnist and a jealous fellow AARP State Director from the east coast.

Like it, don't like it, love it, don't understand it – whatever you think of this project and similar projects across the country, the result was what we intended. It got people talking.

Why would AARP sponsor a major effort to transform a block of the East Village and turn it into a vibrant destination, only to tear it all down a week later? Honestly, I asked the same question. From Monday, July 16 – Thursday, July 19, we painted the street, sidewalk and protected bike lane on Grand Avenue between East 5th and East 6th Streets. For a single block we built benches and planters, made signs, brought in trees, outdoor tables and chairs for local restaurants, and even painted a mural.

https://youtu.be/S1vNMiGl2V8

Months of planning went into the Better Block project, along with city permitting, door-to-door petitioning, materials, and buckets of sweat from our dedicated AARP volunteers. When I first heard about the project it seemed like a lot for a week-long transformation, but I went along since I've always had a soft spot for risky, not-always-practical creativity that turns heads.

With the plywood removed and the washable paint awaiting some rain, it's safe to say our Better Block project was a success. I admit I don't know much about urban planning, but one thing I do know is that it's easier to see how something works live and in person than looking at a plan on paper.

The nice thing about transforming a one-block area is that you get a true sense of what it takes to turn a simple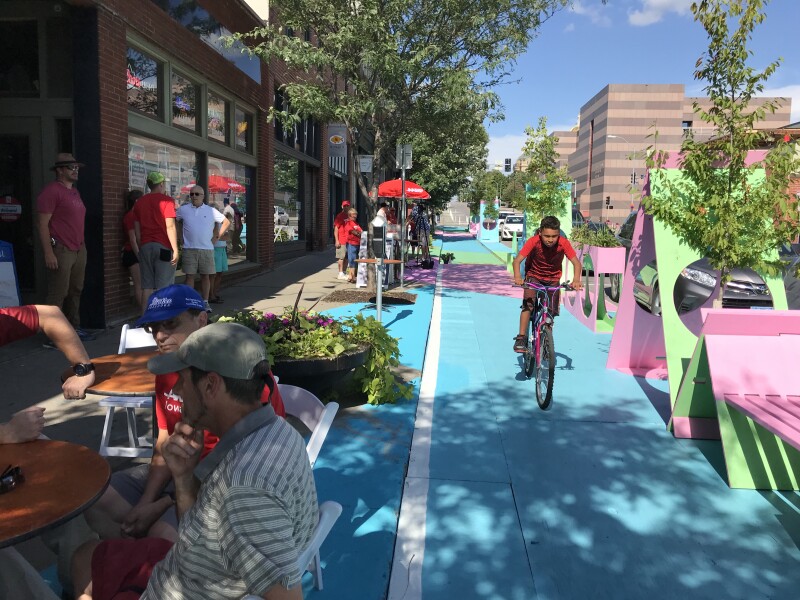 streetscape into a destination. You don't need to be in Paris to drink coffee at a bistro table on a sidewalk - we did that in Des Moines. Why don't we protect our bike lanes with elevated planters, and make them colorful to clearly delineate bike lanes from auto lanes? These types of bike lanes are not only more vibrant and visibly appealing; they're safer and easier to navigate for both drivers and bikers.

After the project was complete and we cut a symbolic ribbon with oversized scissors, we watched as kids biked and skateboarded past our AARP volunteers hanging out at the tables. The whole thing just worked. Yes, it takes time and money to make complete streets such as these permanent, but we must make these complete streets a priority if we want to continue to maintain Des Moines' status as a city on the move.

AARP supports investing in more walkable, bikable and livable streets because the 50+ community is doing 50+ differently than they did decades ago. They want to bike to work and walk to the store. We also support transforming streets into social hubs because the danger of social isolation is real and now considered a global health risk. A recent study from AARP Public Policy Institute outlined the dangers of social isolation on health – likening it to smoking 15 cigarettes a day.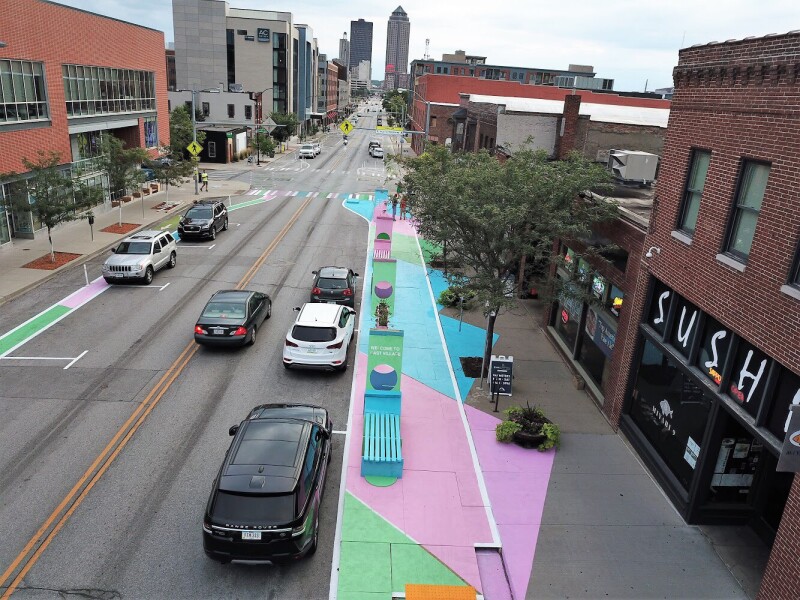 Our Iowa AARP office will be continuing our Livable Communities work in Des Moines and expanding it to other communities throughout the state. Visit our website at aarp.org/livable to learn more about AARP Livable Communities, and if you want to transform a block where you live, or need help making your streets more complete, send us an email at IaAARP@AARP.org. And finally, if you want to volunteer for AARP and make a difference in your community, sign up today at aarp.org/giving-back.