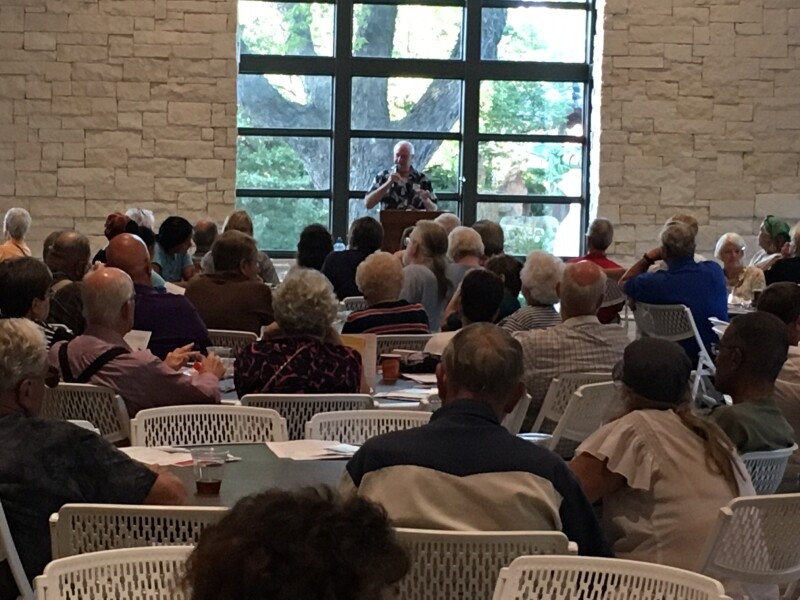 There was a packed house at the Botanica Gardens in Wichita in August as area residents gathered to hear about volunteer opportunities that are available through AARP Kansas. While many of those who attended know AARP for its discounts and insurance product endorsements, many didn't realize that AARP recruits volunteers to do a variety of work in communities across the state such as advocacy, community outreach, helping prepare tax returns, and teaching safer driving, as well as serving on the AARP Executive Council and Diversity Council.

AARP Executive Council Member and Advocacy Volunteer Gerald Schmitt told the crowd about his activities as an advocate at the Kansas Legislature and his contacts with local and state legislators and Kansas Members of Congress to make sure they know that AARP is concerned about supporting caregivers, financial security, consumer protection from frauds and scams, and reasonable utility rates, to name just a few issues. Schmitt also told about his work as a member of the Executive Council which makes recommendations about which issues AARP Kansas should focus on in our state.

Those interested in becoming an AARP Kansas volunteer were asked to provide information about themselves and their area of interest. When you become an AARP Kansas volunteer, you are asked to attend an orientation session where you will receive information about AARP, our work in Kansas, and learn more about the particular issue/s on which you are interested in working.

If you weren't able to attend the meeting, or if you live in other areas of our state, you can still apply to be a volunteer. Contact Andrea Bozarth at 866-448-3619 or e-mail ksaarp@aarp.org to let us know if you are interested in volunteering.