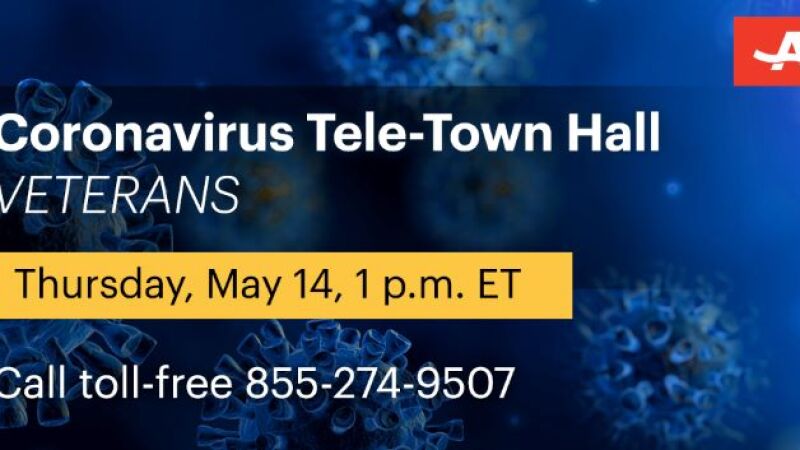 AARP Veterans & Military Families COVID-19 Tele-Town Hall

AARP is hosting a National Tele-Town Hall with special guests on Thursday, May 14, 1:00pm-2:30 p.m. EST focusing on Veterans, Military Families and the Coronavirus. Call toll-free 1-855-274-9507 to ask questions and hear special guests from the Department of Veterans Affairs, Elizabeth Dole Foundation, local workforce and financial services sectors, discuss:

Accessing benefits and health services through the VA or general health care providers.
Caring for loved ones, including coordinating supports and back-up care, and how to stay connected to loved ones who are in VA long term care systems.
Understanding and managing income and finances including employment and small businesses, additional resources from the recent economic stimulus and accessing and veteran's benefits.
Providing resources to help cope, including managing their well-being, staying sharp, managing stress, anxiety, and other adverse effects of physical distancing.
Special Guests:

· Dr. Lynda Davis, Chief Veterans Experience Officer, Department of Veterans Affairs (VA);

· Ms. Rashi Venkataraman Romanoff, Vice President for Programs & Partnerships, Elizabeth Dole Foundation; and,

· Mr. Charlie Koon, Vice President for Corporate & Military Business Development, F&M Bank, Clarksville, TN/Ft. Campbell, KY

To join the conversation with your questions and hear the latest news, tips, and resources to support Veterans & Military Families:
Call toll-free 1-855-274-9507 – Thursday, May 14 between 1:00pm-2:30pm EST

AARP has more resources for Veterans, their families and former Military available, here: www.aarp.org/veterans
For questions about COVID-19 and how it affects VA health care and benefit services, visit U.S. Department of Veterans Affairs coronavirus FAQs or read VA's public health response.