A core tenet of AARP is the belief that volunteer service is one of the most important and valuable contributions a person can make to their community. AARP Maine's Executive Council is a group of volunteer leaders from Maine's communities who hold that same core value.

As a Volunteer Executive Council, these leaders work closely with the Volunteer State President and State Director to carry out AARP's strategic priorities in Maine. Their work includes providing guidance to the state office on a variety of activities such as research, diversity outreach, community organizing, and member engagement.

Besides representing the Maine state office as spokespeople, each member of the Volunteer Executive Council carries out AARP Maine's mission in their own lives and work.

MEET THE AARP MAINE EXECUTIVE COUNCIL: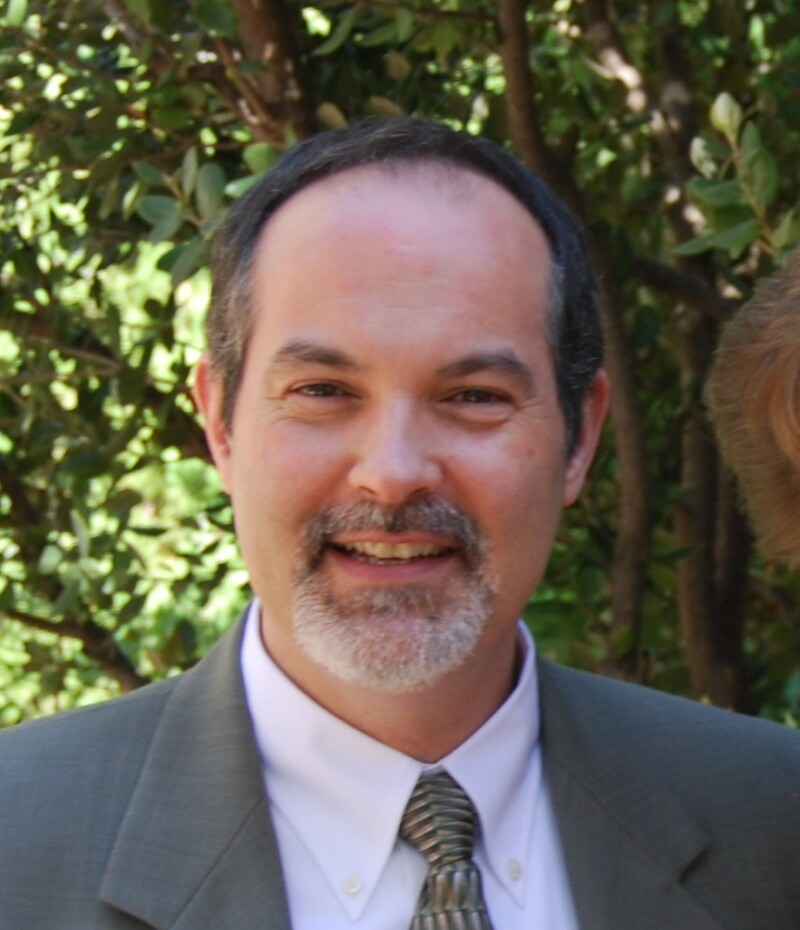 Andre Chasse, Northern Light Health

Originally from Maine, Andre spent 30 years in Southern California before returning to Maine in 2014, where he has settled back in his hometown of Bangor, working for Northern Light Health, as Retirement Benefits Manager.

Before embarking on his career in Human Resources and Employee Benefits, Andre studied music performance at the University of Maine and the University of California in Irvine. Andre continues to be involved in music at his home church, Hammond Street Congregational Church, UCC (HSCC), in Bangor, as well as singing with the Black Bear Men's Chorus and the Oratorio Society at the University of Maine in Orono.

Andre's community involvement includes being a founding member and Membership Director with Men Alive, the Orange County Gay Men's Chorus, being a Trustee at HSCC, and being a Board member with the Bridge Alliance, and with Casa Major (a non-profit housing organization in California).

Andre has a Bachelor of University Studies degree from the University of Maine. He lives in beautiful downtown Bangor with his cat, Fanta.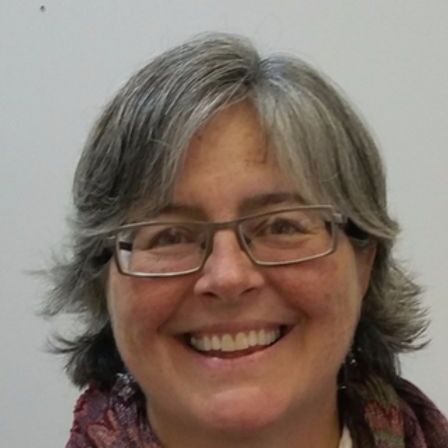 Anne Schroth, Healthy Peninsula

Anne became the Executive Director of Healthy Peninsula in October 2021, after 7 years as the Healthy Aging Coordinator. Anne was initially hired in 2014 to coordinate the Thriving in Place Downeast (TiPD) collaboration, a 3-year project funded by the Maine Health Access Foundation that successfully developed strategies and partnerships to help older community members and those with chronic health conditions remain healthy and thriving in their own homes and communities. Building on the TiPD model after those first three years, she supported Healthy Peninsula's continuing leadership role in community planning and collaboration, coordinating diverse community partners in the region-wide Age-Friendly Coastal Communities initiative, a multi-faceted healthy aging endeavor affiliated with the AARP and the World Health Organization and designed to create communities where we can all stay healthy and engaged as we age. Anne has helped maintain Healthy Peninsula's aging work with grant funding and donations, combining a mix of flexible, responsive services that include coordination and convening of community collaborations, providing healthcare and social service resource connections to individuals and providers, and creating targeted direct service projects for older residents, particularly focused on those who are historically under-served and low-income.

Anne grew up in Sedgwick and attended school in Brooklin and Blue Hill. She left Maine for many years to practice poverty law in Washington, D.C. and Ann Arbor, Michigan, most recently as a Clinical Professor at the University of Michigan Law School. While at Michigan, Anne founded the Pediatric Advocacy Initiative, a collaboration between legal and health professionals designed to remove legal and social barriers to the health and wellbeing of low-income patients and their families.

Anne is happy to be back in her hometown, working with an organization that embodies the values and community-based spirit that she most appreciated in her previous legal work.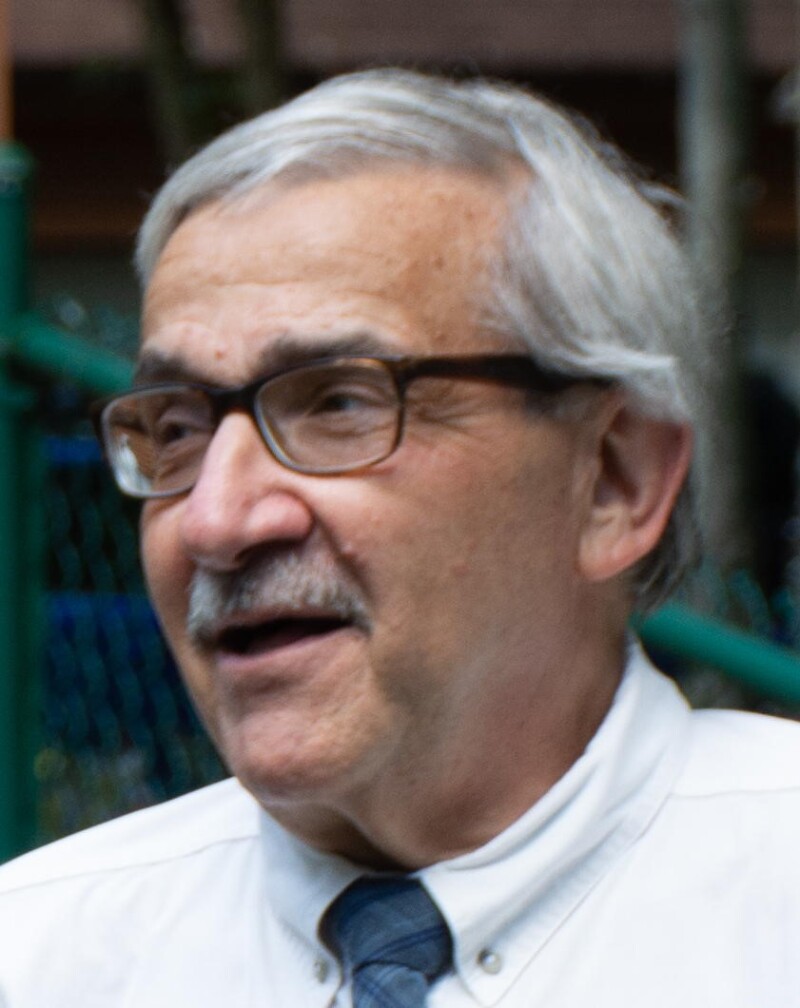 Carl Bucciantini, Retired Educator

After over 40 years in schools, Carl is a happily retired public school educator. He is an active AARP Maine volunteer, serving as AARP Maine Volunteer State President. Carl's teaching career began by teaching 3rd and 4th grade in Dexter, ME. Following the receipt of his Master's degree he moved to Auburn as an elementary school counselor, then to the middle school as a counselor. After about 30 years or so he needed a change, so he moved into the role of a Technology Integrator, where he worked with educators and students in the use of various technologies in the classroom setting.

Carli is blissfully married and has four children and four grandchildren. Carl and his wife, Joyce, were awarded the AARP Maine Andrus Award in 2021. This award is named for the founder of AARP, Dr. Ethel Percy Andrus.

Carl M. Toney, P.A, Association of Clinicians for the Underserved (ACU)

Carl M. Toney, PA, a 1979 graduate of the Physician Assistant Program, Duke University School of Medicine, has dedicated his career to his commitment to helping underserved populations ranging from practicing clinically in Internal Medicine & Geriatrics, serving low income patients; working as a Health Manpower Specialist with the Georgia State Office of Rural Health; serving as a member of the 1993 US Public Health Service Primary Care Policy Fellowship; and then as Director of HIV/AIDS & Sexually Transmitted Disease Prevention Programs, Maine Bureau of Health (now the Maine Centers for Disease Control).

Carl is a Charter Member (and Past President), of the Association of Clinicians for the Underserved (ACU), and remains an active member. From 1994 – 2011 Carl served on the faculty of the University New England (NE) where, among other activities, he co-developed and later directed UNE's Inter-professional Geriatric Education Practicum, and in 2000 founded the Center for Transcultural Health, where he served as its Director for eleven years. Carl is now a Health Care Planning Consultant, currently working with: 1) AARP-Maine (Executive Council of Volunteers) 2) The Southern Maine Agency on Aging (Board of Director). 3) Office of Maine Refugee Health Services, Catholic Charities Maine. And; 4) City of Portland Minority Health Program Stakeholder Alignment.

In 2022, Carl was appointed by Senate President Troy Jackson to the Advisory Council on Affordable Healthcare.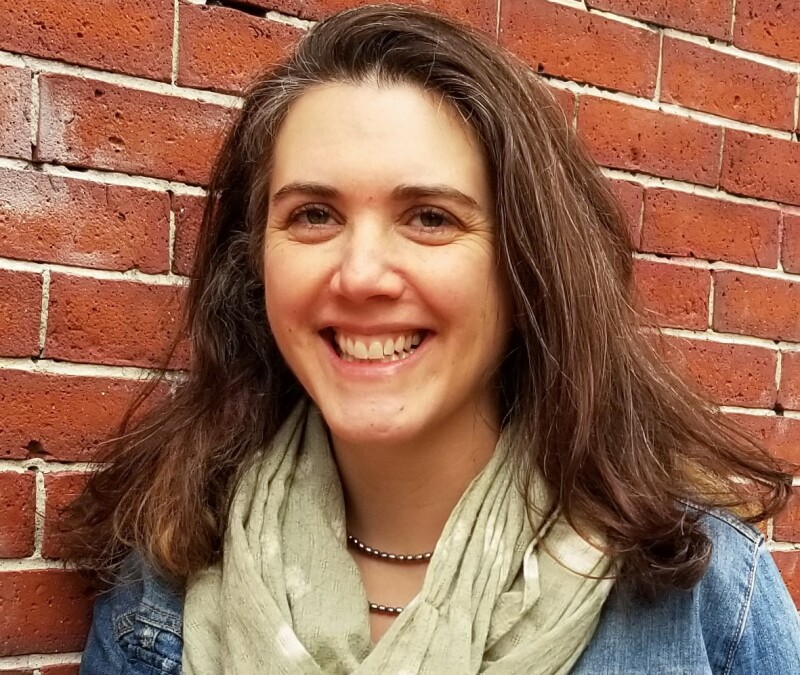 Jean Sideris, Bicycle Coalition of Maine

Jean enjoys biking, hiking, skiing, and the many other ways to take advantage of Maine's outdoor wonders. A life-long environmental and civil engagement advocate, she has spent her career in non-profits advocating for effective solutions to our most pressing issues and is eager to help shape a path to making biking and walking safer for all Mainers. Jean has an undergraduate degree from the University of Colorado, Boulder and a master's in Journalism from Northeastern University. She grew up in Colorado, moved to Massachusetts after college, and eventually made her way up to Maine in 2016.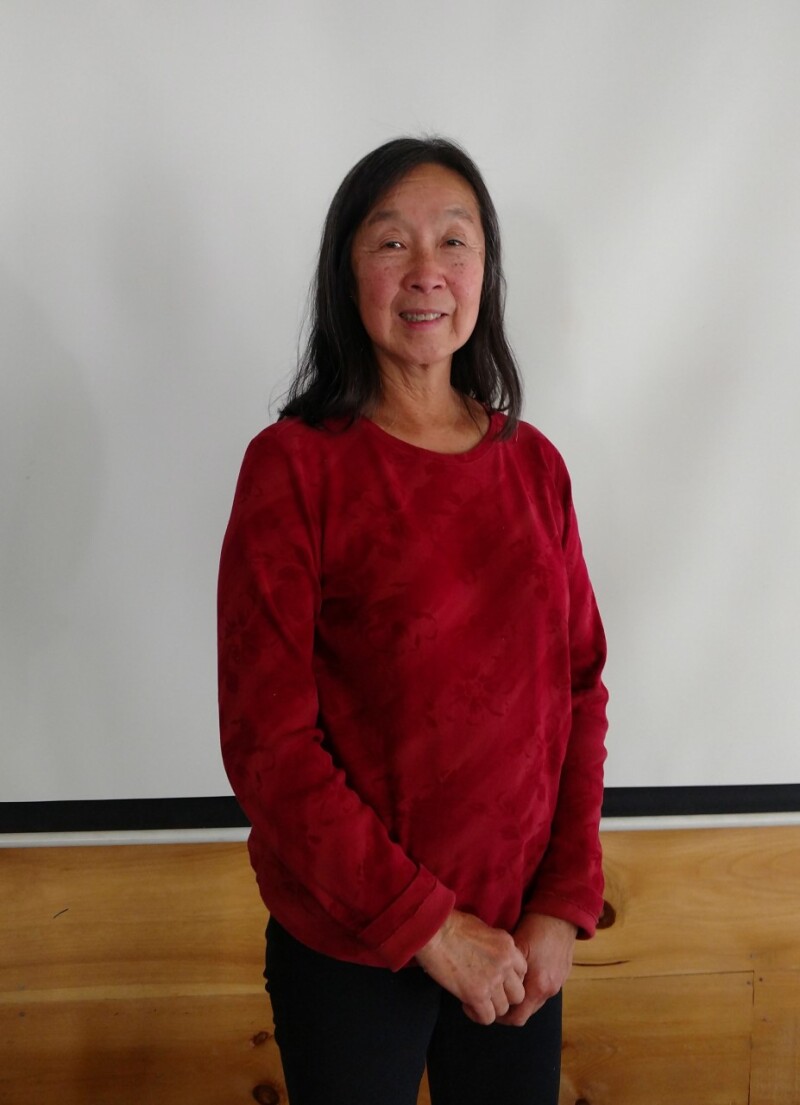 Sammee Quong, AARP, Viles Arboretum, Spectrum Generations (Meals on Wheels), Catholic Charities (SEARCH)

Sammee was born in Guangzhou, China, emigrated to America with my family at 3 years old and grew up in Fall River, MA. In 1974, Sammee moved to Maine, became a Registered Nurse and retired in 2013. In the mid 1980's she started an organization called Asian Cultural Programs. Sammee also co-hosted a State Cable TV program called, "More Than You Are." After her retirement in 2013, she volunteered with AARP Maine serving on the State Advisory Board as well as the Regional Board.

Currently, Sammee is on the Board of Directors Chairperson of the Viles Arboretum, packs meals for Meals on Wheels and spends time with her 99 year old friend through the SEARCH program.


Sara Grant, LMSW, University of Maine's Center on Aging, Senior Companion Program

Sara Grant, is a geriatric social worker and the Director of the AmeriCorps Senior Companion Program with the University of Maine's Center on Aging. She is a Licensed Master Social Worker, with over 15 years working in various social services programs and enjoys helping others achieve their goals. Sara is the Chairperson of the Augusta Age Friendly Committee and has been involved in the Age Friendly work and livability initiatives across the State of Maine for over five years. She manages volunteer-based programs within her immediate community and throughout many counties in Maine. Sara has and continues to serve on various community social service boards to promote lifelong learning, raising awareness on topics such as Age Friendly/livability work, elder abuse, and healthy communities.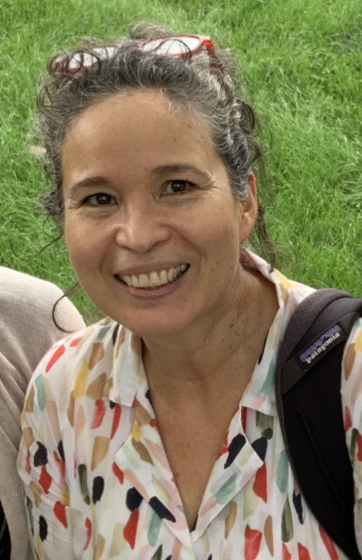 Elna Osso, RN, MPH, City of Portland Public Health Department

Elna Osso, is a nurse who worked for more than 18 years in a tertiary care hospital on a range of services. She also has experience working with the homeless and other marginalized populations in Portland, Maine. She has worked extensively in the Americas & Caribbean as well as in Africa "abroad", however her first experience working abroad was here in the US as she is originally from Peru.

For the past 10 years, Elna has been employed at Harvard Medical School as a clinical and pharmacovigilance coordinator for international tuberculosis studies.

Elna graduated from New England Deaconess Hospital School of Nursing, and holds a BS degree from University of Southern Maine and a Masters of Public Health from Boston University.


Jean Letourneau Saunders, RN, MSN, MPH - Age-Friendly Saco

Jean grew up in Winslow, Maine and attended the University of Maine to obtain an AD in Nursing. She returned to the University of New Hampshire to obtain a BSN and went to Columbia University for a dual degree Masters Program for a MSN as a Perinatal Clinical Specialist and a MPH in Health Administration . She spent time in nursing administration both at the Dartmouth Hitchcock Medical Center and then for a period of time at the Long Island Jewish Medical Center in New Hyde Park, NY. In 1990 she returned to her beloved State of Maine working as a hospital administrator at Maine Medical Center both in Project Management and then as the Cardiac Services Administrator.

Since leaving the field of health care administration, Jean has enjoyed helping to develop Age-Friendly Saco starting in 2016. Age-Friendly Saco is a total volunteer organization dedicated to making Saco a more livable community as well as dedicated to helping residents stay in their homes as they age and thus truly making Saco "A Community for a Lifetime".

Jean has enjoyed being part of the newly formed Bike and Pedestrian Committee for the City of Saco as well after having completed 10 years of the Trek Across Maine for the American Lung Association with 3 of those completed with her daughters on a bicycle built for 3. She has also enjoyed walking the Camino de Santiago in Spain in 2018 with her daughters.

She is grateful to her community for the support they have shown in helping to create Age-Friendly Saco and the army of volunteers that are dedicated to helping our residents.

She lives in Saco with her very supportive husband, son, 2 cats and 2 dogs.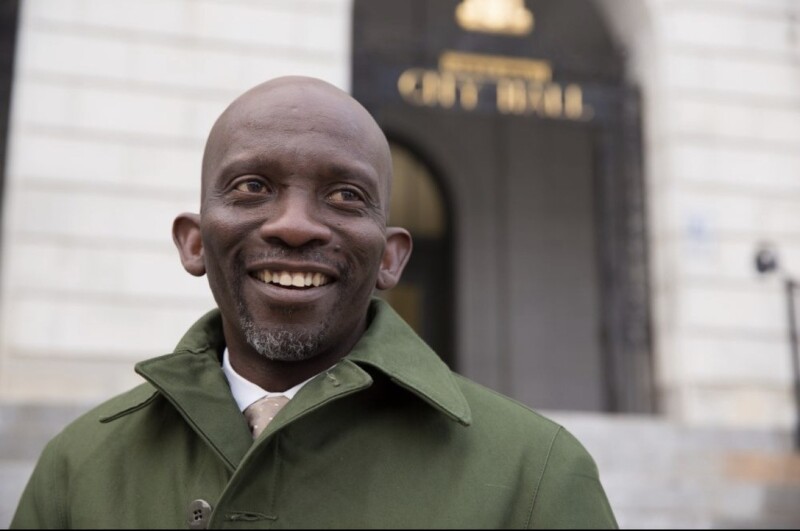 Pious Ali, Portland City Council
Dedicated public servant, assertive and pragmatic leader with a diversified skill set in community organizing, activism and civic engagement, Pious is the founding Director of Portland based Portland Empowered a program that creates opportunities for Students and families to engage their school and work with them to create an equitable learning environment through Racial Equity Lens.

He's worked as Youth and Community Engagement Specialist at the University of Southern Maine's Muskie School of Public Service 's (Portland Empowered) and has spent the better part of his career focused on community engagement. He has created a meaningful and ongoing dialogue across cultural, ethnic, socioeconomic, and faith-based barriers.

Mr. Ali is the first African-born Muslim American to be elected to a public office in Maine, becoming a member of the city's elected Board of Public Education in 2013. He also founded the erstwhile Maine Interfaith Youth Alliance and Co-founded the King Fellows, a Portland-based youth group dedicated to creating meaningful opportunities for youth through leadership and civic engagement based on the legacy of Dr. Martin Luther King, Jr.

A native of Ghana, Pious worked as a photojournalist for a range of print publications. He migrated to the United States of America, first to New York City, and has called Maine his home since 2002 where he lives with his two children.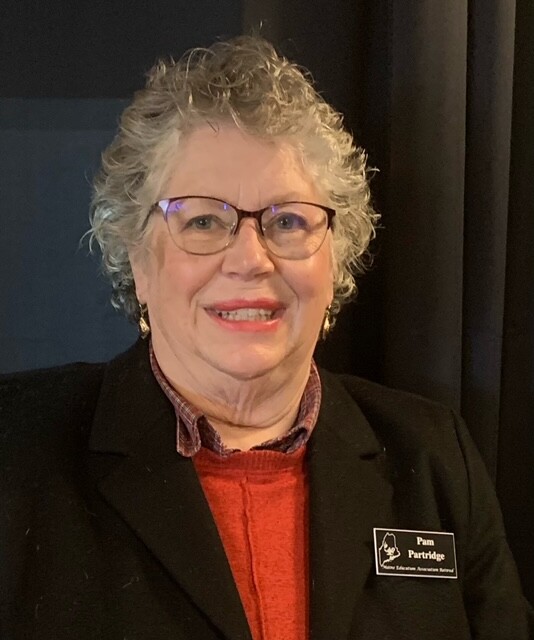 Pamela J. Partridge, Retired Educator

Pam grew up in New Jersey where her parents owned an hardware store in Red Bank near the Jersey shore. She came to Maine in 1971 to attend Unity College, earning a degree in forestry and meeting her future husband, Deane. After marriage and the birth of their son, she returned to college as a non traditional student in the secondary teacher education program at the University of Maine, Farmington. Pam taught middle level science for 11 years, and varying combinations of grades 3, 4 and 5 for 13 years at the Garret Schenck School in Anson, while also earning her M.Ed., Middle Level Education, at the University of Maine in 1994, and her K-6 teacher certification. She retired from teaching in 2012. Presently, she's the president of the Somerset Education Association Retired, web administrator for the Maine Education Association Retired, volunteers with the AARP Maine TASH group, belongs to several local, state and International organizations, and volunteers at a local soup kitchen. In her spare time she enjoys sewing, crafting, gardening, social gatherings, listening to music, swimming, daydreaming, gazing at the night sky, and having breakfast with the birds. She lives on the Carrabassett Gorge in North Anson, where she takes short walks with her beagle buddy, Bandit, as well as spends a little one-on-one time with an independent cat named Leo. She has a son, a step-daughter, several grandchildren and great-grandchildren.