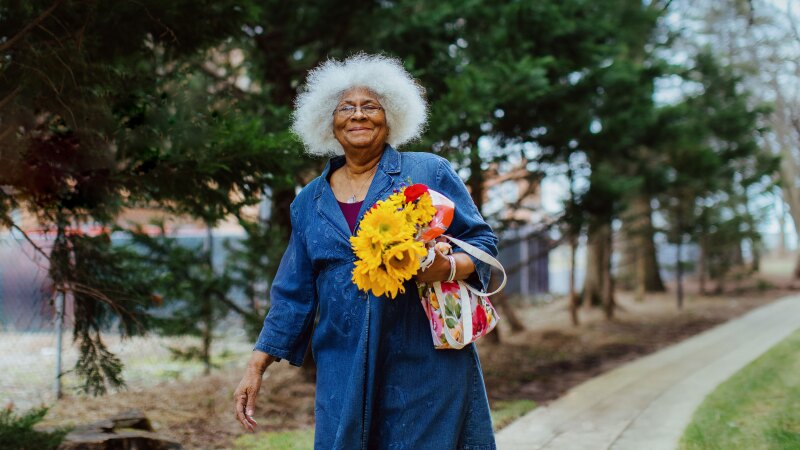 When COVID-19 shut down Hyattsville's Call-A-Bus service in 2020, Winifred Weaver, 75, lost her only way of getting to the supermarket.

But the city and its diverse corps of volunteers sprang into action, repurposing the bus service as a delivery system for weekly supplies of food to Weaver and other older residents at her Friendship Arms apartment building and across the city.

"So many of the older adults in the community don't have transportation" and rely on city services, Weaver says. "There was a lot of food insecurity in our building."

The pivot to meal delivery amid the coronavirus pandemic is just one way Hyattsville has worked to become a more livable place for residents of all ages. The city is one of six Maryland localities so far that have joined the AARP Network of Age-Friendly States and Communities.

Nationwide, there are more than 600 members of the network, which focuses on making neighborhoods more walkable, improving access to public transportation, advocating for affordable housing, and more.

"The beauty of it is that it's completely driven by the community," says Jen Holz, AARP Maryland director of outreach. "I love the uniqueness of each community's approach."

Embracing the Outdoors

Last fall, Calvert County applied to become the newest Maryland member of the AARP network.

Sudha Haley, of Huntingtown, a commissioner with the Calvert County Commission on Aging and member of the AARP Maryland Executive Council, says the timing was right, since the county is in the midst of planning updates for its town centers.

One project being developed with age-friendliness in mind is improving the 27-acre Prince Frederick site of the new Harriet Elizabeth Brown Community Center and Park. Plans include trails, a green space for farmers markets, pickleball courts and more.

In Howard County, a team of nearly 100 volunteers began implementing its network plan in January.

Terri Hansen, the county's age-friendly program manager, says ideas being explored include requiring new buildings to incorporate universal design features, a concierge service to help people request ride-hailing services without a smartphone and an age-friendly certification program for local businesses.

Baltimore County, which joined the AARP network in 2019, is aligning plans with its Dementia Friendly initiative, says Emily Kearns, who heads that program. The mission includes increasing intergenerational initiatives to combat ageism and "dementia phobia," says Kearns; it will include "friendly forest" meetups that bring together college students and adults with memory challenges for nature outings.

Another priority is encouraging local businesses to make changes so older adults feel welcome, such as offering large-print menus in restaurants.

AARP's Holz emphasizes that any community can join the network, even those with limited resources. "You can be the tiniest rural town in Maryland. It's a matter of having the right people in place to get it done."

Learn more at aarp.org/livable or email Holz at jholz@aarp.org.

Natalie Missakian is a writer living in Cheshire, CT.

What Is a Livable Community?
For more on Livable Communities