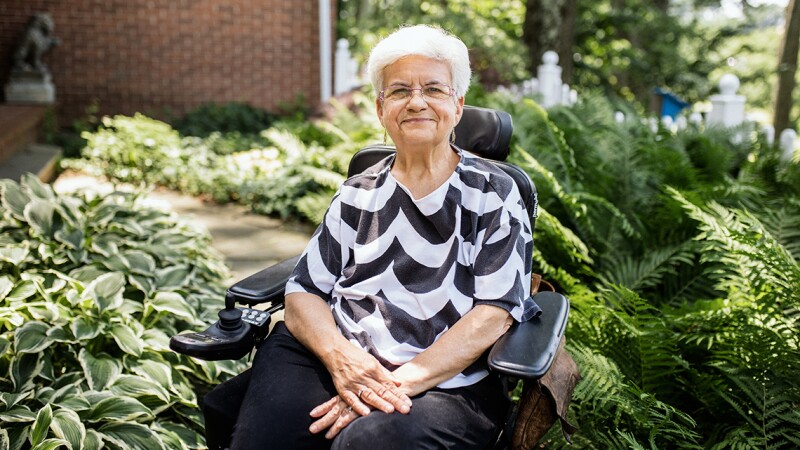 Marian Vessels, 67, of Ellicott City, has used a power wheelchair since a car accident during college left her paralyzed. But she's one of Maryland's most vocal evangelists for the benefits of walking.

"It may seem kind of unusual, given the fact that I technically don't walk," she acknowledges. But Vessels absolutely considers herself a pedestrian, noting that she frequently goes out for walks in her wheelchair.

"The benefits of walking are phenomenal. The mental health aspects, the physiological health aspects, getting out in fresh air and enjoying nature," says Vessels, who serves on the Maryland Bicycle and Pedestrian Advisory Committee.

In October she will join AARP volunteers, state officials, planners and other pedestrian advocates from around the state to celebrate Walktober 2022, a monthlong series of activities and online "walkinars" to promote the benefits of walking and to highlight pedestrian safety.

Last year 130 pedestrians in Maryland died after being struck by vehicles, up from 107 in 2016, according to Zero Deaths Maryland, a state Highway Safety Office program that aims to eliminate traffic fatalities.

Maryland lawmakers approved walking as the official state exercise in 2008. The first Wednesday of October is Walk Maryland Day, when organized walks will take place throughout the state. This year Oct. 5 marks the eighth annual event.

In 2020 the Maryland Department of Transportation expanded the effort to the entire month, in order to increase awareness about the importance of walking as a form of exercise, recreation and transportation, says Francine Waters, a project specialist at MDOT.

Walktober involves multiple state agencies, among them the departments of Health, Transportation, Aging, Tourism and Commerce, as well as 40 organizations, including AARP Maryland.

"Walking is an integral part of our daily routine," Waters says.

Jen Holz, AARP Maryland's outreach director, says walking has benefits beyond the physical.

"The ability to get around, socialize and participate in healthy activities are key aspects of what makes a livable community," Holz says.

Safety first

Volunteer David Conway, 68, of Columbia, has spent the past three years promoting Walktober for AARP Maryland.

Conway's inspiration is his 97-year-old mother, a retired substitute teacher who is still very active and takes walks around her neighborhood. He's convinced that movement is the key to her longevity. "She's always on the move," he says.

Walktober programming will highlight efforts to improve pedestrian safety, such as the state's Pedestrian Safety Action Plan, which prioritizes areas where crosswalks, connected sidewalks and other changes are needed to make streets safer for people on foot.

Pedestrian safety will be the focus of one of the walkinars, which will occur on Thursdays in October, from 10:30 a.m. to noon. Among the other topics will be the health benefits of walking and equity in pedestrian planning.

AARP and America Walks will help kick off the free series on Thursday, Oct. 6. For more information, go to mdot.maryland.gov/walktober.

Natalie Missakian is a writer living in Cheshire, CT.

Your Brain on Walking (Short)
For more on Livable Communities