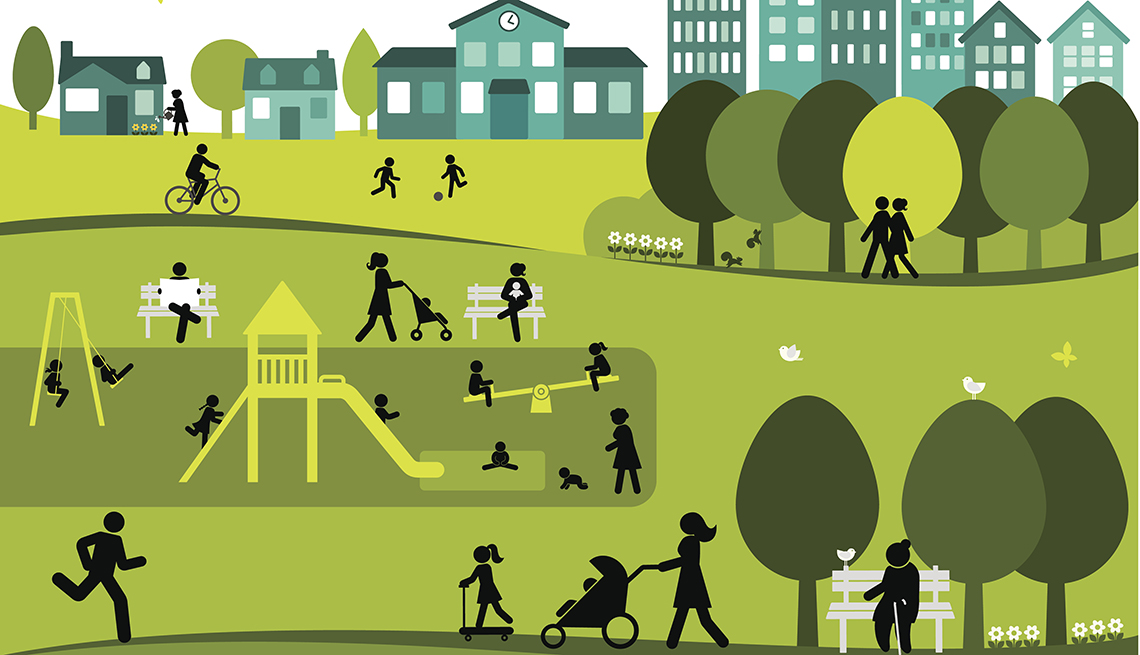 By Michelle R. Davis

When 81-year-old Christine Mansfield and her husband moved from their longtime house in Bethesda to a nearby apartment in Montgomery County last year, the goal was to make aging easier.

"We were looking for more stimulation and cultural activities," Mansfield said.

Now, when she leaves her high-rise in Friendship Heights, Mansfield can walk to the Metro station and her doctors' offices, a shuttle can take her to the grocery store, and the village's community center offers everything from concerts to blood pressure screenings. Each month the Maryland Motor Vehicle Administration parks its mobile office nearby so local folks can renew licenses.

Services like these are a reason that Montgomery County became a part of the AARP Network of Age-Friendly States and Communities. The program encourages localities to consider the well-being of older adults and to adjust resources to reflect the demographic shift of the country's aging population.

The state's most populous county, Montgomery was the first jurisdiction in Maryland to belong to the network, joining more than 340 other age-friendly communities across the nation.

Housing, transport, jobs

The number of older residents in Montgomery County is growing four times faster than the rest of its population.

In 2015 then–County Executive Isiah "Ike" Leggett (D) supported its application to the AARP Age-Friendly Network of States and Communities.

"We want to make sure people have resources and can afford to stay here as they age," Leggett said. That means bolstering county services ranging from affordable housing to health care access to improved transportation. To be designated age-friendly, communities must set goals and create an action plan to meet the needs of residents of all ages.

Leggett said he prioritized affordable housing for older adults and the creation of living spaces in central hubs, instead of in remote areas.

Current County Executive Marc Elrich (D) said he will focus on equity and inclusiveness for the county's diverse population.

"My long-term vision is a community for a lifetime—people of all ages thriving," he explained.

The county also has created an age-friendly advisory group, with representatives from local agencies, nonprofits and the private sector.

Some of Montgomery's programs for older residents include free bus access, tax incentives to retrofit homes for accessibility, and digital-skills education.

Elrich said he hopes to expand the hours for free bus service. He also plans to strengthen adult protective programs to prevent elder abuse and will continue employment expos for older workers. A recent $27 million commitment for five new housing projects for older adults will include 497 units for low-income residents, he said.

Mansfield said she and her husband, John, 79, feel connected to their community, where people of all ages live—exactly what the AARP age-friendly initiative hopes to achieve.

"This is not a nursing home; there are young kids being picked up by the school bus," Mansfield said. "But there are a lot of services for older people, and life is definitely easier."

Michelle R. Davis is a writer living in Bethesda.