Maryland's election plan gives residents options designed to make voting more convenient and safer during the coronavirus pandemic.

An application for an absentee ballot will be sent to all registered Maryland voters; those who return it will receive a mail-in ballot, so they can safely vote from home.
State officials are also encouraging early in-person voting, available from Oct. 22 to 29.
Gov. Larry Hogan (R) ordered all traditional Election Day polling centers to open to reduce the crowding and long lines of the primaries.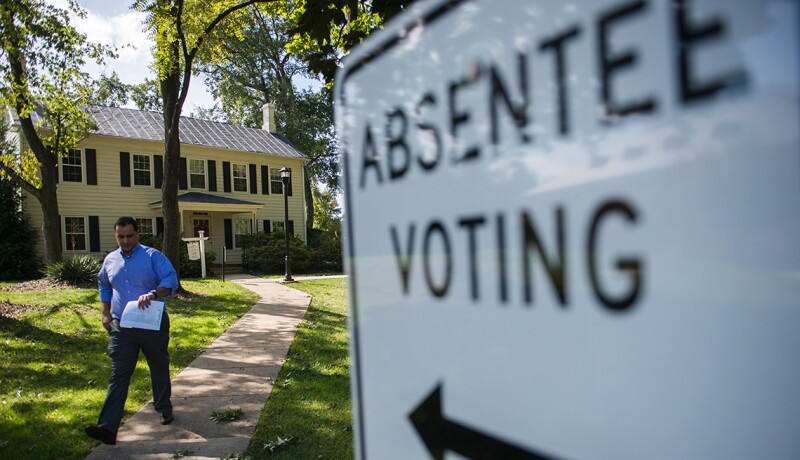 Here's what else you need to know.

How do I register to vote?

You can register online, in person or by mail. You'll need a Maryland driver's license or a Motor Vehicle Administration ID card to do it online; you'll need either of those or a Social Security number if you register by mail. In person, you will need a document (paycheck, bank statement, utility bill) that proves where you live. Register online at the State Board of Elections website. You can also print an application from the election board's website and mail it in or request one from your local board of elections or from the State Board of Elections.

Or you can register in person at many state and local government offices, including Motor Vehicle Administration offices and local department of health offices, plus college campuses, though some sites have reduced hours or require appointments because of the pandemic.

The deadline for registering to vote in the 2020 general election is Oct. 13, though you can also register during early in-person voting at an early-voting center or on Election Day at your assigned polling place. You'll need an ID or documentaion that proves where you live, such as a driver's license, utility bill or bank statement.

How can I get a mail-in ballot? Are there important deadlines?

The state plans to send applications for absentee ballots to all voters. Return it and you will receive a ballot before the election. If you don't receive an application, you can request one online. You can also print the application. Your local election office must receive your ballot application online or by mail, email or fax by Oct. 27.

You can also use the application to apply for a link to print your own ballot. The deadline to return the application for a link is Oct. 30. Once you obtain or print a ballot, you must return it by mail or in person. Mailed absentee ballots must be postmarked on or before Nov. 3. If you want to deliver your absentee ballot, take it to an early-voting center or, on Election Day, to a local board of elections office or a polling place by 8 p.m.

How do I know that my absentee ballot is secure?

Returned absentee ballots are handled only by designated election officials, who follow strict rules. The state also employs cybersecurity experts specifically for elections and uses a "defense in depth" program that runs multiple checks on voting procedures. It uses cybersecurity services offered by the Department of Homeland Security and follows the state's IT practices. Maryland also conducts audits after elections, which have confirmed the accuracy of voting.

When is Election Day? When are the polls open?

Tuesday, Nov. 3. The polls are open from 7 a.m. to 8 p.m.

Can I vote before Election Day?

Early voting is held Oct. 22–29, from 8 a.m. to 8 p.m., at 79 locations. A list of early-voting centers will be posted on the state's Board of Elections website.

What form of identification do I need to vote?

Most voters do not need any identification to vote. Some first-time voters will be asked to show identification, such as a driver's license, student ID, recent utility bill or bank statement with a home address. Find the full list of acceptable IDs here.

What is being done to make polling places safe from the coronavirus?

The state is supplying personal protective equipment to poll workers and volunteers. Local election boards are expected to follow Centers for Disease Control and Prevention guidelines on sanitizing facilities, social distancing and mask requirements.

Will I be able to vote in the same place as I always have?

Maryland will open all established polling locations, so unless yours changed for a different reason, it will be the same. Check your voting site on the state election board's website.

What are the key races in my state?

U.S. President
U.S. House: All 8 seats
Baltimore mayor
Voting rules and procedures may change before Election Day. We'll update this story if they do, so bookmark this page and check back.

AARP is urging older Americans to ask the candidates 5 key questions:

Just over half of all older Social Security beneficiaries rely on the program for at least 50 percent of their income. If elected, how will you ensure that current and future Social Security benefits are not cut as part of deficit reduction?
Half of the people with traditional Medicare spend at least a sixth of their income on health care. If elected, how will you protect Medicare from benefit cuts, as well as lower health care costs and ensure seniors continue receiving the affordable health care they have earned?
COVID-19 has caused death and suffering for too many older Americans who require long-term care. If elected, how will you make sure seniors can access safe and affordable long-term care at home, as well as in facilities like nursing homes and assisted living?
Also of Interest