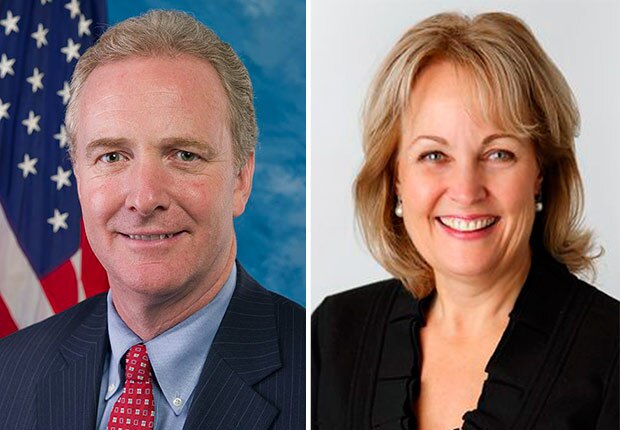 By Thomas Ferraro

The two major party Maryland candidates for the U.S. Senate agree that bold action is needed to keep Social Security solvent for current and future retirees. But Republican Kathy Szeliga and Democrat Chris Van Hollen disagree on what must be done to enable Social Security to pay full benefits beyond 2034, and if those benefits can and should be increased.

In addition, they offer different remedies for Medicare, which is vital to the nearly 880,000 AARP members in Maryland.

Szeliga, who turns 55 this month, and Van Hollen, 57, running to replace retiring Democratic Sen. Barbara Mikulski, staked out their positions in response to questions posed by the AARP Bulletin. She responded in writing; he, in a telephone interview.

A member of the Maryland House of Delegates from Baltimore County since 2011, Szeliga is now the chamber's minority whip, making her the state's highest- ranking Republican woman. She and her husband own a construction company, which they opened 30 years ago.

Szeliga opposes any changes to Social Security for those 55 and older, but for the sake of the program's solvency is willing to explore other proposals, such as "slowly raising the retirement age and giving younger workers the option to privatize a part of their investments."

Van Hollen was first elected to the U.S. House of Representatives from Montgomery County in 2002, after 12 years in the General Assembly and a decade as an attorney in private practice.

"I don't support raising the retirement age, and I have opposed privatization," he said. "It's wrong to play market Russian roulette with people's savings."

DISAGREEMENT ON BENEFITS
Van Hollen is among more than 100 Democratic cosponsors of a bill to strengthen Social Security. It would, among other things, gradually increase Social Security benefits (by an average of about 2 percent) while slowly boosting worker and employer contributions to the program.

Szeliga said the program cannot afford an increase in benefits.

The political parties need "to work together to come to a solution," she said. But, she added, "We need to make sure we are encouraging those currently in the workforce that Social Security benefits won't be enough and that they must plan accordingly."

Van Hollen touts his record of engagement. "I have led the fight in the [House] Budget Committee to protect Social Security and Medicare against Tea Party–proposed budget cuts," he said.

As for strengthening Medicare, Szeliga said she would not change the program for those over 55. "We must keep the current system to keep the promises that have been made." But for those under 55, she suggested that Medicare should be restructured to resemble the Medicare Advantage managed care plans "or the highly popular Medicare Part D," which helps cover the cost of prescription drugs.

Van Hollen, a strong supporter of the Affordable Care Act, said it gave Medicare a needed boost, but "we can do more."

For one thing, "I support allowing the Medicare program to negotiate drug prices," he said, "just like the Department of Veterans Affairs negotiates drug prices" so that its costs can be cut.

After repeated failed attempts by Republicans in Congress to repeal the Affordable Care Act, both candidates agree it is here to stay, but that it could be improved.

Szeliga and Van Hollen agree that after scores of failed Republican attempts to repeal the ACA, the landmark law is here to stay. But they also agree that the ACA, like Social Security and Medicare, can and must be improved.

To find out where the presidential and congressional candidates stand on Social Security, go to 2016takeastand.org.

Thomas Ferraro is a writer living in Davidsonville, Md.