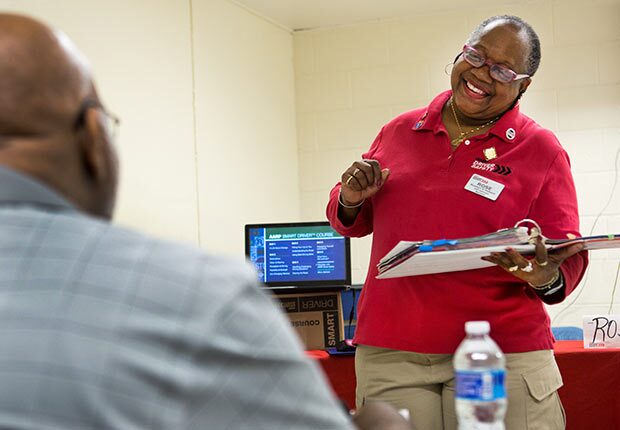 By Christopher J. Gearon

Not long after retiring, Rose Hobson, of Forestville, got bored. She wanted to find something that she enjoyed and that allowed her to grow and "give back to the community."

Six years ago, she found the AARP Driver Safety program, and she is now an instructor and district coordinator for Prince George's County. Hobson, 65, a former FBI communications security specialist, has not looked back.

"Volunteering for AARP Maryland keeps me alive," she said. In addition to teaching Smart Driver courses, Hobson has advocated in Annapolis, has participated in Harvest for the Hungry food drives, serves on the AARP Maryland Executive Council and helps promote AARP through social media.

"I tweet, I Facebook, at least once or twice a day," she said. "It excites me."

Like many of AARP Maryland's 170 or so volunteers, Hobson realizes that the chance to give back and get involved has expanded her world. "It helps you be a better person," she said. "It helps you to learn and network. It's like a family."

People often volunteer to help others and their community. They discover that volunteering also provides personal benefits. Studies and surveys show that people who volunteer feel better—physically, mentally and emotionally.

Volunteering helps people manage and lower stress levels, and they often do better taking care of their health. Research finds that volunteering is a particularly positive experience for older adults. "I feel like I'm going to live longer," said Hobson.

Volunteers don't need to commit a lot of time to make a contribution and feel good about the experience.

"If someone only has three to four hours a month, we can definitely use you for that amount of time and find the right fit for you," said Mike Kulick, AARP Maryland program specialist. AARP's biggest need, he said, is for volunteers who are savvy with social media and writing blogs—or willing to learn.

Digital volunteers
"Working with volunteers who are passionate about social media—live-tweeting events, taking photos and sharing them on Facebook on our behalf—is so important to AARP," Kulick noted. "Digital volunteering helps us to tell the stories of the great work that our members and volunteers do each day across the state."

Larry Walton, of Berlin, discovered he can volunteer with AARP a few hours a week, use his skills and reap personal rewards.

"I showed them my leadership and organizational skills," said Walton, 68, president of AARP's Ocean Pines chapter and a retired Department of Defense and National Security Agency contractor of 42 years.

Over the past six years, Walton has advocated for AARP-backed legislation in Annapolis and organized fraud prevention events and food drives.

"It's for a good cause, and a chance to get involved with your neighbors and friends, and it's a chance to give back," Walton said about why he volunteers for AARP.

Paulette Cheeks, 68, a retired high school math teacher who lives in Windsor Mill, began volunteering for AARP last summer to satisfy an itch "to make life better for others."

She participated in a Harvest for the Hungry food drive, took part in a Martin Luther King Day breakfast in January and joined the AARP Maryland Executive Council. Cheeks recently finished her training to speak at events for the AARP Fraud Watch Network.

"I do it because I like giving of myself," she said.

Fraud Watch volunteers make presentations around the state on the latest scams and how to avoid being swindled.

"What is your niche?" asked Hobson. "What do you like to do? AARP has an opportunity for you."

To learn more about volunteer opportunities in Maryland, visit aarp.org/volunteer or facebook.com/aarpmd, or call 866-542-8163 toll-free. Bilingual Maryland residents are strongly encouraged to reach out for more information.

Christopher J. Gearon is a writer living in Derwood, Md.