By Kim Keister

Brian T. Smith served the American people for more than 30 years. He enlisted in the Marine Corps and retired as a Navy captain, saw combat and received a number of military awards.

Smith, who turns 57 this month, has pivoted to serve in a different way. He advocated for military retirees and disabled veterans during this year's Maryland General Assembly session.

"There was a connection to give back to the community and state by going to Annapolis and trying to improve the conditions considered to be important," he said.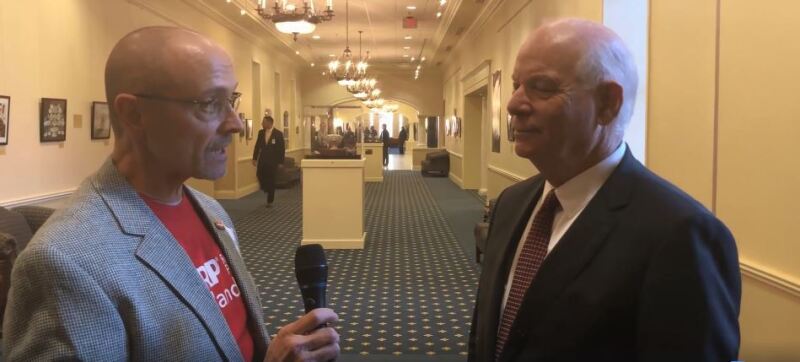 Smith, who lives in National Harbor, was a member of AARP Maryland's corps of some two dozen advocacy volunteers from January to April. They researched issues, testified before committees and buttonholed lawmakers. And with a slew of legislative victories this session, the volunteers made a big impact.

"Volunteers who advance AARP's legislative objectives are dedicated and very impressive," said Hank Greenberg, AARP Maryland state director. "Their personal stories had a tremendous impact on legislators. I attribute much of our legislative success to their testimony."

Here are some of the AARP-supported measures that the General Assembly passed and Gov. Larry Hogan (R) signed:

Support for veterans A new law increases to $15,000 the amount of military retirement income exempt from state income tax for individuals 55 and older.

Another measure requires the creation of an annual report on veteran and active-duty suicides. The data is to include the branches of service and methods of suicide for the deceased. The information will help the U.S. Department of Veterans Affairs determine how to allocate resources for addressing issues about suicide.

Prescription drug costs Many pharmacists are bound to contracts with middlemen that prevent them from telling you that paying cash for a prescription might cost less than your health insurance copayment. A new law prohibits these middlemen—pharmacy benefit managers—from using such "gag clauses" to pocket the difference.

Complete Streets Pedestrians, bicyclists, motorists and transit riders can coexist on safe and accessible roadways, but it takes planning, design, construction and maintenance. A new law requires state transportation agencies to change their approach to designing and building roadways to make them more compatible for all users, not just vehicles. Another measure provides grants to local governments that develop Complete Streets policies.

Nursing home investigations Maryland is the seventh-worst state in the nation for on-time investigations of nursing home complaints, according to a 2017 federal report. The new law requires the state to initiate an investigation within 10 business days of nursing home complaints alleging harm and to investigate within 24 to 48 hours complaints alleging immediate jeopardy to residents. Another law gives more authority to an oversight panel that evaluates quality of care in facilities statewide.

Protection for property owners A prohibition was imposed on a Baltimore city practice of selling the property of owners who have unpaid water bills.

Tax lien sales disproportionately affect African Americans, many of them older or living below the poverty line.

Kim Keister is a writer living in Chevy Chase, Md.