5 Year Anniversary_ Massachusetts Designated Age & Dementia Friendly.mp4
For the past 5 years, Massachusetts has been designated as Age Friendly and Dementia Friendly. Watch the video above and learn more about what these past 5 years have meant and what it means going forward. The AARP Age-Friendly network works as an affiliate of the World Health Organization's Age Friendly Cities and Communities Program. According to the WHO, an age-friendly community is one that adapts its services & physical structures to be more inclusive & receptive to the needs of its population to improve their quality of life as they age. The AARP Age Friendly Network supports communities as they make these adaptations. Massachusetts joined in 2018 & in the last several years, 114 communities have committed to becoming more age-friendly: benefiting people of all ages.

Scroll down to learn more about upcoming AARP age-friendly events and more.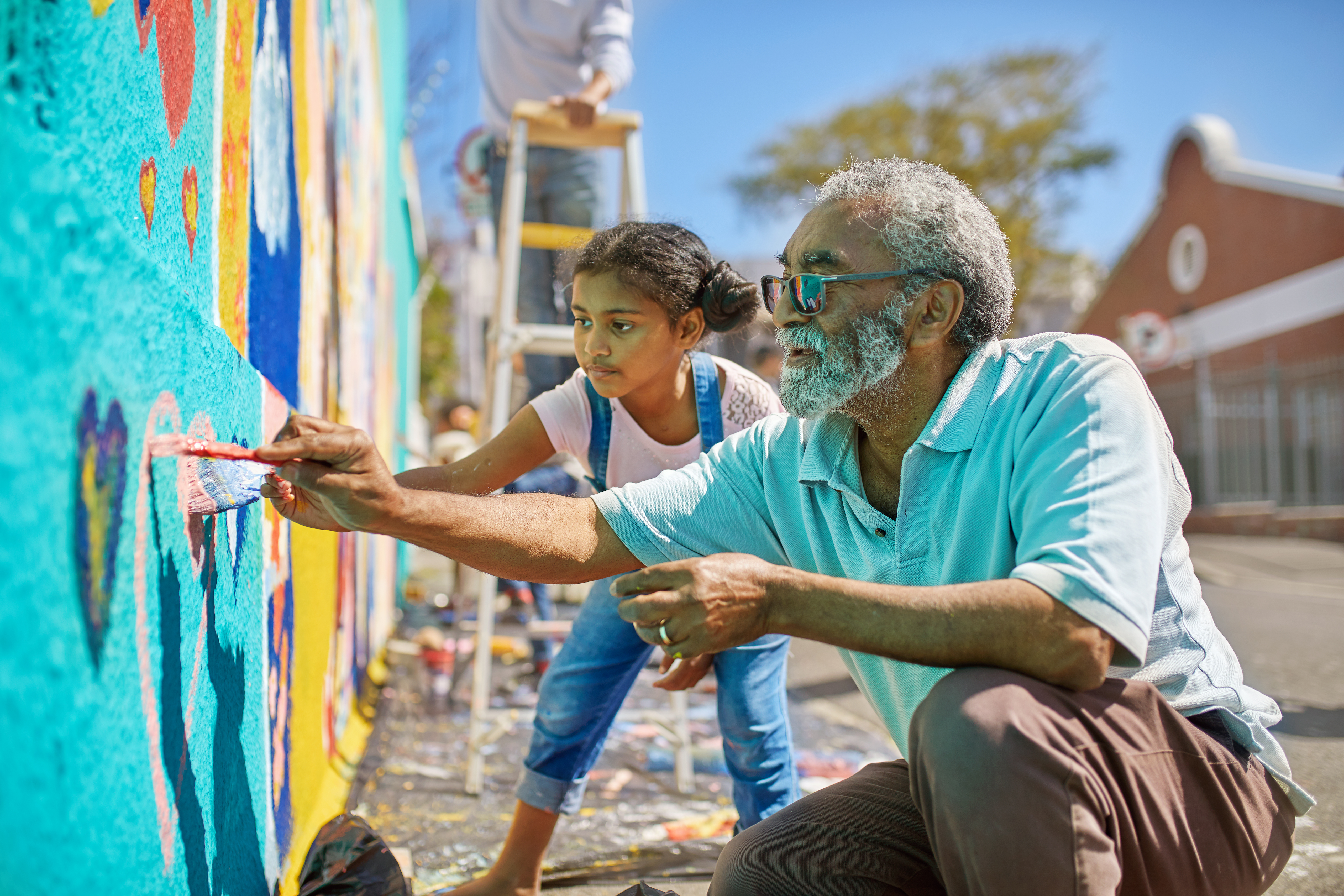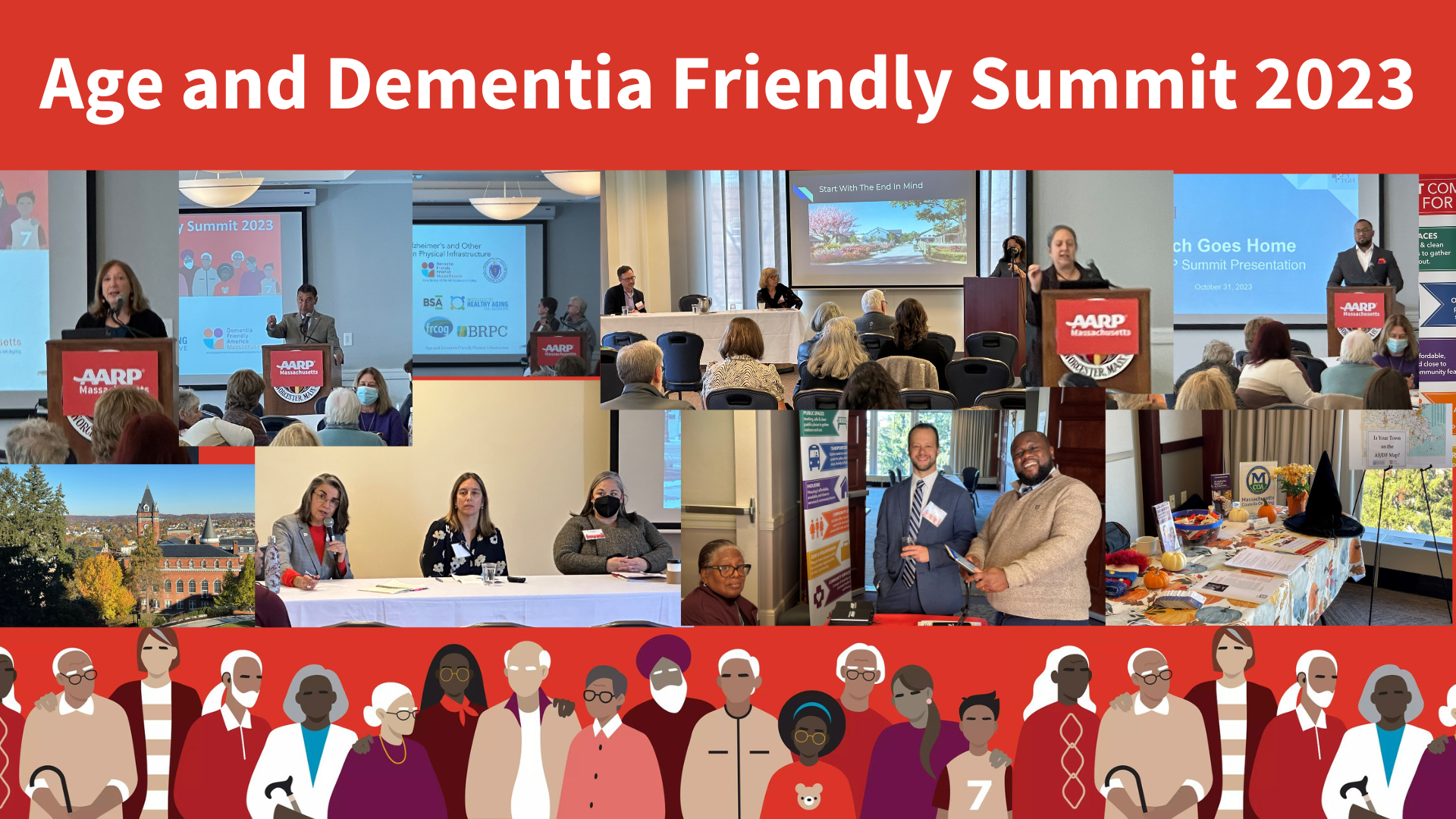 On October 31, we hosted an in-person, Age & Dementia Friendly summit. Cities and towns all over Massachusetts have experienced a lot of change over the last several years, including transformations in how people of all ages and life stages live, work, and play.

This Age and Dementia Friendly Massachusetts summit explored how local leaders can implement strategies in urban, suburban and rural communities that:

Ensure parks and public spaces are accessible for people of all ages and abilities
Keep a focus on equity and engaging diverse populations
Recognize the value of opportunities to engage and empower residents of all ages
Uncover opportunities for securing financial support
We've recorded the summit. Videos will be available on our YouTube Page. Our YouTube Page is also home to our recorded "Livable Wednesday" information sessions on our YouTube Page- click here to watch.

Recorded- 2023 AARP Livable Communities Economic Development Workshop. When this aired, it was designed to explore how local leaders can advance economic development in urban, suburban and rural communities by:

Establishing vibrant Main Streets and encouraging small-scale development
Ensuring that communities are well-connected with high-speed internet access
Providing entrepreneurial and upskilling opportunities for residents of all ages
Recognizing the value of unpaid contributions, such as volunteerism and caregiving
Through four core themes — The Built Environment, Digital Connections, Work and Jobs, and Local Economies — the workshop shared best practices, insights and inspiring next steps for meeting the economic development needs of communities today.
Click here to view the recording.

The 8 Domains of Livability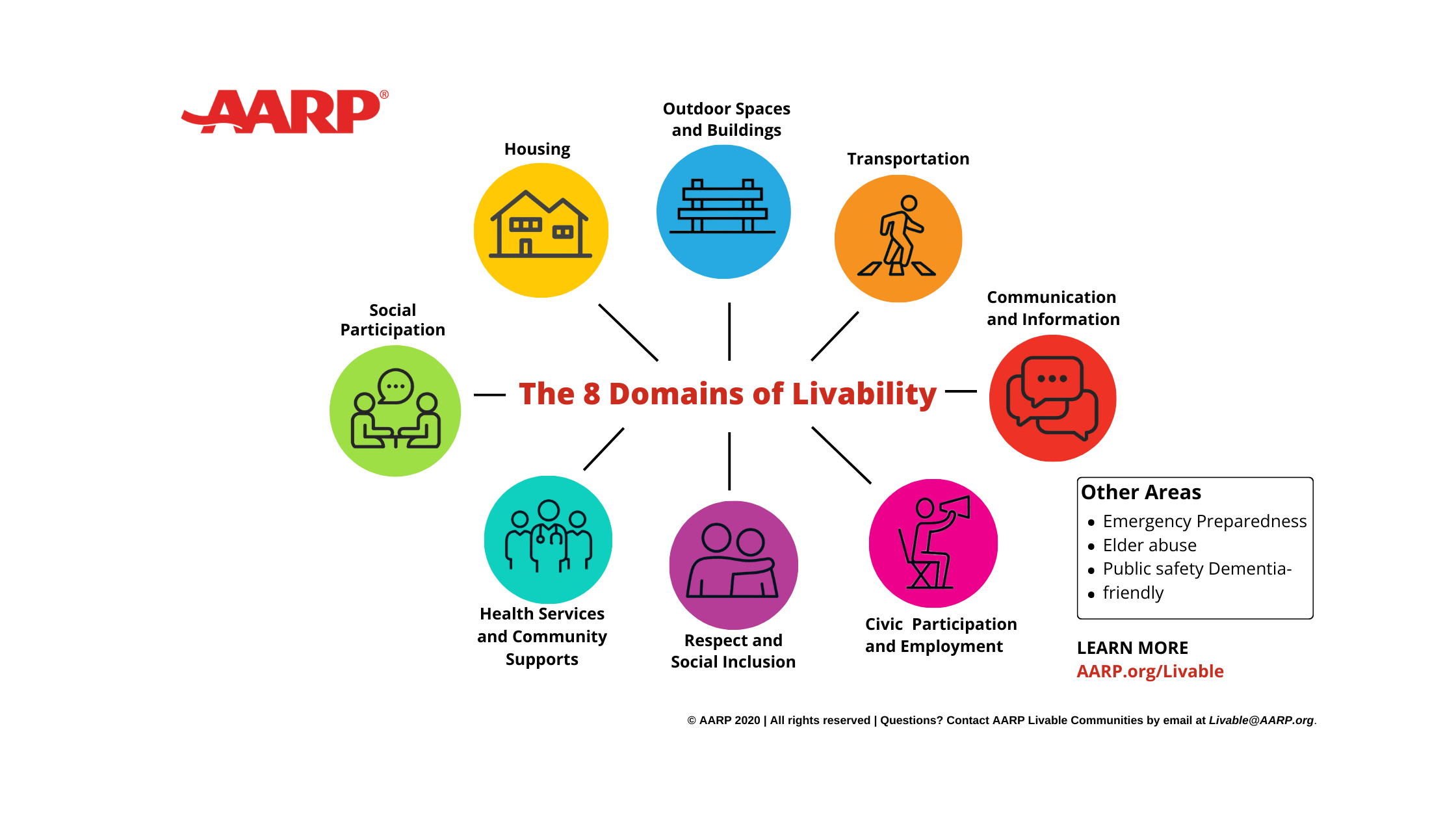 The 8 Domains of Livability framework is used by many of the towns, cities, counties and states enrolled in the AARP Network of Age-Friendly States and Communities to organize and prioritize their work to become more livable for both older residents and people of all ages. To learn more about the 8 Domains of Livability, click here.

Follow the link here to see a list of communities in Massachusetts striving to make their communities better places for people of all ages.

AARP Massachusetts collaborates with a number of organizations and leaders statewide to offer greater choices in housing, transportation, public spaces, and opportunities to engage. In doing so, we work to create communities that work better for people of all ages and abilities. In collaboration with the Executive Office of Elder Affairs, Massachusetts became the second state to enroll in the network in 2018, creating an action plan built on the foundation work laid by municipalities, philanthropic, and community-based organizations.