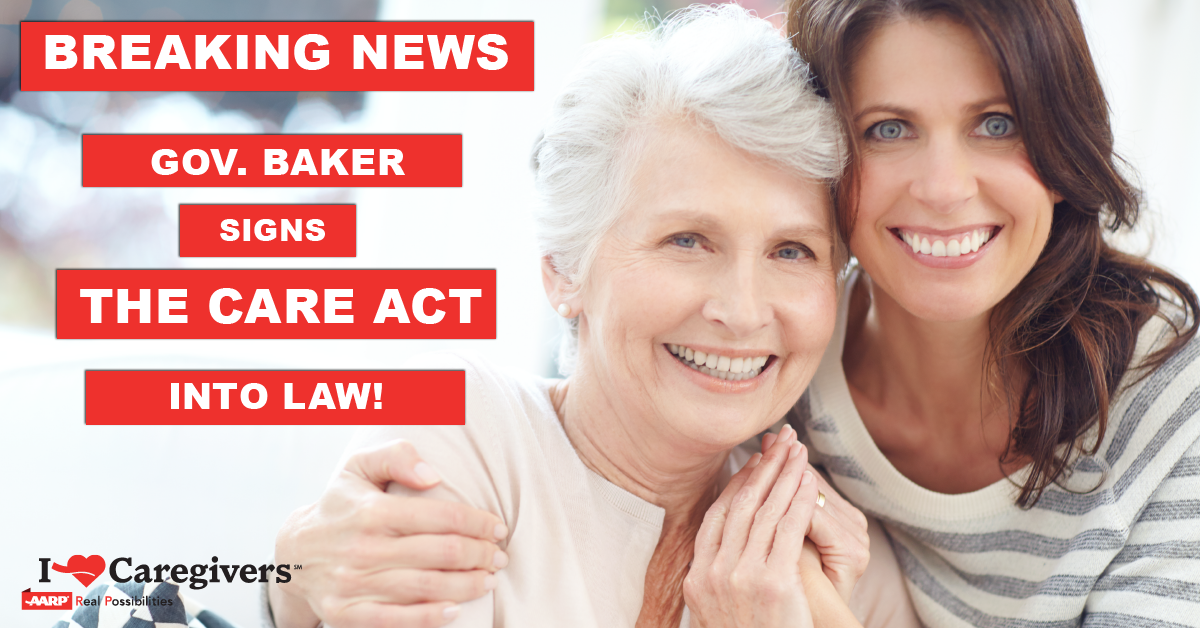 Massachusetts is the 34th state to pass the CARE Act.

AARP Massachusetts is thrilled to announce that the Caregiver Advise, Record, Enable (CARE) Act has been signed into law by Governor Charles Baker. AARP Massachusetts thanks Governor Baker and state lawmakers for enacting this important legislation to support family caregivers. The CARE Act (pdf), known in the Massachusetts Legislature as H.3911, and sponsored by Sen. Linda Dorcena Forry (D-Dorchester) and Rep. Chris Walsh (D-Framingham), recognizes the critical role family caregivers play in keeping their loved ones at home, and out of costly institutions. In 2015 in Massachusetts, family caregivers provided 786 million hours of unpaid care valued at approximately $11.6 billion annually.

CLICK HERE to send a customizable "Thank You" email to Gov. Baker, Sen. Linda Dorcena Forry, and Rep. Chris Walsh!
"On behalf of our 800,000 members in Massachusetts, we thank sponsors Sen. Linda Dorcena Forry and Rep. Chris Walsh for their leadership and tenacious advocacy on behalf of all family caregivers. This law provides essential support to unpaid caregivers who are often called on to provide complex medical care for which they receive little or no instruction. Additionally, we thank the 16 partner organizations that supported this bill and our tireless band of volunteer advocates who stood with us and supported the CARE Act through this legislative session."  — Mike Festa, AARP Massachusetts State Director



"I am proud to have worked with the AARP in Massachusetts on the CARE Act, and commend the leaders in our state Senate President Stan Rosenberg, Speaker Robert DeLeo and Governor Charlie Baker on signing this critical bill into law," said Sen. Dorcena Forry. "This new law is an important step in helping family caregivers undertake the enormous responsibility of caring for loved ones. The CARE Act is an example of the commitment we have in our state in keeping our seniors healthy and happy in their homes, while alleviating burdens on hospitals and nursing facilities. I look forward to continuing to work with the AARP in addressing issues impacting families across our Commonwealth," concluded Sen. Dorcena Forry.

"Today many family members or family friends are charged with caring for a person when they are released from the hospital without adequate instructions. The CARE Act ensures that caretakers will be provided with appropriate training and education in what they will need to do for the patient upon release," said Rep. Walsh. "When AARP came to me in 2013, they were aware that I was caring for my elderly father, and had cared for my mother at home. I was more than familiar with the challenges of dealing with post-hospitalization care for them without ever actually being trained in areas such as giving medications or changing dressings."

Elder Affairs Secretary Alice Bonner commented, "In signing the Care Act, Massachusetts has joined a national movement that is raising awareness about the tremendous contributions of family caregivers. Taking good care of patients means taking care of family caregivers as well."

Lynn Nicholas, President and CEO, Massachusetts Health & Hospital Association (MHA) added, "MHA thanks AARP for working so closely with us on the development of this language. The hospital community is closely focused on keeping people healthy - both within and outside of their walls. This bill will help ensure that designated caregivers have the information they need to best support their family members and friends once they have left the hospital."

The law features three important provisions related to the family caregiver's role when their loved one is hospitalized:

The hospital patient is provided with an opportunity to designate a family caregiver;
The family caregiver is notified if the patient is to be discharged to another facility or back home; and,
The facility must provide an explanation and live instruction of the medical tasks – such as medication management, injections, wound care, and transfers – that the family caregiver will perform at home.
Please join AARP Massachusetts in thanking Governor Baker and the Massachusetts Legislature for passing the CARE Act and for supporting more than 844,000 Bay State residents who are caring for an aging parent or loved one, helping them to live independently in their own homes.

CLICK HERE to send a customizable "Thank You" email to Gov. Baker, Sen. Linda Dorcena Forry, and Rep. Chris Walsh!


Family caregivers have a huge responsibility, and the CARE Act is a commonsense step that will make a world of difference to them.

CARE Act Supporters

American Cancer Society Cancer Action Network

American Nurses Association - Massachusetts

Caregiver Action Network

Family Caregiver Alliance

Health Care For All

Home Care Aide Council

Home Care Alliance of Massachusetts

Massachusetts Coalition of Nurse Practitioners

Massachusetts Councils on Aging and Senior Centers

Massachusetts Health & Hospital Association

Massachusetts Home Care

Massachusetts Senior Care Association

Organization of Nurse Leaders of Mass, Rhode Island, New Hampshire and Connecticut

Respect a Caregiver's Time (ReAct)

SeniorLink

VerbalCare




---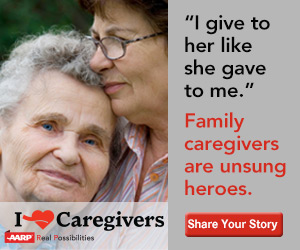 Are you a Massachusetts resident with a caregiving story?

Please share it with us at iheartcaregivers.org .

Find caregiver resources at our Caregiving Resource Center .