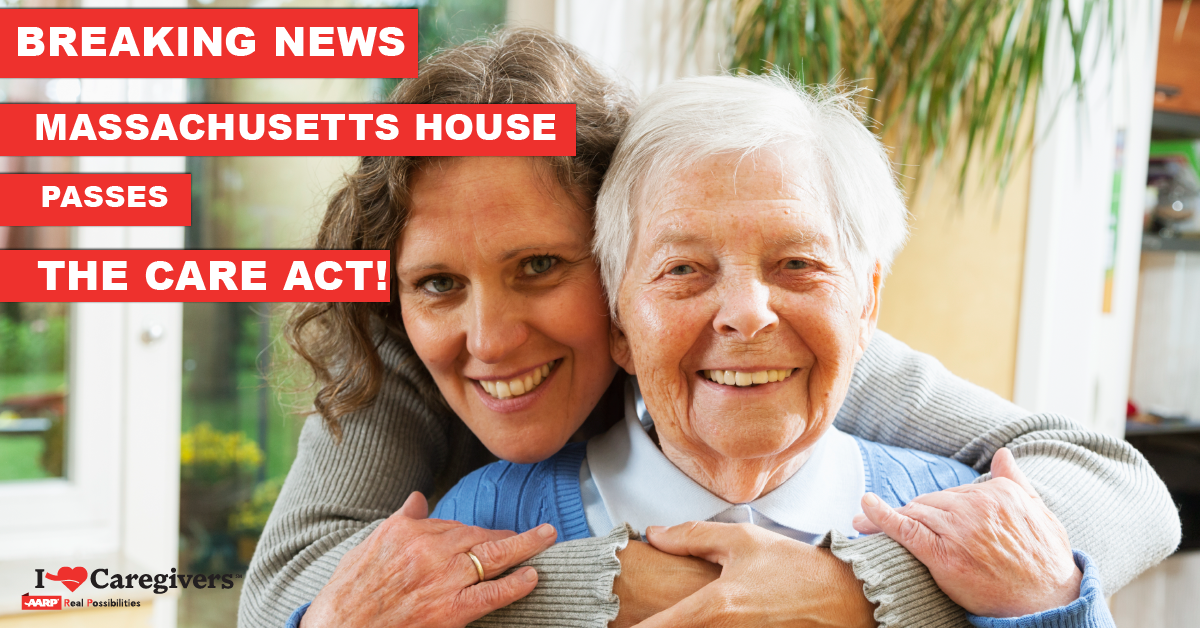 Major step forward to support 844,000 Massachusetts caregivers! Now on to the Senate and the Governor's Desk.

AARP Massachusetts is thrilled to announce that the Caregiver Advise, Record, Enable (CARE) Act, HB 3911, sponsored by Rep. Chris Walsh (D-Framingham), has been passed by the Massachusetts House of Representatives. AARP Massachusetts thanks our state lawmakers for moving this important policy to support family caregivers forward. Now, the bill must be approved by the Senate before it can be sent to the Governor's desk and signed into law.

There is still work to do, but this is a crucial step towards helping family caregivers who play a critical role in keeping their loved ones out of costly institutions. In Massachusetts, family caregivers provide 786 million hours of unpaid care valued at about $11.6 billion annually.

The bill features three important provisions:

The hospital patient is provided with an opportunity to designate a family caregiver;
The family caregiver is notified in advance if the loved one is to be discharged to another facility or back home; and,
The facility must provide an explanation and live instruction of the medical tasks—such as medication management, injections, wound care, and transfers (i.e. bed to chair)—that the family caregiver will perform at home.
If the bill is approved by the Senate and is then signed into law by the governor, hospitals will be required to offer patients the opportunity to designate a family caregiver in the medical record, and that caregiver will then be kept in the loop and offered an opportunity to understand how to care for the patient upon his or her return home.

Please join AARP Massachusetts in thanking our legislators for supporting the CARE Act in Massachusetts and for supporting more than 844,000 Bay State residents who are caring for an aging parent or loved one, helping them to live independently in their own homes. These family caregivers have a huge responsibility, and the CARE Act is a common sense step that will make a world of difference

For more caregiving information and resources, please visit the AARP Caregiving Resource Center, and iHeartcaregivers.org.