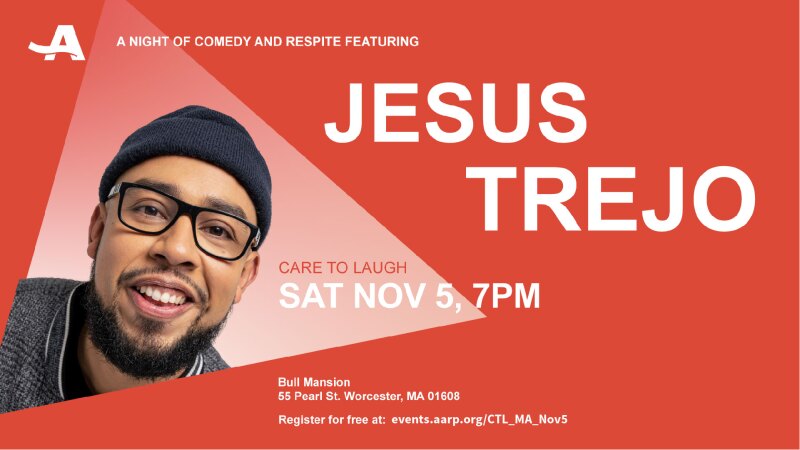 We're excited to welcome Worcester-area caregivers for a night out in celebration of National Family Caregivers Month. "Care to Laugh: A Night of Comedy and Respite Featuring Jesus Trejo," will take place on Saturday, November 5, 2022, 7pm at Bull Mansion. RSVP here to attend!

Finding balance is a struggle that many family caregivers can relate to. AARP Massachusetts is here to help you get answers, connect with other family caregivers and find resources close to home. We'll have free refreshments, helpful information, and time to meet others in the community who are providing care for loved ones.

Prepare to laugh with Jesus Trejo , who is not only one of the fastest rising names in the stand-up comedy scene, but the star of AARP's first feature length film, Care to Laugh . Here's the trailer for the film:
This award-winning documentary follows Trejo as he pursues his dream of becoming a successful comedian while juggling his responsibilities at home to care for his aging parents.

As Trejo knows first hand, caregivers need support: "We've heard that it takes a village to raise a kid, but it also takes a village to help someone age gracefully."

Know a family caregiver? Please share!

AARP is here to support the millions of family caregivers across the U.S. with helpful information for every stage of care. Be sure to check out AARP's Family Caregiving Guides and other resources, available in Spanish and English.