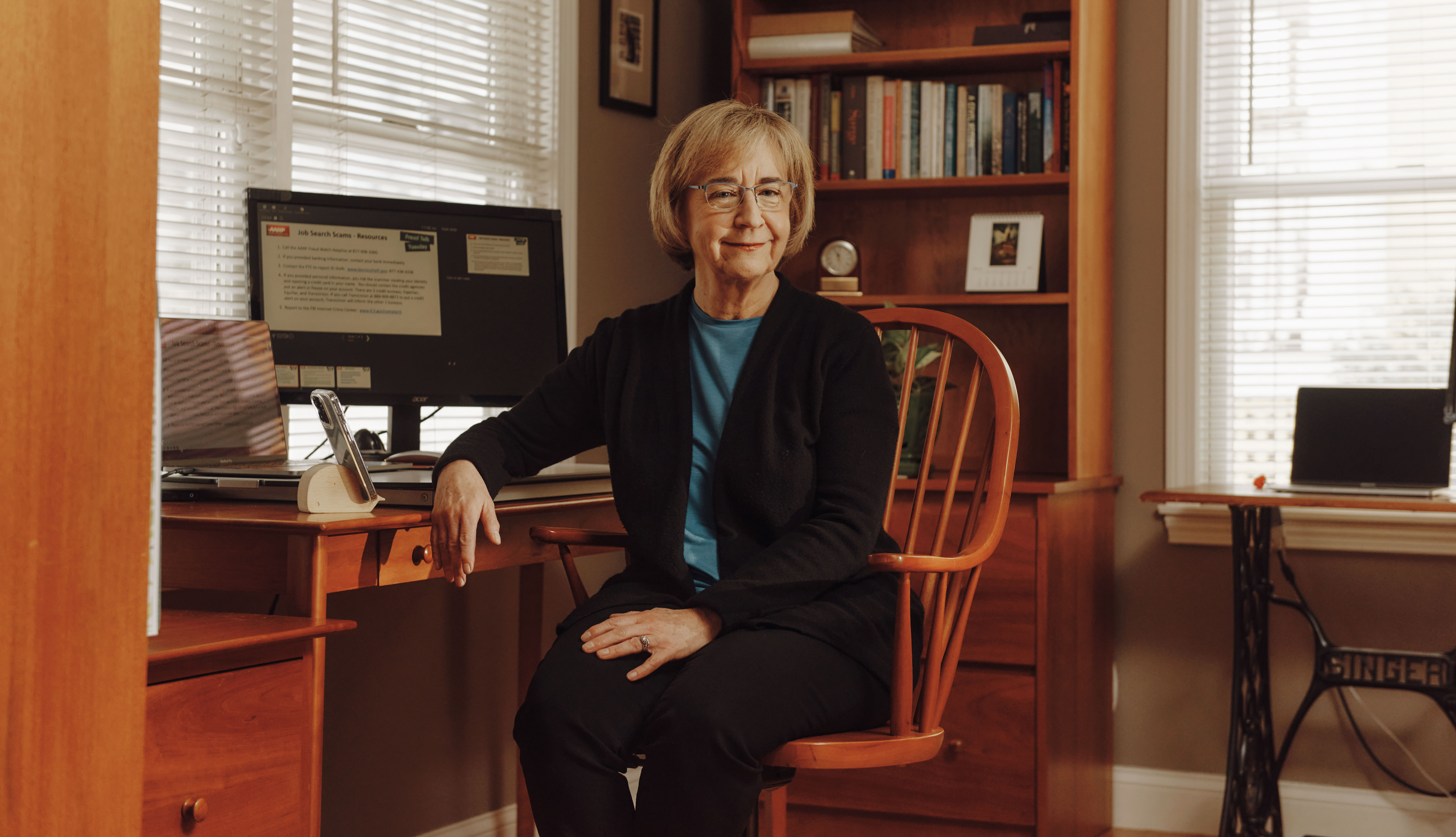 The 50+ Job Seekers in Massachusetts networking program usually offers its members workshops on résumé writing, interviewing and the skills needed to land their next gig.

Last year, it added tips on how to keep criminals from landing them as fraud victims.

In December, the program hosted a workshop by AARP Fraud Watch Network volunteers to warn people about the growing risks for those in the job market — particularly amid the economy's shift to remote work.

"Job seekers are very vulnerable," says Karen Sowsy, who is a manager for the 50+ program. "People with long-term unemployment may be desperate. They're often ready to jump at the first opportunity."

Fake job postings on social media sites and online job boards, scammers posing as recruiters, and fraudulent offers sent by text and email for high-paying remote positions that require the purchase of software or work-from-home supplies are just some of the common schemes, says AARP Fraud Watch Network Helpline volunteer Alice Diamond, 68, of Arlington. Swindlers are after money but also personal information — a key ingredient for identity theft.

"The last couple of years there has been a tremendous proliferation of scams," says Diamond, who recently retired as associate dean for career and community service at Lesley University in Cambridge.

Nationwide, business and job opportunity reports ranked No. 12 on the list of most common consumer complaints and scams in 2022, according to the Federal Trade Commission, with 95,399 reports. That's up from 38,451 reports in 2019.

'Mystery shoppers' targeted

AARP Massachusetts recently added employment scams as a topic covered in its fraud prevention programming.

"We saw people make decisions at the beginning of the pandemic to quit their jobs or retire," says State Director Michael Festa. "Now some people are reconsidering those decisions and are reentering the workforce. The fraudsters know that."

Mystery shoppers and virtual assistants are among the job categories that scammers frequently target, Diamond says. Mystery shoppers are hired to pose as regular customers and provide feedback to a retailer or restaurant about its service. Scammers try to charge applicants for phony training or certification. Or, they may send a bad check to the job hunter to cover purchases and ask that money be wired back to cover taxes, overpayment or other fees.

As for virtual assistants, Diamond says scammers will offer job seekers a high-paying remote position and request that the new hire pay for office supplies or other expenses up front, with the promise of reimbursement.

"Scammers are criminals, and they are sophisticated," Diamond says. "Some of them could win an Emmy for their acting and a Pulitzer for the emails they write."

Before engaging in any job-related transaction, Diamond says, people should do some digging to verify that the company or recruiter they're dealing with is legitimate. Search your contacts for anyone who may be familiar with the firm or individual. Scrutinize email addresses for authenticity, and do an online map search for any physical address you've been given.

And if you do fall victim? AARP Fraud Watch Network volunteer Dennis Hohengasser, 73, of Taunton, says to reach out for help. "It's important to talk about it," he says. "That will help heal the trauma."

For information on AARP Massachusetts' Fraud Talk Tuesdays, the AARP Fraud Watch Network or upcoming fraud-related events, see aarp.org/mafraud.

If you're looking for help finding a job, try the 50+ Job Seekers in MA Statewide Networking Group. This program was created for the "forgotten job seekers" – those in the 50+ demographic who find themselves unemployed, underemployed, retired or returning to the workplace after a gap in employment, Check out some of the events here: https://50plusjobseekers.org/events/


Jill Gambon is a writer living in West Newbury, Massachusetts.

For more on scams and fraud