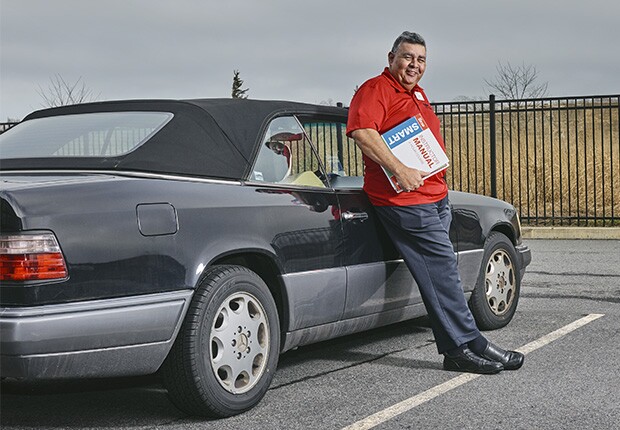 By Jill Gambon

John Marcelino's first car was a far cry from the rides on the road today: It had no right side-view mirror, no backup camera, no airbags and no Bluetooth connectivity. Cars aren't the only things that have changed since Marcelino, 58, started driving. The rules of the road have also evolved.

Now volunteer state coordinator for the AARP Massachusetts Driver Safety program, Marcelino said it's important for drivers to refresh their skills and keep up with the changes.

"After we get our license, we're not required to attend any further instruction. But as time goes by, so much is different," he said."It's up to the individual to obtain the knowledge of new rules and regulations."

Marcelino, of New Bedford, stepped into the state coordinator role in October. He wants to increase the number of Smart Driver classes that AARP Massachusetts offers (last year there were 40), add host sites around the state and recruit more volunteers. There are 26 now, and he hopes to quadruple that.

The four-hour classes are led by volunteer instructors and held at senior centers, libraries, police stations and other venues. There's a $15 fee for AARP members and $20 for nonmembers. An online course is also offered, at $19.95 for members and $24.95 for nonmembers, but Marcelino says in-person classes are better. "You learn from other people," he said.

The classes cover such topics as tips for properly entering and exiting highways and the correct way to enter a traffic circle. The instructors go over newer regulations covering things like cellphone use and the 2015 Massachusetts law that requires headlights be turned on in inclement weather and when windshield wipers are in use.

Insurers may offer discounts
They also discuss topics that might be of particular interest to older drivers, such as the proper use of a disabled parking placard and the possible impact of medications on driving. Each participant gets a workbook that emphasizes safety strategies for older drivers.

Nancy Doherty, a retired school librarian who has been a volunteer instructor for 14 years, has had students ranging in age from their 20s to 100. Over the years, she's had a few people decide to hang up their car keys after taking the class.

"They heard about things they just couldn't do anymore," said Doherty, 73, of Reading.

For older drivers, the subject of when to stop driving can be highly sensitive. To help people broach the issue with family members, AARP offers a free online seminar called "We Need to Talk." It helps determine how to assess a loved one's driving skills and provides tools to navigate the conversation.

There is no set age at which Massachusetts drivers are required to give up the wheel. However, people 75 or older must renew their license in person to take an eye test or present a vision screening certificate.

Massachusetts does not require older drivers to take a safety class. But some of the state's insurance companies will offer discounts to drivers who complete one.

Doherty encourages people in her classes to check whether their insurer does.

Doug Prentiss, a retired traffic engineer, took a Smart Driver class and then signed up to become a volunteer instructor three years ago. He says it's important for people to be aware of any limitations or changes in their ability to drive safely as they age.

"I can't multitask like I used to," said Prentiss, 69, of Waltham. "Driving a vehicle is a complex task, and as we age, the ability to multitask is less pronounced that when we were younger."

For information about registering or hosting a class or becoming a volunteer instructor, go to aarp.org/drive or call 866-448-3621 toll free.



Smart Driver classes are taught by volunteers. Last year in Massachusetts there were:
23 volunteers trained to cover recent laws and safety tips
40 classes offered in senior centers and other locales
448 participants who took the course designed for 50-plus.
—Jill Gambon is a writer living in West Newbury, Mass.