En Espanol | It's harder to vote easily and safely during the coronavirus pandemic in Mississippi than in many other states, which have opened absentee voting to all voters or extended early voting:

Election Day is Tuesday, Nov. 3, and polls will be open from 7 a.m. to 7 p.m. Mississippi's voter information portal has more information about where to cast your ballot. Your polling place may be different this year, so check before you leave.
Be prepared for potentially long lines, and remember to take your mask and to follow social distancing measures at the polls. You'll need to bring a valid form of ID with you to the polls.
With Election Day only days away, consider dropping off your completed ballot in person. Contact your county circuit court's office for more information about where to take your ballot.
This year, voters face a historic decision: weighing in on a new version of the state flag that does not include a Confederate battle emblem in it.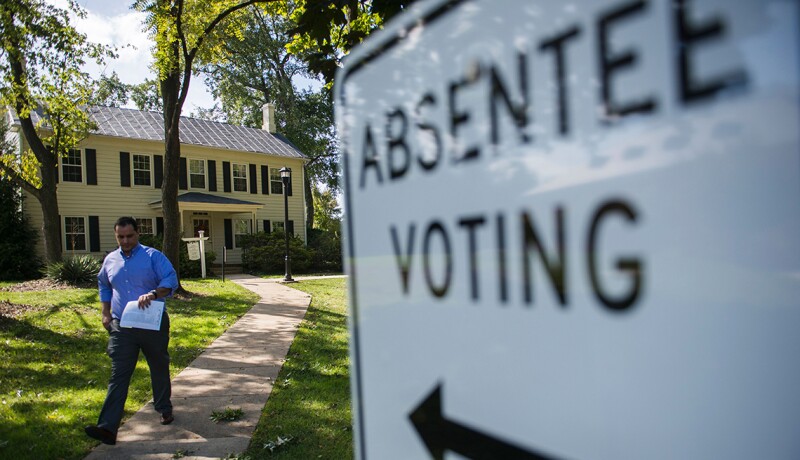 Here's what else you need to know:

How do I register to vote?

You can register by mail or in person. Download an application at the secretary of state's website that you can mail in to your county circuit clerk.

Register by Oct. 5 to be able to vote on Election Day, Nov. 3.

You can also get an application at your county circuit clerk's office, municipal clerk's office, public library and some other government offices and mail it to the circuit clerk's office in your county. Or register to vote in person at your circuit clerk's office, municipal clerk's office, department of public safety, or any state or federal agency offering government services, such as the state Department of Human Services.

How can I get an absentee ballot? Are there important deadlines?

Voters are eligible to vote absentee if they are 65 and older, or can cite health or work demands, temporary relocation for educational purposes, or service in the armed forces. This year, you'll also be able to vote absentee if you have a temporary or permanent disability that would prohibit you from going to the polls. If you're under a physician-imposed quarantine related to the coronavirus – or if you're caring for a dependent who is under quarantine – you can also vote absentee.

To get an absentee ballot, contact your circuit or municipal clerk's office starting on Sept. 4. Those on the permanent disabled list will be mailed absentee ballots on Sept. 24. Absentee ballots for other eligible voters will be available starting Sept. 21.

An official authorized to administer an oath, such as a notary public, needs to witness and sign your application for a ballot and the absentee ballot itself.

You can also fill out the ballot in the county circuit clerk's office during regular business hours. You cannot fill out the ballot elsewhere and deliver it. The deadline for this "in-person absentee" voting is Saturday, Oct. 31. Mail-in absentee ballots must be postmarked by Nov. 3, Election Day, and received by the circuit clerk no later than Nov. 8. For more information, call the secretary of state's election hotline: 800-829-6786.

How do I know my absentee ballot is secure?

Ballots returned by mail are deposited into a sealed and secure ballot box after their receipt is entered into the Statewide Election Management System. Any voter who submits an absentee ballot must be notified if the ballot is rejected.

The secretary of state's office is working with the Mississippi National Guard and the Department of Homeland Security to ensure the state's election system is secure. The state's voting machines are not connected to the internet, which helps prevent cyberattacks, and some counties use paper ballots.

When is Election Day? When are polls open?

Tuesday, Nov. 3. Polls are open from 7 a.m. to 7 p.m.

Can I vote before Election Day?

There's no early voting in Mississippi, aside from absentee voting for those who qualify.

What form of identification do I need to vote?

You'll need photo identification—a driver's license, government-issued photo identification card, U.S. passport, firearms license, U.S. military photo identification, Mississippi voter identification card, or a student or tribal photo card (see the complete list of acceptable IDs.) For more information, or for help getting a state voter identification, call the secretary of state's office: 844-678-6837.

What is being done to make polling places safe from coronavirus?

The secretary of state's office said safety measures will include protective equipment for poll workers, such as gloves, masks and face shields. Voters are encouraged to bring hand sanitizer and may be required to wear a mask. You should also keep 6 feet between yourself and other voters while in line. Counties are able to mandate additional safety guidelines.

Will I be able to vote in the same place as I always have?

Most likely, yes. There are no plans to merge or change polling places. Check your voter registration card for the name and address of the polling place where you will vote. If you have questions, you can double-check your polling place by calling your circuit clerk's office, or the state's elections hotline: 800-829-6786.

What are the key races in my state?

U.S. president
U.S. Senate: Incumbent Cindy Hyde-Smith (R) vs. Mike Espy (D)
U.S. House: all 4 seats
This story was updated on Nov. 2 with more information about voting in person. Voting rules and procedures may change before Election Day. We'll update this story if they do, so bookmark this page and check back.

AARP is urging older Americans to ask the candidates 5 key questions:

Just over half of all older Social Security beneficiaries rely on the program for at least 50 percent of their income. If elected, how will you ensure that current and future Social Security benefits are not cut as part of deficit reduction?
Half of the people with traditional Medicare spend at least a sixth of their income on health care. If elected, how will you protect Medicare from benefit cuts, as well as lower health care costs and ensure seniors continue receiving the affordable health care they have earned?
COVID-19 has caused death and suffering for too many older Americans who require long-term care. If elected, how will you make sure seniors can access safe and affordable long-term care at home, as well as in facilities like nursing homes and assisted living?
Also of Interest