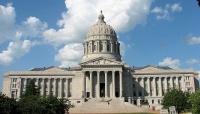 The 2019 Missouri State Legislative Session

Today, the 100 th General Assembly will convene their first regular session. Session will run January 9 – May 19, 2019.

There are many challenges facing the new and returning legislators, including revenues that aren't keeping up with basic budget needs and restoring funding to long term services and supports that were cut two years ago.

AARP Missouri will be tracking the legislation that is most important to you, your family, and your neighbors, so keep up to date with us!

MO Rx Restoration Pre-Filed

This year, Senator David Sater (R-Cassville) has once again introduced legislation that would restore the over 60,000 Missourians who were cut from the roles of MO Rx. Just like Senate Bill 563 last year, SB 78 this year will remove the current requirement that MO Rx enrollees must be both enrolled in Medicare and Medicaid. This requirement, added two years ago, set eligibility for the program at well below the poverty line.

Last session, SB 563 was the first bill passed by the Senate with only one "no" vote, but languished in the House of Representatives. We are again urging the Senate to move quickly and for the House to take it up and restore this much needed assistance for older Missourians.

Contact YOUR Senator NOW and urge them to restore MO Rx!