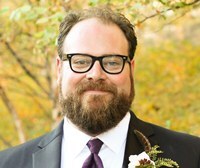 Jay Hardenbrook has joined the AARP Missouri team as the new Associate State Director for Advocacy. Jay has worked in public policy for the last fourteen years and last worked for the Missouri Budget Project as their policy director. Jay possesses an extensive knowledge of Missouri's budget process and has a depth of knowledge in health care, consumer and utility issues. He has spent years building relationships with House and Senate leadership, members of the Ways and Means Committees and with like-minded advocates in the Capitol.

Jay previously worked as AARP Missouri's Program Coordinator from 2007 to 2009. Even then he was recognized as a powerful builder of strategic partnerships, an effective volunteer manager, and having an ability to build deep, meaningful and effective relationships on all sides of the political spectrum.

Jay will telework from St. Louis and manage our affairs during the legislative session in Jefferson City. It is great to have Jay in this position as he leads AARP Missouri into a new era advocating for our members and all those 50+ in Missouri.

Welcome Jay!