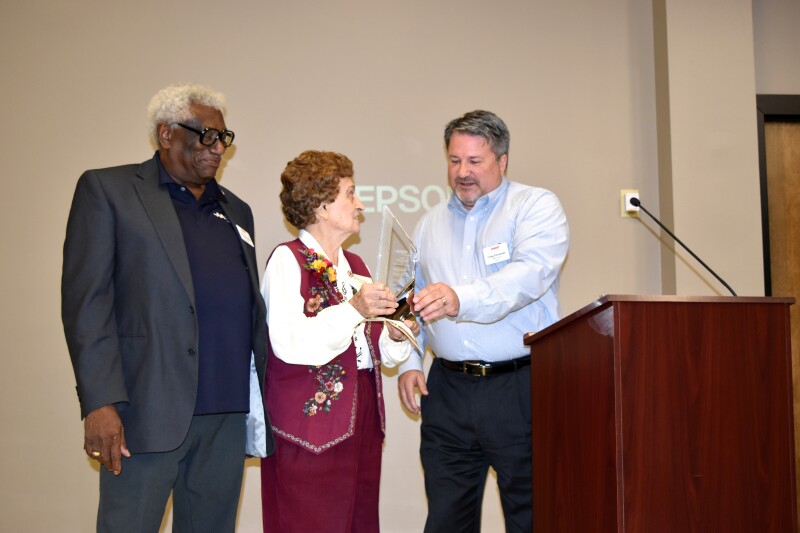 Alyse J. Stoll of Raytown received AARP's most prestigious volunteer recognition, the Andrus Award for Community Service on Wednesday, October 17.
Many people like to volunteer, but few volunteer like Alyse Stoll. Alyce Stoll received AARP Missouri's Andrus Award for Community Service in honor of her extensive and impactful volunteerism. The Andrus Award for Community Service honors volunteers who embody the spirit of AARP founder, Dr. Ethel Percy Andrus, and believe in the power of the individual to spark change and improve their communities one act at a time.

It's impossible to list all of Mrs. Stoll's volunteer achievements, but she embodies the words of AARP's founder, Dr. Ethel Percy Andrus, " The human contribution is the essential ingredient. It is only in the giving of oneself to others that we truly live." Elyse Stoll gives of herself in so many ways that make her community a better place to live.

At 90+ Mrs. Stoll is active in everything from the Raytown Council on Aging to city-wide Veterans Day celebrations to being president of the Raytown Arts Council and president of the Daughters of the American Revolution. Her volunteerism truly makes Raytown a better place to live. She plays the flute in the Raytown Community Symphonic Band and handles all their bookings. In Raytown City Hall, where Mrs. Stoll was honored, the wall is papered with Veteran's Day art created by local kindergarteners, a result of some of her volunteer work for Veteran's Day.

Mrs. Stoll was nominated by four different individuals, one of them being the mayor of Raytown, Mike McDonough. "Her spirit is contagious and she has no problem in getting people together to get things done. She doesn't take no for an answer," wrote Mayor McDonough in his nomination.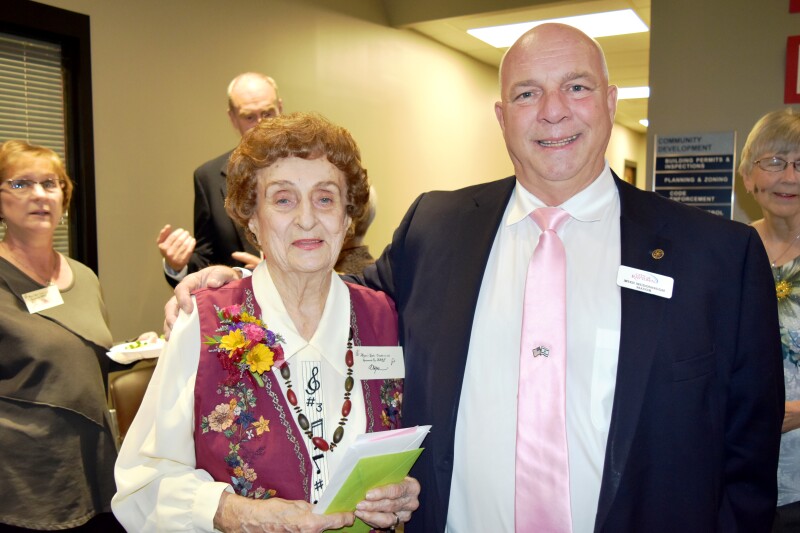 Everyone who nominated Elyse Stoll commented on her energy and vitality and her ability to bring people together around a cause. Whether it's the community plays and musicals or an intergenerational art exhibit, Mrs. Stoll volunteers and inspires others to volunteer through her leadership. She is active in the Raytown Retired Teachers unit, the American Association of University Women, and serves on several committees for the City of Raytown. Mrs. Stoll pulls together people of all ages to participate in community events and activities.

As part of the Andrus Award for Community Service, AARP donated $1500 in honor Alyse Stoll to the charity of her choice, the Truman Heartland Community Foundation.








[gallery ids="140736,140735,140734,140733,140732,140731,140730,140729,140728,140727"]