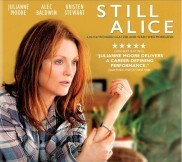 In connection with AARP's I HEART CAREGIVERS initiative, you are invited to watch a free screening of STILL ALICE and learn more about resources for family caregivers and their loved ones. I HEART CAREGIVERS works to recognize and support the 42 million Americans who perform a great labor of love every day—caring for older parents, spouses and others to help them live independently at home, where they want to be.
STILL ALICE stars Julianne Moore in her Academy Award-winning portrayal of Alice Howland, a renowned linguistics professor who starts to forget words. When this mother of three grown children receives a diagnosis of early-onset Alzheimer's disease, Alice and her family find their bonds thoroughly tested. Her struggle to stay connected to who she once was is frightening, heartbreaking, and inspiring.
Along with this screening, we will have local thought leaders in the field of Alzheimer's disease and other caregiving issues to answer questions and share what is happening right here in St. Louis and information about the I HEART CAREGIVERS campaign.
Share your caregiving story now and learn more at iheartcaregivers. You can also find caregiving resources at aarp.org/caregiving.
Don't miss out on a chance to join us at the free screening of STILL ALICE, available on Blu-Ray/DVD on May 12. View the movie trailer trailer.
Seats are limited. CLICK HERE TO GET TICKETS.