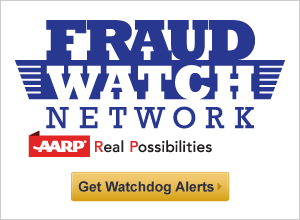 Medicare Annual Enrollment runs through December 7, and it's a banner time for Medicare fraud. Beware of ads that promise medical equipment covered 100% by Medicare. Like the one that might appear in the newspaper offering a free back brace, or the TV infomercial claiming you can get anything to ease your pain with no money out of pocket. Medicare only covers durable medical equipment that is medically necessary with a doctor's prescription. Scammers hope you don't know this. They want your Medicare number to fraudulently bill Medicare. Plus, your Medicare number is also your Social Security number so be especially cautious about giving it out.
Be a fraud fighter! If you can spot a scam, you can stop a scam.
Report scams to local law enforcement. Contact the AARP Fraud Watch Network at www.aarp.org/fraudwatchnetwork for more information on fraud prevention.