Helena, Mont., Jan 11, 2016 — Studies have shown that Americans aren't saving enough for the future, and the risk of insufficient funds in retirement is especially high for Montana's women. On average, women live longer, earn less, and spend more time out of the workforce caring for family than do men.

To highlight this issue, the Montana State Auditor's Office is teaming up with AARP Montana and the University of Montana and to sponsor an economic security conference for women. The conference, entitled "Penny" Money Matters for Montana Women will bring Montana women together to learn about money and personal finance and is slated for Wednesday, January 20, 2016 in Missoula.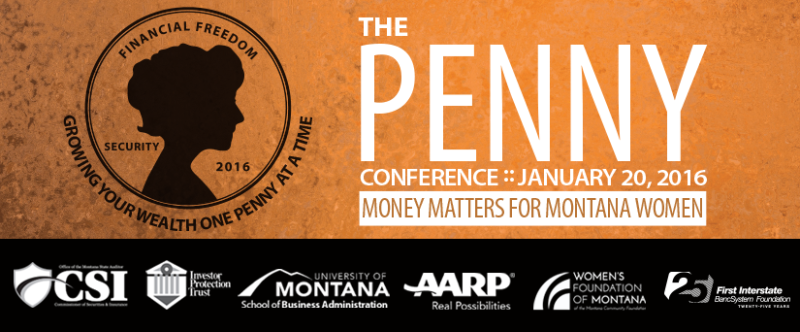 Headlining the event are nationally renowned authors and speakers including Kerry Hannon, an expert on career transition, personal finance and retirement and Amy Goyer, an expert on juggling life, work and caregiving. Both speakers are featured regularly in the national media and are recognized authorities in their respective fields.

"Women must juggle many financial priorities in regards to their family, both young and old," said Monica Lindeen, Commissioner of Securities and Insurance. "The Penny Conference is focused on bringing women together to talk about how they spend money, save money, and plan for retirement."

The mission of the conference is to empower women to take the steps required to improve their financial future by building their competence, confidence and networks. In addition to the keynotes, the conference will also feature presentations on how women can succeed as investors, avoid investor fraud, negotiate higher salaries, and generally "get in better financial shape". Breakout sessions will provide opportunities for participants to learn about and plan for financial decisions that are unique to their circumstances. The event will inspire attendees with speakers who will share their personal stories of financial success.

"AARP is pleased to be a sponsor of this important conference," said AARP Montana State Director, Tim Summers. "We know that women face a unique set of retirement planning needs. Not only do women tend to live longer than their spouses, they are often caretakers who look after children and aging family members – as a result, they have been out of the workforce longer. All of this means that careful retirement planning is necessary."

The statistics about the financial challenges that women face are sobering. According to "WISER" – the Women's Institute for a Secure Retirement, some of the top challenges facing women retirees include:

Half of all women work in female dominated, relatively low paying jobs without pensions. Women retirees receive only half the average pension benefits that men receive.
60 percent of working women earn less than $30,000 per year. 75 percent of working women earn less than $40,000 per year.
Over a lifetime of working, women earn just $.77 for every $1.00 earned by men – a lifetime salary differential of over $300,000.


A survey by Women & Money Magazine found that:

The average annual income for older men ($24,300) is almost 75% higher than the annual income for older women ($14,000).
The number of older women living in poverty is 50% higher than older men.
45 percent of women work part-time – making them much less likely to have workplace retirement benefits


The Family Caregiver Alliance found that:

66% of caregivers are female.
Female caregivers spend almost 50% more time providing care than do male caregivers.
Caregiving reduces paid work hours for middle-aged women by about 41 percent.
The average lifetime cost of providing caregiving to the individual female caregiver is $324,044.


The Conference will be held at the School of Business Administration at the University of Montana in Missoula on January 20, 2016 from 8 am to 4:45 pm.

The free, one-day event is open to the public and includes lunch and materials. Registration is encouraged because space is limited. Montanans can find more information and a registration link at WWW.CSIMT.GOV/PENNY



Quick Glance Event Details:

What: The "Penny" Money Matters for Montana Women Conference is a free conference sponsored by the Montana State Auditor's Office, AARP Montana and the School of Business Administration at the University of Montana. The Conference will focus on money management, investment strategies and retirement planning for women of all ages, economic backgrounds and levels of financial knowledge.



When: Wednesday, January 20, 2016, 8 am – 4:45 pm



Where: University of Montana, School of Business Administration

Gallagher Business Building
32 Campus Drive
Missoula, MT 59812



Who: Open to the public



Cost: Free! Due to limited space, registration is required.



Details: For more information and registration link, http://csimt.gov/