En español | Counties were given the go-ahead to expand early voting and mail-in ballot options for voters, opening the door for more people to cast ballots safely from home:

For years, all registered Montana voters have been able to request absentee ballots without needing a particular reason. But Bullock's directive will allow counties to vote almost entirely by mail if they so choose.
Montana allows in-person absentee voting starting 30 days before Election Day. And although some counties may conduct the November election almost entirely by mail, officials will still need to provide some in-person voting options.
Find out where the candidates stand on the issues -- Check out the AARP Montana voter guide series:
• Candidates for U.S. Senate: Steve Daines and Steve Bullock.
• Candidates for Governor: Greg Gianforte and Mike Cooney.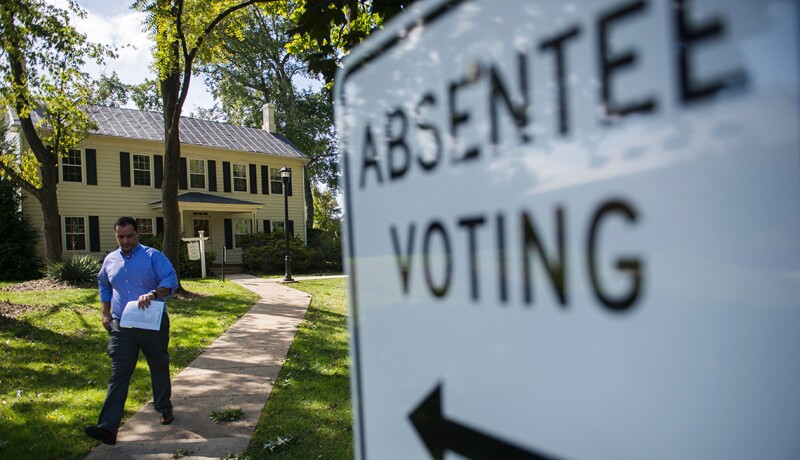 Here's what else you need to know:

How do I register to vote?

You can register to vote in person or by mail. Download a registration application from the secretary of state's website, which should be mailed to or dropped off at your county elections office by Oct. 5. To register in person, stop by your county elections office weekdays between 8 a.m. and 5 p.m. You should bring a valid Montana driver's license or state-issued ID card with you. If you don't have either, you can provide the last four digits of your Social Security number to verify your identity. If you don't have a Social Security number, you can attach a copy of a photo ID, or a recent paycheck, utility bill, bank statement, tribal ID or government document that confirms your name and address.

If you miss the registration deadline, you can file for late registration from Oct. 6 through Election Day, Nov. 3. You can file for late registration only at your county elections office, though state officials warn that lines may be longer than for standard registration.

Check Montana's voter information portal to see if you're registered to vote and to make sure your information is up to date.


How can I get an absentee ballot? Are there important deadlines?

Every voter is eligible for a no-excuse absentee ballot, meaning you don't need to cite a particular reason to get one. You can find an absentee ballot application on the secretary of state's website. Fill it out and mail, fax or deliver it to your county elections office. Applications must be received by election officials by noon Nov. 2 to get a ballot in time for the general election.

Some counties may elect to distribute mail-in ballots or mail-in ballot applications directly to registered voters following Bullock's directive. Check with your county elections office for the latest updates on how to vote absentee in your area.

By Oct. 9, ballots will be mailed to residents who have already submitted applications — and to registered voters in counties that are expanding mail-in voting. The ballots must be received by your local elections office by Nov. 3, Election Day, at 8 p.m.

How do I know my absentee ballot is secure?

Every county electronically tracks ballots that are distributed. Voters can track the status of their ballot through the state's voter information portal.

Ballots are enclosed in a secrecy envelope and then enclosed in an outer signature envelope to protect the secrecy of the ballot. Absentee ballots have been popular in Montana for years, and the state just conducted its June primaries entirely by mail.

When is Election Day? When are polls open?

Tuesday, Nov. 3. Polls will be open in most of the state from 7 a.m. to 8 p.m., though they may open later in counties with fewer than 400 registered voters. In those more rural counties, polls must be open by noon.

In-person voting will still be available following Bullock's directive to expand absentee and early voting. But you should check with your county elections office or go to Montana's voter information portal closer to Election Day to see how and where you can cast your ballot.

Can I vote before Election Day?

You can vote early by requesting an absentee ballot, which you can complete and drop off starting Oct. 5. Counties may decide to further expand early voting following Bullock's election directive. Consult Montana's voter information portal to see when and where you can cast an absentee ballot before Election Day.

What form of identification do I need to vote?

You'll need to present either a Montana driver's license or another state-issued photo ID. You can also bring a current utility bill, bank statement, paycheck stub, voter registration confirmation or government check that verifies your name and address.

What is being done to make polling places safe from the coronavirus?

The governor's directive requires polling locations to enforce social distancing guidelines. A separate mandate that Bullock issued in July requires people to wear masks in certain indoor settings, including government offices and polling locations.

Will I be able to vote in the same place as I always have?

Not necessarily. In some states, a likely shortage of poll workers is expected to lead to a consolidation of polling locations. Keep up with the secretary of state's polling locations guide to see where you will be able to cast your ballot in person.

What are the key races in my state?

U.S. President
U.S. Senate: Incumbent Steve Daines (R) vs. Gov. Steve Bullock (D)
U.S. House: the state's only seat, Kathleen Williams (D) vs. Matt Rosendale (R)
Governor: Lt. Gov. Mike Cooney (D) vs. U.S. Rep. Greg Gianforte (R)
State Senate: 25 of 50 seats
State House: All 100 seats
This page was updated on Aug. 25 to clarify how voters can cast absentee ballots. Voting rules and procedures may change before Election Day. We'll update this story if they do, so bookmark this page and check back.

AARP is urging older Americans to ask the candidates 5 key questions:

Just over half of all older Social Security beneficiaries rely on the program for at least 50 percent of their income. If elected, how will you ensure that current and future Social Security benefits are not cut as part of deficit reduction?
Half of the people with traditional Medicare spend at least a sixth of their income on health care. If elected, how will you protect Medicare from benefit cuts, as well as lower health care costs and ensure that older adults continue receiving the affordable health care they have earned?
COVID-19 has caused death and suffering for too many older Americans who require long-term care. If elected, how will you make sure these citizens can access safe and affordable long-term care at home, as well as in facilities like nursing homes and assisted living?
Also of Interest