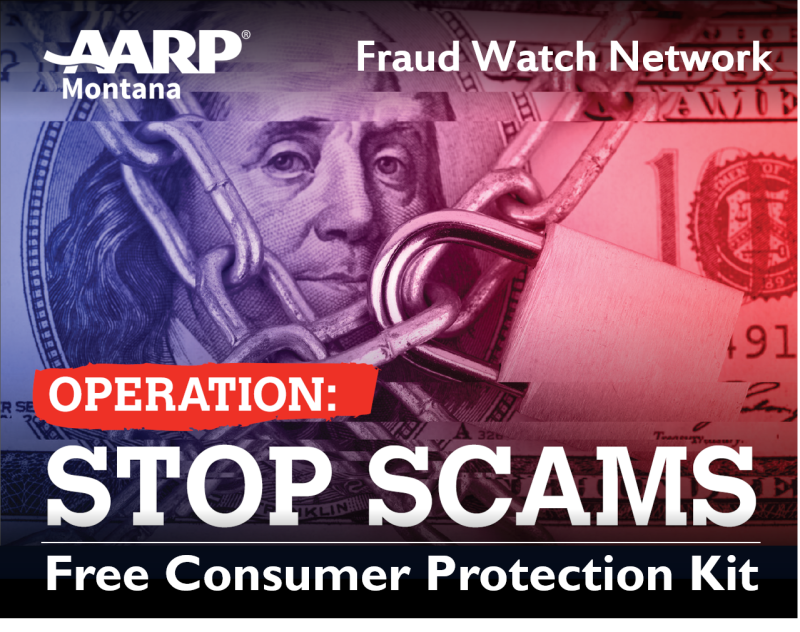 Stay One Step Ahead of the Scammers. Sign up for your free Consumer Protection Kit today!
In our ongoing efforts to protect Montanans from fraud and scams, AARP Montana is offering a free consumer protection kit which includes the following:

The Con Artists' Playbook
Guide to Stopping Robo-Scammers
Watchdog Alert Handbook
RFID credit card sleeve to protect you credit card information

The AARP Fraud Watch Network
The AARP Fraud Watch Network is a go-to resource for protecting yourself from identity theft, investment fraud and scams. Anyone of any age can access our information and tools free of charge. AARP membership is not required.

The AARP Fraud Watch Network gives you access to:

Watchdog alerts and the latest, breaking scam news, delivered right to your inbox. Sign up here for Watchdog Alerts.
A scam-tracking map featuring warnings from law enforcement and people in your state who are sharing their experiences so you'll know what to watch out for.
The Fraud Resource Center with online tip sheets detailing 70 different frauds and scams.
A phone number you can call to talk to volunteers trained in how to spot and report fraud. Call the Fraud Fighter Call Center at 1-877-908-3360.
Learn more at: www.aarp.org/FraudWatchNetwork

Important Montana Consumer Protection Contact Information
AARP collaborates with several Montana State Agencies to combat fraud and financial exploitation.

Click here for a downloadable resource sheet of important Montana consumer protection phone numbers and web sites.