Adapting a residence to accommodate changes brought on by age has become more relevant during the pandemic, and alterations can help people age as independently as possible at home.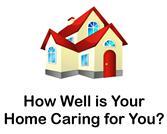 AARP's "HomeFit Guide" provides practical solutions to make older people's homes safer. AARP Montana will mail a free guide to anyone who requests one at aarp.org/mt.

The guide covers do-it-your-self fixes, like bathmats and lever handles, and design features and improvements, such as ramps and guardrails.

The vast majority of adults 50-plus tell AARP that they wish to remain in their own home and community as they age.