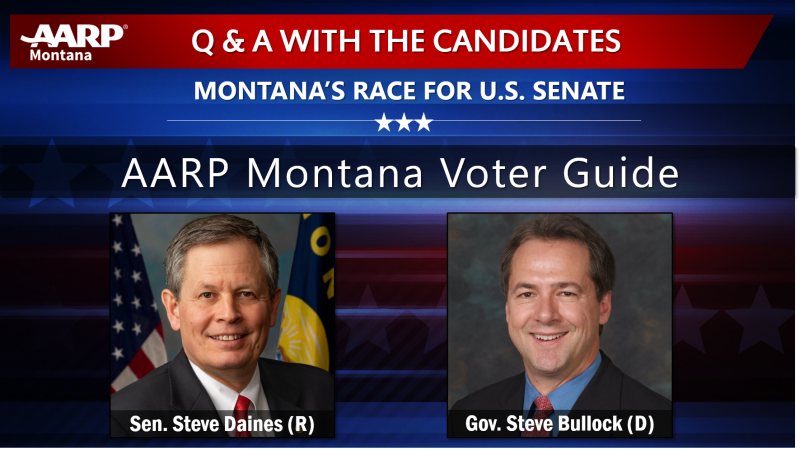 Find out where the candidates stand on issues important to you

AARP Montana is committed to helping you get the facts you need to choose candidates who reflect your values. We are non-partisan -- we don't support or oppose political candidates or contribute money to campaigns or political action committees. We focus on the issues that are most important to Montanans 50-plus. Our priority is ensuring you know where the candidates stand before you cast your vote.

That's why AARP Montana is providing this voter guide to help Montanans learn as much about the candidates and their positions on the issues.

This voter guide series also includes:
• Candidates for Montana's Governor Race: Mike Cooney and Greg Gianforte

We posed five questions to Montana's U.S. Senate candidates and gave them 60 seconds to respond to each question. The Republican candidate is Senator Steve Daines and the Democrat candidate is Governor Steve Bullock.

Collaboration with Northern Broadcasting to air the Montana Voter Guide Statewide
AARP Montana collaborated with Northern Broadcasting, to bring you the Senate Voter Guide. Northern Broadcasting aired voter guides each day during the week of September 21 on the statewide Voices of Montana radio program. With a reach of 179,000, Montanans in all corners across the state received information to help them make an informed decision as they cast their ballots for their choice in the state's U.S. Senate race. Click to listen to all five days of the U.S. Senate Radio Voter Guide: DAY 1, DAY 2, DAY 3, DAY 4, DAY 5.

"Candidates in Montana should pay attention to the concerns of the state's most active voting group: 50-plus voters," said Tim Summers, AARP Montana State Director. "History shows 50-plus voters turn out in force and AARP wants to make sure issues that are important to this demographic are front and center – issues like the rising cost of prescription drugs, protecting Social Security and Medicare, and how the candidates are planning to help make Long Term Care more accessible for the growing aging population in Montana."

Click on our AARP Montana Voter Guides below to find out where the candidates for U.S. Senate stand on issues that are important to Montanans 50-plus. The five questions we posed to candidates are as follows:

QUESTION 1: Social Security is a self-financed, off budget program that half of all seniors rely on more for than 50% of their income. If elected, how will you ensure that current and future Social Security benefits are not cut as part of deficit reduction? Click anywhere below to view>>


QUESTION 2: On average, seniors already spend one out of six dollars on health care. If elected, how will you protect Medicare from benefit cuts, lower health care costs, and ensure seniors continue receiving the affordable health care they have earned? Click anywhere below to view>>


QUESTION 3: Unemployment during the coronavirus crisis reached the highest levels since the Great Depression, and older Americans have been disproportionately affected. If elected, how will you help Americans over the age of 50 recover economically from the effects of the coronavirus? Click anywhere below to view>>


QUESTION 4: Americans pay the highest prescription drug prices in the world. If elected, how will you cut prescription drug prices for all Americans? Click anywhere below to view>>


QUESTION 5: COVID-19 has caused death and suffering for too many older Americans who require long-term care. If elected, how will you make sure seniors can access safe and affordable long-term care at home, as well as in facilities like nursing homes and assisted living? Click anywhere below to view>>


AARP is fighting to make sure Montanans can vote safely. This year, due to the pandemic, 45 of Montana's 56 counties will conduct the general election by absentee ballot (mail-in). That means in those 45 counties, ballots will be mailed to all registered voters starting October 9. Make sure you are registered to vote. To find out if you are registered, you can call your county election office or check the "My Voter" page on the Montana secretary of state's website, at www.sosmt.gov. For more information on how you can vote safely and make your voice heard, visit aarp.org/MTVotes.