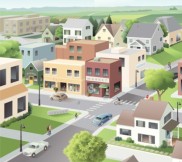 This year, Grand Island became the first community in the state to join the AARP Network of Age-Friendly States and Communities, as its leaders work to make the city a place where residents of all ages can thrive.

Members of the network, which includes three states and more than 350 communities, focus on creating more walkable streets, expanding housing and transportation options and making other improvements to help people age in place comfortably.

The AARP age-friendly initiative is part of a World Health Organization program that helps areas cope with rapidly aging populations and urbanization.

Grand Island, which has a population of roughly 50,000, about 14 percent of whom are 65 or older, will develop a three-year plan.

"By partnering with AARP, Grand Island will have sound guidance and support as we pursue our plan," said Tonja Brown, chair of Grow Grand Island, a nonprofit leading the effort.