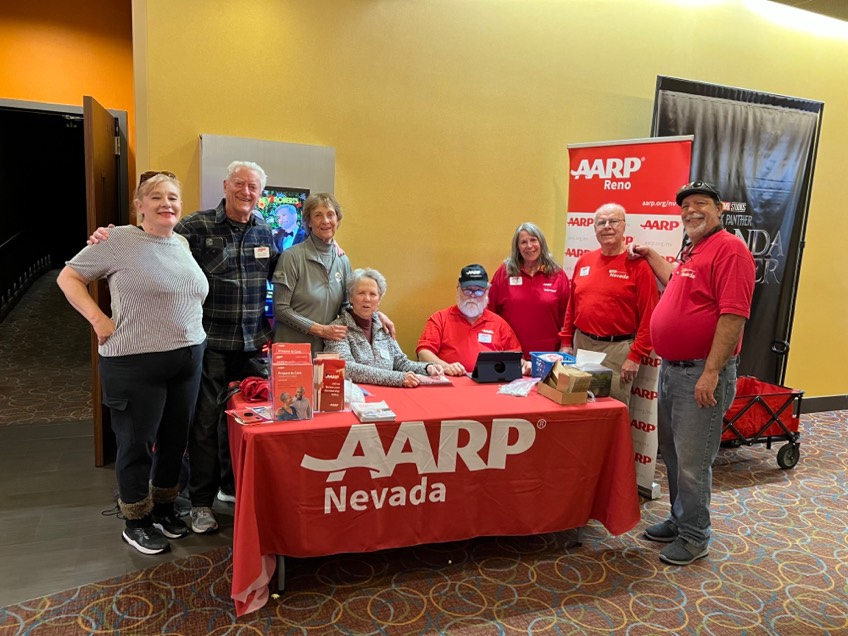 Showing up in the community is what matters most to us. Whether it is community fair or event, AARP Nevada is committed to showing Nevadans we are their wise friend and fierce defender. We are looking for other wise friends and fierce defenders for our volunteer team.

Join AARP Nevada volunteers to make a difference and educate people on issues that matter to older Nevadans, their families and society as a whole. You will make connections with other passionate volunteers and with people in your community. AARP Nevada is seeking to fill volunteer roles, including:

Photographer: Photographer volunteers play a key role in assisting the AARP Nevada staff. They will capture photos of AARP Nevada events and meetings and showcase the 50+ lifestyle. Photographers will get to attend and capture events centered around priorities such as Fraud Prevention, Caregiving, Voter Education and advocacy around Medicare. The photos taken will be featured on our social media platforms including Twitter and Facebook.

Learn more about the Photographer volunteer position.

Virtual Moderator/Host (AARP Nevada): Virtual moderators have the opportunity to interact with members and lead educational experiences such as Tai Chi Thursdays and Yoga Tuesdays. This is not only a great way to interact with other members and volunteers, but Virtual Moderators can be active as well. Virtual Moderators will also be responsible for leading events centered around our priorities such as: Caregiving, Fraud Prevention, Veterans, Medicare, Voter Education and other key AARP issue points.

Learn more about the Virtual Moderator volunteer position.

Storytelling: AARP has partnered with StoryCorps to share Nevadans stories that bring attention to key areas including Caregiving, Fraud Prevention, Medicare and Liveable Communities. Storytelling volunteers will share their personal stories and experiences to better communicate how AARP Nevada can help. Storytelling volunteers will be given the opportunity to share their stories at community events or on social media.

Learn more about the Storytelling volunteer position.

Media Representative: Media Representatives are key to spreading AARP Nevada's message and bringing awareness. They will be given the opportunity to speak to local press about AARP Nevada opportunities and priority issues. Media Representatives will learn about priority issues in the state of Nevada including Caregiving, Fraud Prevention, Voter Education, advocacy on Medicare, Veterans and more.

Learn more about the Media Representative volunteer position.

In-person/Virtual Tech Support: As we continue to navigate through the virtual world, AARP Nevada is in need of a Tech Support Volunteer. They will assist the AARP state office and Volunteers with in-person and/or virtual presentations, events and training. Tech Support Volunteers ideally have a technological background including Zoom experience and understanding how to troubleshoot various devices.

Learn more about the Tech Support volunteer position.

Whatever volunteer role you are looking for, we have something that will fit your interests, skills and schedule. Every one of our valued volunteers plays an important role at AARP Nevada and we are excited to have you join our team. Check out our local site for more information and events near you.

AARP Nevada staff and volunteers help more than 345,000 Silver State members live their best lives. We offer news, information and resources on the issues that matter most to you.
Please stay in touch! Here's how to contact us:
AARP Nevada - 5820 S. Eastern Avenue #190, Las Vegas, NV 89119
Call:
866-389-5652
Email:
aarpnv@aarp.org
Stay up-to-date
on important news and events! "Like" us on
Facebook
, follow us on
Twitter
, follow us on
Instagram
and check out our
YouTube
channel.
Please be aware that AARP Nevada staff members serve the entire state and are often working in the community. To ensure we can best serve your specific needs, please call 866-389-5652 in advance of your visit to make an appointment with the appropriate staffer.
The
AARP Foundation
WorkSearch/Senior Community Service Employment Program (SCSEP) operates from separate locations in southern and northern Nevada. For information about this program, please contact 702-648-3356 (Las Vegas) or 775-323-2243 (Reno)
Members of the press only: Media inquiries should be directed to Erin Neff, (702) 938-3237 / eneff@aarp.org