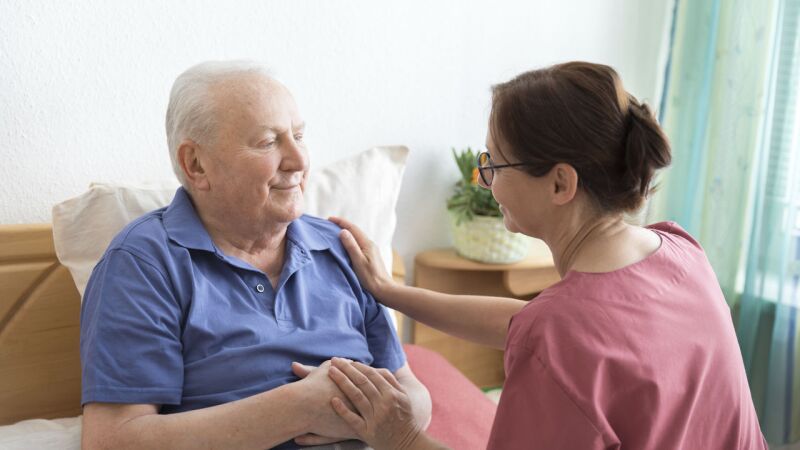 Another disturbing outcome of the COVID-19 pandemic and how it affects older Nevadans are reports some nursing homes are illegally taking CARES Act stimulus checks from their residents, Nevada's Attorney General Aaron Ford warned this week.

"My office has received concerning reports about nursing homes that may attempt to take stimulus checks from their residents," Ford said this week. "On many fronts, we're actively working to protect our seniors, and any confiscation of stimulus payments should be reported to my office."

According to the Coronavirus Aid, Relief and Economic Security (CARES) Act, stimulus checks are a tax credit and do not count as a "resource" for federal benefit programs like Medicaid. Because Congress has designated these payments as a tax credit, the government cannot seize them for federal benefits programs.

While it is true Medicaid requires those that live in Nevada nursing homes to contribute most of their income toward the cost of their stay, it allows for a personal-need allowance as well as funs to pay for personal uncovered medical costs.

The entire amount of the CARES Act stimulus payment counts towards the personal-needs allowance, Ford reiterated.

If nursing homes or their staff obtain this money without the resident's consent, this may be considered a form of elder exploitation.

"We thank Attorney General Ford for protecting the rights of older Nevadans and ensuring they are not being exploited during this unprecedented time," said Maria Moore, AARP Nevada State Director. "We must do all we can to protect those most vulnerable in our aging population."

Ford also said if your loved one is living in a nursing home and you are not sure what happened to their stimulus payment, talk to your loved one to find out where the payment went. Consider speaking with the facility's management to make sure they have not unlawfully taken the payment.

If you believe a nursing home resident who is a Medicaid recipient has forfeited their stimulus check to a nursing home, you may file a complaint with the Office of the Nevada Attorney General here or with the Federal Trade Commission here. You may also call our hotline toll free at (888) 434-9989.

AARP Nevada staff and volunteers help more than 345,000 Silver State members live their best lives. We offer news, information and resources on the issues that matter most to you.
Please stay in touch! Here's how to contact us:
AARP Nevada - 5820 S. Eastern Avenue #190, Las Vegas, NV 89119
Call:
866-389-5652
Email:
aarpnv@aarp.org
Stay up-to-date
on important news and events! "Like" us on
Facebook
, follow us on
Twitter
, follow us on
Instagram
and check out our
YouTube
channel.
Please be aware that AARP Nevada staff members serve the entire state and are often working in the community. To ensure we can best serve your specific needs, please call 866-389-5652 in advance of your visit to make an appointment with the appropriate staffer.
The
AARP Foundation
WorkSearch/Senior Community Service Employment Program (SCSEP) operates from separate locations in southern and northern Nevada. For information about this program, please contact 702-648-3356 (Las Vegas) or 775-323-2243 (Reno)
Members of the press only: Media inquiries should be directed to Erin Neff, (702) 938-3237 / eneff@aarp.org