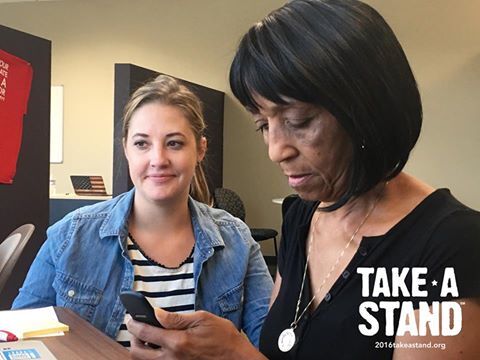 Did you know? The average Social Security recipient in Nevada draws a benefit of $1251 per month. However, if nothing is done to update the program, that benefit will be cut 25% in 2034.
Across the Silver State, 1,236,000 Nevadans are working hard and paying in to Social Security with every paycheck. Now, we need to keep Social Security strong, so you get the money you've earned.
If you share our commitment to strengthen Social Security for future generations, please contact us now to volunteer with AARP Nevada.
It's going to take leadership from the next president and commitment from Congress to update Social Security. Every year our elected leaders wait and do nothing, finding a solution grows more difficult.
The bottom line is - doing nothing is not an option.
That's why AARP Nevada is working on the ' Take A Stand' campaign to press presidential and congressional candidates to commit to taking action to keep Social Security strong.
Get involved as a volunteer with AARP Nevada and join us in calling on the candidates to Take A Stand.
At the new Take A Stand campaign office, AARP Nevada is mobilizing our more than 300,000 members and volunteers to encourage candidates to take a position on keeping Social Security strong for our children and grandchildren.
We need your help!
You can make a difference by volunteering to make sure Social Security is a top issue for the 2016 election. AARP Nevada is looking for potential volunteers who can help us Take A Stand by:

Making calls to AARP members
Participating in community outreach
Writing a letter to the editor or local official
Attending a presidential or congressional candidate event
If you are interested in learning more about the volunteer opportunities with AARP Nevada's Take A Stand campaign…
Call us at 1-844-655-7458 or Email snutt@aarp.org .
To learn more about where the candidates stand, visit 2016takeastand.org