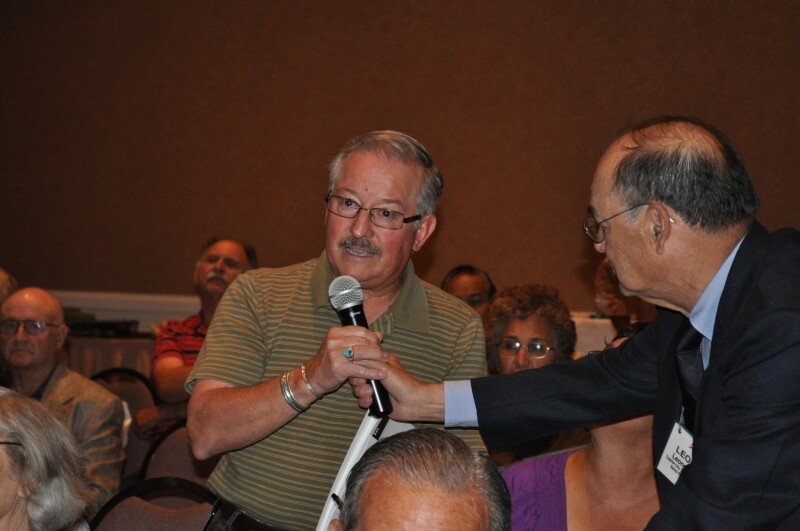 When it comes to protecting Medicare and Social Security, New Mexico's 50 plus population has plenty to say and surprisingly, those thoughts seem to cross political party lines.

Since March of 2012, AARP has been conducting an initiative called "You've Earned a Say" gathering up people's opinions and concerns about both programs and promising to take those comments to Washington.

"We called the initiative 'You've Earned a Say' because we believe that the very people that have been paying into these programs and are counting on them for a secure retirement, have earned a right to be heard by lawmakers and other who are discussing changing those programs," said Gene Varela, AARP New Mexico State Director.

To date, more than 11,000 New Mexicans have shared their views on the future of Social Security and Medicare through questionnaires. AARP New Mexico has conducted 47 community conversations, with large and small groups, reaching about 4,500 individuals.

AARP recently compiled its first report on what New Mexicans are saying.

"What's interesting about this report is that nationwide, 47 percent of voters ages 50 plus are not confident they'll ever be able to retire and 67 percent believe the economy will force them to rely even more on both Social Security and Medicare," Varela said.

"People overwhelmingly want these programs strengthened and they believe that it will take Democrats and Republicans coming together to make that happen," he said.

Some of the highlights of the report are:

Thirty percent of people who filled out the questionnaire believe that Medicare needs major changes and 28 percent said it needs minor changes.
For Social Security, 24 percent said it needs major changes while 29 percent believe that the program is OK as it is and another 29 percent say it only needs minor changes.
When it comes to the future of both programs, 35 percent believe more funding will be needed to keep benefits as current levels, only 12 percent say benefits will be reduced and 40 percent say that either of those two items will occur.
When talking about possible solutions to strengthening the programs for the future:

Forty-seven percent of responders say that some changes should be made now, but we should wait before making major changes.
The biggest challenge facing Social Security is that higher workers aren't paying enough into the program with 29 percent indicating so and another 23 percent saying it's the growing senior population and longer retirements causing the biggest challenge.
Sixty-seven percent say that a balanced approach of benefit and revenue changes is needed to ensure Social Security is there for future retirees with another 23 percent indicating that Social Security it too important to consider benefit changes for future retirees.
When it comes to Medicare, 36 percent of responders believe that the program's biggest challenge is the rising cost of health care, while 18 percent say it's the growing senior population and 15 percent say Medicare premiums and out-of-pocket costs are too high.
Seventy-seven percent said that all future retirees should continue to get guaranteed Medicare coverage and care as seniors do now, while 23 percent agreed that future retirees should be given a set amount of money to choose among many insurance plans with different benefits and costs.
Sixty-two percent said a balanced approach of benefit and revenue changes are needed to make sure Medicare is there for future retirees. While 30 percent said Medicare is too important to people to consider major changes.
For more information on the YEAS initiative visit www.earnedasay.org or to read the state report more in-depth, visit http://www.aarp.org/politics-society/advocacy/info-10-2012/yeas-congressional-reports.htm

(Photo caption: Roy Aragon of Albuquerque discusses his concerns about the future of Social Security and Medicare at YEAS Listening Session earlier this year. AARP Volunteer Leonel Garza holds the microphone.)