En español | North Dakota conducted its June primary election entirely by mail because of the coronavirus pandemic. While polling places are expected to be open for Election Day, the state makes it easy to vote absentee by mail, from the safety of your home:

Election Day is Tuesday, Nov. 3. Voting hours vary by county, so use the state's voter information portal to see when and where to cast your ballot. Your polling place may be different this year, so check before you leave.
Be prepared for potentially long lines, and remember to take your mask and to follow social distancing measures at the polls. You'll need to bring a valid form of ID with you if you vote in person.
With Election Day only days away, consider dropping off your completed absentee ballot in person. Your local election office has information on where to take your ballot.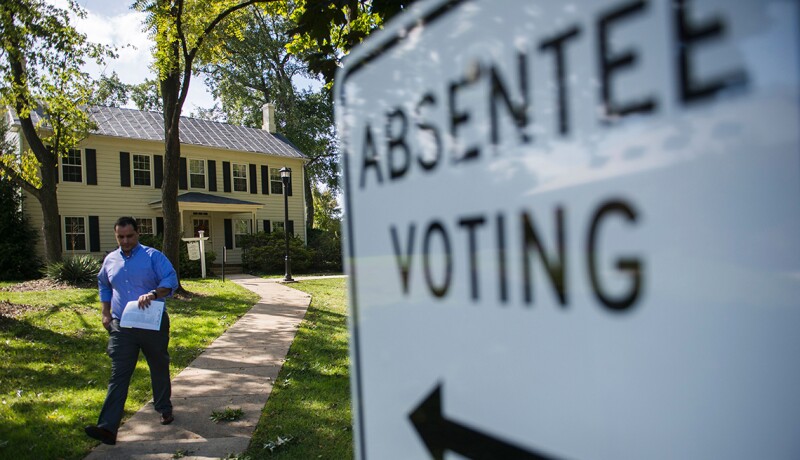 Here's what else you need to know:

How do I register to vote?

You don't have to register to vote in North Dakota, but you must have a valid form of identification to vote absentee or in person.

How can I get an absentee ballot? Are there important deadlines?

Any North Dakota resident may vote absentee by applying for an absentee ballot online. Or you can request an absentee ballot from your county auditor's office by phone, mail or in person. Ballots will become available 40 days before the election, and you should apply by Friday, Oct. 23. Ballots must be postmarked no later than Monday, Nov. 2 — the day before Election Day.

How do I know my absentee ballot is secure?

The state's voting system is entirely paper-based, mitigating the threat of electronic hacking. Having a paper record of every vote cast also helps ensure accurate recounting, if needed.

Can I vote in person before Election Day?

The state hadn't announced plans for early voting as of mid-July but is posting voting updates on the secretary of state's website.

What form of identification do I need to vote?

A driver's license, nondriver ID or tribal ID that includes your date of birth and current address. You can use a current utility bill, bank statement or government check or document to supplement your ID.

What is being done to make polling places safe from the coronavirus?

The state hadn't announced plans for safeguarding polling places as of mid-July, but check the secretary of state's website.

Will I be able to vote in the same place as I always have?

Not necessarily. Find your polling place here.

How can I vote if I live in a long-term care facility?
If you are a U.S. citizen, you have the right to vote regardless of where you live. Read this voter guide for residents and tenants of long-term care facilities.

What are the key races in my state?

U.S. President
U.S. House: Incumbent Kelly Armstrong (R) vs. Zach Raknerud (D)
Governor: Incumbent Doug Burgum (R) vs. Shelley Lenz (D)
This guide was updated on Nov. 2 with more information about voting in person. Voting rules and procedures may change before Election Day. We'll update this story if they do, so bookmark this and check back.

AARP is urging older Americans to ask the candidates 5 key questions:

Just over half of all older Social Security beneficiaries rely on the program for at least 50 percent of their income. If elected, how will you ensure that current and future Social Security benefits are not cut as part of deficit reduction?
Half of the people with traditional Medicare spend at least a sixth of their income on health care. If elected, how will you protect Medicare from benefit cuts, as well as lower health care costs and ensure seniors continue receiving the affordable health care they have earned?
COVID-19 has caused death and suffering for too many older Americans who require long-term care. If elected, how will you make sure seniors can access safe and affordable long-term care at home, as well as in facilities like nursing homes and assisted living?
Also of Interest