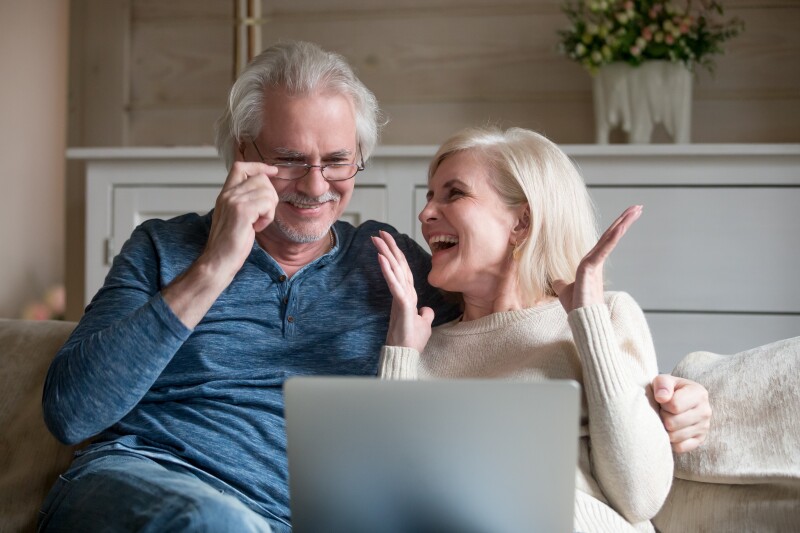 Join us for these upcoming online programs and events organized by topic (not date) below. Check back often for updates. Scroll down to find links to past events.
Brain Health: What's Fun Got To Do With It?! | Monday, June 27 at 2 p.m.
What's fun got to do with your brain health? Discover the fun you can have creating healthy brain habits that stick! Learn how to choose a brain health goal and stick with it so you can reduce risks to your brain as you age. You'll hear from Sarah Lenz Lock, Executive Director of the Global Council on Brain Health and Dr. BJ Fogg, Director of the Behavior Design Lab at Stanford University and author of "Tiny Habits."

This event is free to participate, but pre-registration is required. Register here.

PASSPORT TO HEALTHY LIVING EVENTS
Bismarck FitLot Grand Opening | Wed., July 13 from 5-7 p.m. (in-person)
AARP sponsors a FitLot park in each state, and Bismarck is home to North Dakota's FitLot!. Join us to celebrate this addition to the community and for a demonstration by Bismarck Parks & Recreation District instructors. Enjoy some refreshments and discover how you can benefit from this versatile and adaptable outdoor fitness park. Register today!

FitLot & Outdoor Fitness | Wed., July 20 at 3 p.m. (online only)
Learn how you can get fit at your local FitLot! While AARP sponsors the Bismarck FitLot park, you'll find versions of the FitLot around the state. In this online event, Parks and Recreation instructors will demonstrate activities you can do in a FitLot or with other outdoor accessories available anywhere. Register today!

AARP ND Hiking Series | June 22, July 27 and Aug. 10 (in-person)
Join AARP North Dakota for hiking day trips to three different state parks this summer, and experience the beauty of nature in your backyard. Park rangers will talk about the park and its history, and provide guidance on hiking trails. AARP will provide snacks and water, and will cover your park day pass (if you don't have one). Explore new areas with other people, get some exercise and enjoy the North Dakota outdoors! Register here or by calling 877-926-8300.

Get Your Yard Ready for Fall | Wed., August 17 at 3 p.m. (online only)
Join us as we learn from Don Kinzler, horticulturist with NDSU Extension for Cass County, on how best to prepare our lawns and yard for fall and winter. When and what should you prune and fertilize, and which perennials need more protection over the winter? Don will answer these questions and many more. Register today and get tips to ensure a successful yard next year!

Grand Forks Shredding Event | Tuesday, July 19 from 3-7 p.m.
Stay one step ahead of identity thieves with AARP ND and the Fraud Watch Network at a free shred event in Grand Forks. Two box limit and 300 registration slots available. The location will be shared after you register and choose a time slot. Register here.

Bismarck Shredding Event | Saturday, August 13 from 8 a.m.-noon
Don't give scammers a chance -- shred it and forget it! Join AARP ND and the Fraud Watch Network for a free shred event in Bismarck. Two box limit and 500 slots available. The location will be shared after you register and choose a time slot. Register here.

Fargo Police Community Picnic | Wednesday, June 29 from 5-8 p.m.
Stop by and visit our booth at the Fargo Police Community at Urban Plains Park, 5050 30 Ave. S. in Fargo on June 29. Free treats, caricatures and face painting, food trucks, musical entertainment and inflatables make this a great night out. Learn more here.

West Fargo Night 2 Unite | Tuesday, August 2, 2022 from 5-8 p.m.
AARP ND looks forward to seeing you at the annual West Fargo Police Night 2 Unite at Elmwood Park in West Fargo. This free annual event celebrates community and public safety through demonstrations, informational booths, games, food vendors and lots of fun! Learn more here.

Communities to LIVE: Older, Healthier, Happier Evening Session | Wednesday, Aug. 24 from 6-8 p.m.
Join AARP North Dakota and the North Dakota Department of Commerce for an evening session with 880 Cities Founder Gil Penalosa. During this two-hour event, you'll learn more about resources and tools available to help communities like yours create more welcoming and inclusive cities and public spaces. This evening event is free of charge and open to the general public.

Download the flyer: Evening Session: Communities to LIVE: Older, Healthier, Happier

Fargo-Moorhead Pride in the Park | Saturday, August 13 from 11 a.m.-4 p.m.
AARP North Dakota will celebrate generations of pride at Fargo's Pride in the Park on Aug. 13. Find our booth for some good info and great swag! Pride in the Park is a wholly welcoming event and is free of charge. Learn more here.

Fargo-Moorhead Pride Social | Saturday, August 13 from 5-7 p.m.
AARP ND & Red River Rainbow Seniors are hosting a gathering after Pride in the Park. We'll gather together at the Radisson Blu to socialize -- the food and beverages are on us! Register here.
Find online and in-person driver safety courses designed for North Dakota drivers age 50 and older.
Hiking Around North Dakota from June 15
Avid hiker and author Susan Wefald talks about her hiking experiences around North Dakota. We also visit with North Dakota Parks and Recreation on trails across the state and how to find more information. Watch the recording here.

Your Voice Your Vote Series | May 3, 10 and 17
We offered three sessions to help you get ready to cast your ballot on June 14.

LGBT Connect & Learn: Tips from Behind the Pharmacy Counter from May 12
Two pharmacists shared their insights and the typical questions they receive plus the questions you should be asking. Watch the recording here.

Homefit: Your Home for Life from March 24
Learn how you can stay in the home you love by turning where you live into a lifelong home. Watch the recording here and download the AARP Homefit Guide here.

Social Security and Medicare Sessions
Approaching retirement? Our two-part online education event will ensure you make informed decisions about Social Security and Medicare.

Brain Healthy Cooking from March 16
Nicolle Aukland shared brain healthy food insights and more. Watch the recording here and download this brain health tip sheet here.

Bismarck Briefing from March 10
An overview of a conversation between City employees and residents regarding the future of Bismarck. Watch the recording here.

Living Longer, Living Smarter: Health from Feb. 24
Living Longer, Living Smarter is about preparing for the future. Decide what you want, create a plan to get there, and share it with those who need to know. Watch the recording here.

Faces of Fraud with Merne Manor from Feb. 23
To help protect others from online scams, Merne Manor shared her story about an online purchase that went sour. Learn more from Merne and understand how if this can happen to her, it can happen to anyone. Download our handout here.

Smartphone Photo Editing from Jan. 19
Learn about smartphone camera features and tips for capturing memorable photos. Learn basic photo editing skills and unleash your creativity with smartphone photography you'll want to share and frame. Watch the recording here.

Telephone Town Halls

2020 & 2021 EVENT RECORDINGS
Passport to Healthy Living
Watch recordings of all our 2020 and 2021 Passport for Healthy Living events here.

AARP/MDU Winter Heating Series
Watch these four short clips and discover ways to manage your winter heating costs.

AARP Social Security Minutes
Short videos cover several Social Security topics and common questions. Watch them here.

Fraud Watch Network
Stay safe by watching our wide array of fraud presentations here.

LGBT LIFE

Make Your House A Home for Life. A four-part series.

Volunteer Events

COVID Resources

Telephone Town Halls