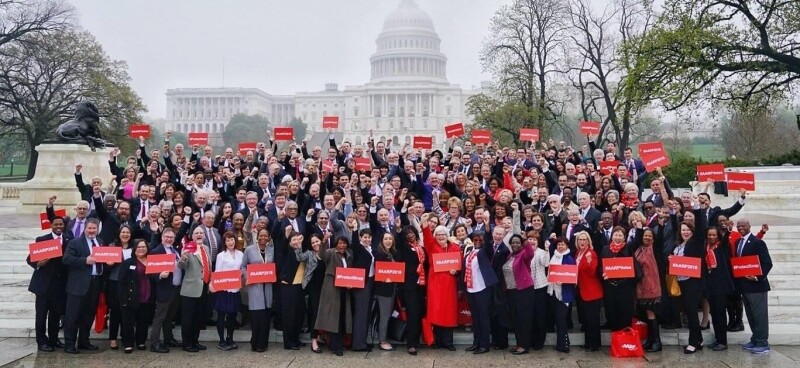 If you're looking for ways to stay informed, stay connected, and join the conversation around our advocacy work at the state and federal level, then you're in the right place!

Advocating for what is important to our members and giving you a voice at the state and federal level is a priority for AARP North Dakota. If you're currently an advocacy volunteer or interested in becoming involved, this page will:

give you insight into the issues that AARP North Dakota is focusing on during the legislative interim;
help you stay up-to-date on what is happening at the capitol in Bismarck and Washington, D.C. and;
connect you with local advocacy efforts.
Your voice matters. Legislators and local leaders appreciate hearing from constituents, so they know how bills and policies will affect you and your family. Knowing more about AARP North Dakota's legislative priorities is helpful as you prepare to make a call, send an email, or prepare to testify before a committee.

GET INVOLVED
If you're interested in helping create positive change for North Dakotans 50 and older then the Advocacy or A-Team is for you! The A-Team is a diverse group of volunteers that work alongside staff to educate and advocate for issues that are important to our members. A-Team members participate in monthly calls and regular face-to-face meetings to stay informed about AARP-led state and federal advocacy efforts. A-Team volunteers work alongside AARP North Dakota's staff to visit local, state and federally elected officials to discuss the benefits of legislation or policies, write letters to the editor, participate and track issues during the legislative sessions, and train other members to participate in the process. Our volunteers play a key role in AARP's mission to lead positive social change. If you're interested in finding out more or becoming a member of the A-Team, please contact Janelle Moos, Advocacy Director, at jmoos@aarp.org or 701-390-0161.

STATE ADVOCACY
During the 2021 North Dakota legislative session, AARP North Dakota had the following policy priorities:

lowering prescription drug costs.
providing access to health coverage and home & community based services.
preventing financial exploitation of older and/or vulnerable North Dakotans.
For more information about AARP North Dakota's 2021 Legislative Priorities click here.

Lowering prescription drug costs
During the 2021 legislative session, AARP fought to make the cost of prescription drugs more affordable. The legislature passed House Bill 1032 — prescription drug cost transparency legislation that will go into effect on August 1. Drug makers will be required to report and provide justification of large price increases. Transparency laws are the first step to help lower prescription drug prices by providing consumers with warning of increases in their drug costs.

Three other bills related to lowering prescription drug costs were introduced by Senator Howard Anderson. The original version of Senate Bill 2212 outlined the process for North Dakota to implement wholesale prescription drug importation. SB 2212 was amended into a mandatory study on prescription drug pricing, importation, reference pricing, and the role pharmacy benefit managers play in drug pricing. During the 2021-2022 interim legislative session, the Health Care Committee will be conducting the study. Click here to find out more about how to get involved and help lower the cost of medicine in North Dakota.

(A complete list of approved legislative interim studies can be found here.)

Senate Bill 2209 would have allowed the state to work with another state to implement a program to import prescription drugs from Canada and passed the Senate on Feb. 12. It was considered by the House Human Services Committee on March 9. Unfortunately, SB 2209 received a Do Not Pass recommendation out of committee by a vote of 13-1 and failed to pass in the House by a vote of 69 (n) – 22 (y) on April 5.

Senate Bill 2170, which would have allowed the state to "import" drug prices instead of the actual drugs, was amended and passed in the Senate on Feb. 19. The House Industry, Business, and Labor Committee (IBL) held a hearing on the bill on March 9 and gave it a Do Not Pass recommendation out of committee by a vote of 10-3. It failed to pass in the House by a vote of 73 (n) -19 (y) on April 8.

Providing access to health coverage and home- & community-based services
House Bill 1012 , the Department of Human Services budget, includes funding for Medicaid Expansion, senior meal programs, housing, home care services, and support for caregivers. Enhancements were made to support home- and community-based services and supports, including funding for rental assistance to help transition home after care, increases to supervision rates, family personal care rates, food assistance, and transportation rates. Additional resources were also added to support a campaign through the Aging and Disability Resource Link (ADRL) to increase access to information about availability of home- and community-based services along with three additional employees to focus on home- and community-based services case management. The budget was passed by both chambers on April 29.

Preventing financial exploitation of older and/or vulnerable North Dakotans
House Bill 1208  makes changes to the consumer protection laws and strengthen enforcement of anti-fraud measures and enhance protections against fraud, identity theft and other scams that target vulnerable people. The bill passed the House Feb. 2. The bill was heard by the Senate Judiciary Committee on March 9 and reported out Do Pass by the committee on March 16. The bill passed in the Senate by a vote of 46 (y) – 0 (n) and in the House by a vote of 92 (y) -1 (no). It was signed by the Governor on April 9.

Read the final 2021 legislative report here.

Go here to learn how your legislators voted on bills related to AARP policy priorities.

Caregivers
We will also continue to ensure the components of the CARE Act that was passed in the 2019 session are supporting the 68,000 unpaid North Dakota family caregivers who make it possible for their older parents, spouses and other loved ones to live at home.

FEDERAL ADVOCACY
AARP's ongoing work at the federal level includes advocating for Social Security, Medicare, and lowering prescription drug prices. Stay in touch with North Dakota's Congressional delegation.

Prescription Drugs
A recent survey on prescription drug costs was released along with an article that outlines policy solutions for lowering prescription drug costs. Check out the news release.

In April 2021, House Resolution (HR) 3 was introduced in the U.S. House of Representatives to cap out-of-pocket prescription drug costs and order Medicare to negotiate on some drug prices. There is not yet a companion Senate bill. Learn more here.

Federal Caregiving Legislation
The Credit for Caregiving Act would provide a new, nonrefundable federal tax credit. It would give eligible family caregivers who work, a 30 percent credit for qualified expenses they paid or incurred above $2,000. The credit could help offset the costs of services like home-care aides, adult day care and respite care, as well as home modifications like ramps and smart-home technology that make caregiving at home safer and easier.

LOCAL ADVOCACY
Livable Communities
We are also looking at what work we can do at the state and local level to make your community a better place for people of all ages.

In June 2021, Bismarck became the first city in North Dakota to join the AARP Network of Age-Friendly States and Communities. Bismarck's comprehensive plan – called Together 2045 – is Bismarck's enrollment into the Network and will be the roadmap working towards a more livable, age-friendly community. Learn more at www.bismarcknd.gov/Together2045. Watch our most recent episode of All Things Advocacy with Bismarck Mayor Steve Bakken and Community Development Director Ben Ehreth here. You can find more information about the Network, Together 2045, and how Bismarck residents can become engaged by watching the video. If you live in Bismarck, click here to find out how you can get involved.

ADDITIONAL RESOURCES
Trends in Retail Prices of Brand Name Prescription Drugs Widely Used by Older Americans,2006 to 2020

Rx Policy Solutions

North Dakota Rx Prices