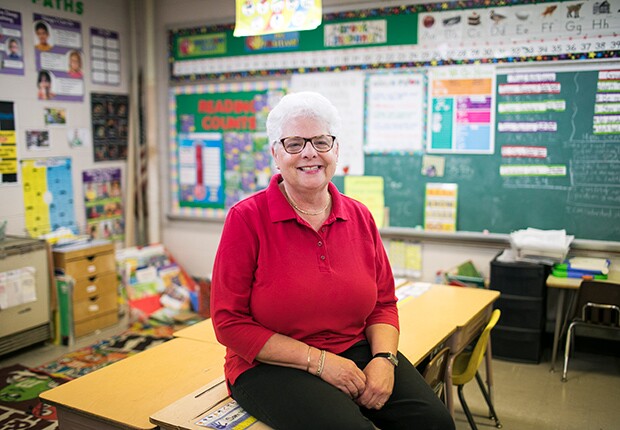 By Sarah Hollander

When students hug her in the hallway, Audrey Kaplan knows she's making a difference.

The retired life insurance agent began tutoring students five years ago at Iowa-Maple, a public elementary school in Cleveland, through AARP Foundation Experience Corps, an intergenerational literacy program for children struggling to read. She's paired one-on-one with students three days a week.

Her kids typically start way below grade level. Most gratifying, said Kaplan, 65, of Euclid, are those who are initially reluctant to read but grow in confidence with continued practice.

"The students are very, very receptive to us," said Kaplan,who tutors second and third graders and has been with teacher Jenny Hatfield for five years. "Kids now in the sixth or seventh grade come hug me in the hallway. I've become sort of a fixture there."

Experience Corps operates in over 20 cities across the country, with more than 2,000 volunteer tutors 50 and older.
Two districts in Ohio participate: the Cleveland Metropolitan School District and nearby Euclid City Schools. This school year, 115 tutors helped 367 students in kindergarten through third grade.

Literacy skills improved more than half a grade level, on average, after a year of Experience Corps tutoring, according to a 2016-17 survey by Greater Cleveland Volunteers, the agency that hosts the program for AARP.

Participation skills rose considerably, with an average score increase of 147 percent. Motivation to learn also showed notable growth.

At the end of that school year, roughly 2 of 3 surveyed students who scored below grade level at the start of the year had improved their reading performance, including 14 percent who ended up reading at grade level.

Even if children don't reach grade level, the tutoring narrows their skills gap, making the next year much easier to catch up, said Anita Giusto, a third-grade teacher at Andrew J. Rickoff School.

"Every single year I've had Experience Corps in the class, we've always seen growth," Giusto said. "Plus, it's not just about passing a test. We want them to grow to love reading."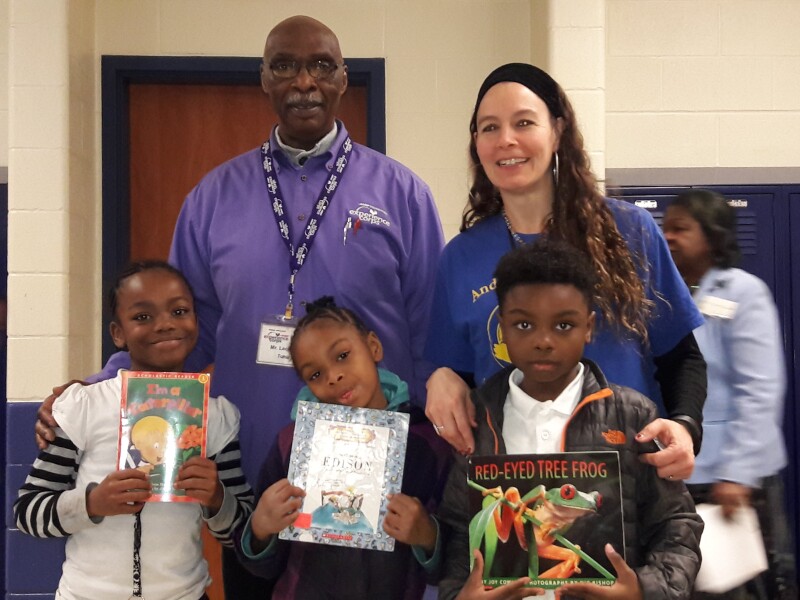 Giusto regards Experience Corps tutor Calvin Leonard as an extra set of hands and eyes in a room of 27 children. "We make a good team," she said.

Patience and caring go a long way, said Leonard, 69, a retired production planning manager from Shaker Heights.

"I'm always encouraging them, even when they don't do well," he said. "I tell them, 'If you practice, you'll get better, like with anything in life.' "

In a survey last school year, Experience Corps volunteers in Cleveland and Euclid unanimously reported that the program helped them stay physically and mentally active. Eighty-five percent reported satisfaction with their students' academic progress.

And the benefits of Experience Corps reach well beyond the classroom, said Christina New-Watling, the program's affiliate relations adviser. "It impacts the student, the volunteer and the community as a whole," she said. "It's a triple win."

Kaplan pointed out that teaching experience isn't required, as tutors will get training and can learn strategies as they go. What's important are a love of children and an appreciation of the importance of reading for a full life.
"A lot of the time with volunteering you think, Do I really make a difference?" Kaplan said. "With this, you really do."

To learn more about Experience Corps in Cleveland and Euclid,or to volunteer, call 216-391-9500, extension 116, or email EC@greaterclevelandvolunteers.org.

To review other volunteer opportunities throughout the state, call 866-389-5653, email ohvolunteers@aarp.org, or complete an online interest form aarp.org/IWant2Volunteer.

Sarah Hollander is a writer living in Cleveland.