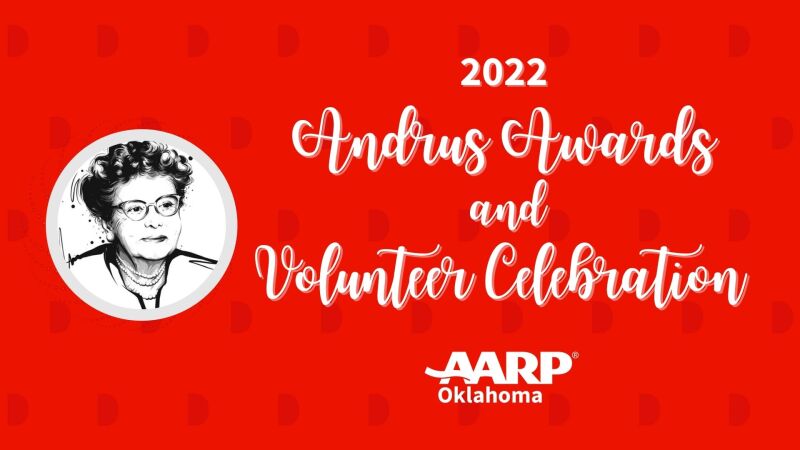 AARP Oklahoma's 2022 Andrus Awards and Volunteer Celebration virtually honored Oklahomans age 50-plus for their dedicated volunteer work across the state. The Andrus Award for Community Service is named in honor of AARP founder Dr. Ethel Percy Andrus and is the highest honor presented by AARP.

The 2022 AARP Oklahoma Andrus Award was presented to Peggy Wilson of Ponca City for her extensive community service and advocacy work on behalf of Oklahomans aged 50-plus. As the Andrus Award honoree, Wilson, received a $3,000 contribution which AARP will donate to Wilson's nonprofit organization of choice, the McCord Senior Citizen Center.

Wilson has served as the volunteer Director of the McCord Senior Citizen Center for the last 15 years. During this time, she secured a grant to create a new modern and welcoming senior citizen facility where community members can gather, socialize, vote, and get a nutritious meal.

Wilson recently celebrated her 90th birthday, and friends describe her can-do attitude as infectious and inspiring. In addition to her administrative duties, she spends more than 20 hours a week volunteering at the center. She helps with meal preparation and delivery, washes dishes, recruits volunteers and manages the bookkeeping. Wilson's kindness extends to providing rides to healthcare appointments or running errands for those without transportation. For Memorial Day, Wilson can be seen placing flowers and flags on the graves of the veterans. She also contributes her popular homemade baked goods for local fundraisers.

Three additional Oklahomans were honored for their volunteer work and named as AARP Oklahoma honorees of distinction.

Those honored include Heidi Harrison of Chickasha, Kim Holt of Muskogee and Madonna Myers of Oklahoma City.

According to the nomination, Harrison recruited volunteers to help those in need and address homelessness in the town of Chickasha. She connects people with the services they need to survive and thrive. Harrison's efforts secured free showers, laundry, computer access, meals, tents and bedding for the homeless.

Holt is a family caregiver in the Eastern Oklahoma Development District Area Agency on Aging Caregiver Program. She was an unpaid caregiver extraordinaire for approximately 13 years for her parents, who both had Alzheimer's Disease. While having a lot of responsibilities on her plate, she volunteered to speak at Caregiver Conferences and provided weekly online support and advice groups to members of the Alzheimer and dementia caregivers support group.

Holt brings a wonderful sense of humor along with a wealth of information to local support groups dealing with the effects of Alzheimer's. She inspires and empowers other family caregivers to take care of themselves so they can take care of others.

Myers volunteers for several organizations in the Oklahoma City area, including the OKC Powwow Club, Changing Winds, and Oklahoma Indian Missionary Conference. She shares her enthusiasm and cultural and traditional knowledge with the OKC Indian Princess Pageant. Myers volunteers with the OKC Powwow club and helps with monthly fundraisers. She volunteered with the Oklahoma Indian Missionary Conference of The United Methodist Church and was active in Rock the Native Vote outreach.

AARP will donate $1,000 to each of the three honorees' nonprofit organizations of choice in honor of their work. Harrison selected Heidi Helping the Homeless, Holt chose Eastern Oklahoma Development District Caregiving Program, and Myers designated Changing Winds Cultural Society.

The virtual celebration also recognized volunteers and staff from Drivers Safety, Tax-Aide, the Senior Community Service Employment Program (SCSEP) and the Oklahoma Retired Educators Association (OREA). Local chapters from Pittsburg County and Northeast Oklahoma City were honored with AARP Chapters of Excellence awards.

Longtime AARP and community volunteer Grace Goodeagle of Commerce received the AARP Oklahoma Legacy Award.

AARP Oklahoma State President Jim Randall praised the volunteers' selfless work. "We sincerely thank all the volunteers for their commitment and continued involvement in AARP's mission to empower people to choose how they live as they age," Randall said.

You can watch the virtual ceremony on the AARP Oklahoma Facebook page.