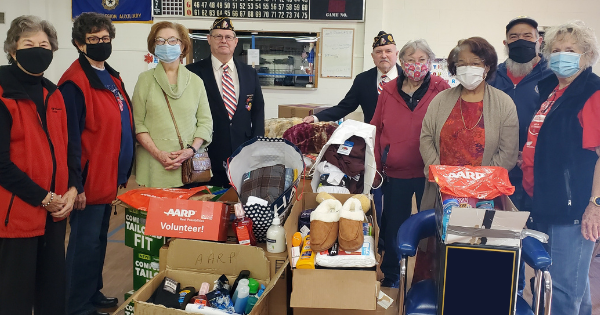 The AARP Oklahoma Pittsburg County chapter is doing its part to bring joy to Talihina VA Veterans Center residents during this holiday season. AARP Pittsburg County chapter members organized a special gift drive to provide veterans various items including compact disc/FM radio music players, sweatshirts, sweatpants, t-shirts and house shoes. Additionally, chapter members donated toiletries such as shampoo, body wash and conditioner, shaving cream, razors and other personal grooming items.

The project gained additional special assistance from McAlester Legion Commander Bill Teague and VFW member Dan Cecil. Cecil and Commander Teague generously delivered the collection of gifts to the Talihina Veterans Center residents on Tuesday, Dec. 22.

"Our veterans deserve the utmost respect and honor all year long, as well as during this holiday season. Our AARP Pittsburg County Chapter wanted to honor our local veterans and share in the holiday spirit with this donation that is very special to us," said AARP Oklahoma State Volunteer President Joe Ann Vermillion. Vermillion is also an AARP Pittsburg County chapter member. "This project was a wonderful opportunity for our members to give back to those that protected our freedoms while expanding the holiday spirit for both gift recipients and our chapter members that participated in the gift drive."

"AARP applauds the Pittsburg chapter for their innovation in volunteerism and selection of the Talihina Veterans Center as the recipient of the holiday gift drive," said AARP Oklahoma Director Sean Voskuhl. "Our volunteers' work offers the perfect extension of AARP Oklahoma's commitment to serve veterans, military and their families."

Visit aarp.org/veterans to learn more about AARP's resources, veteran-specific educational information and initiatives supporting veterans.